Chris Brown admits violating probation, gets 1 year in L.A. County Jail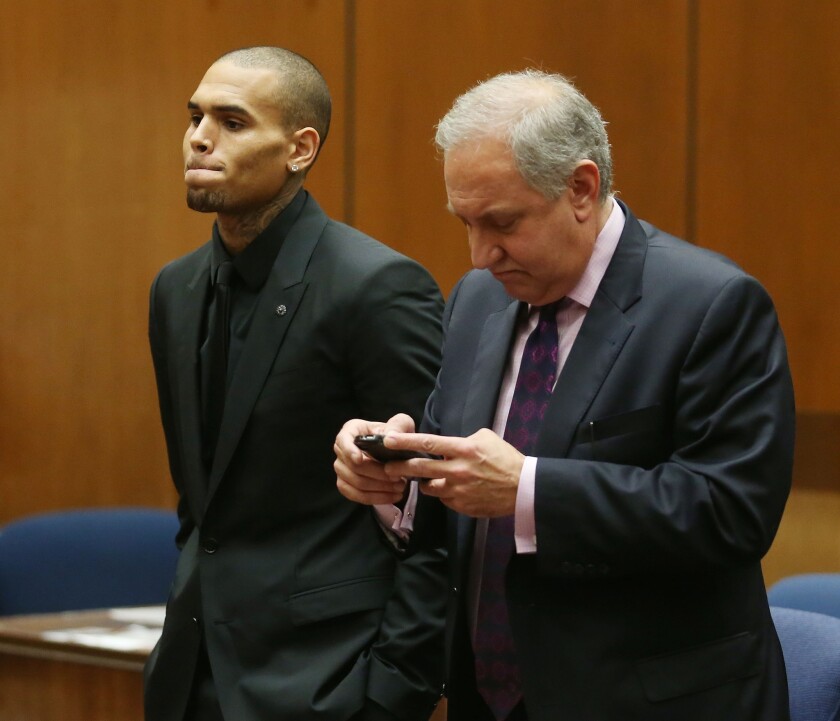 Singer Chris Brown on Friday admitted to violating his probation by committing a crime in the Washington, D.C., area and was promptly sentenced to a year in county jail by a Los Angeles County Superior Court judge.
Brown has already spent a couple of months in jail and more than three months in a rehab program and will be given 234 days of credit for time served.
Mark Geragos, Brown's attorney, said the singer could get an early release by the weekend because he has served 234 of the 365 days.
Los Angeles County Superior Court Judge James Brandlin said the 365-day sentence was the maximum he could give the defendant short of state prison.
The judge said he would reinstate Brown's probation when he is released, and he will require the defendant to see a psychiatrist twice a week, complete his outstanding community service, take appropriate medication and not use medical marijuana.
Brandlin, in making the decision, said he had noted that Brown was a relatively youthful offender at the time of his original offense in 2009 when he assaulted the singer Rihanna.
The judge noted that since then he has learned Brown has an underlying mental health condition and it was a mitigating factor in his sentencing. Previous court records have stated Brown is bipolar.
Brown is accused of hitting someone outside a hotel in Washington, where prosecutors have filed an assault charge against him
The L.A. judge also extended Brown's probation to Jan. 23, 2015.
---
The stories shaping California
Get up to speed with our Essential California newsletter, sent six days a week.
You may occasionally receive promotional content from the Los Angeles Times.