LAPD sent 5 officers to provide security for the wedding of Wesson's son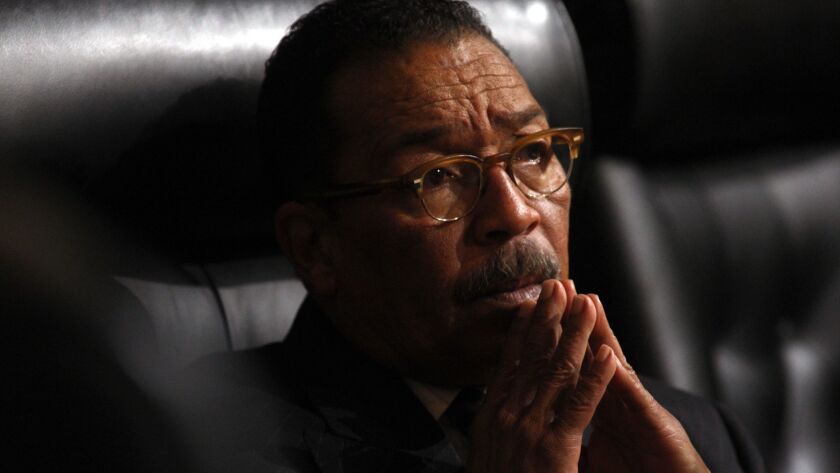 Staffers for two of L.A.'s most prominent politicians were united in marriage last year, celebrating the occasion with dozens of others at the historic Ebell of Los Angeles.
The groom was Justin Wesson, son of City Council President Herb Wesson, who employs him as an aide. The bride was Alexis Marin, a staffer for Councilwoman Nury Martinez, who serves on Wesson's leadership team.
Turns out taxpayers were involved as well, paying $2,768 to have the Los Angeles Police Department provide security at the September 2017 event, according to information provided Thursday by the LAPD. Four police officers and a sergeant spent a combined 38 hours staffing the event, said Josh Rubenstein, an LAPD spokesman.
The city was not reimbursed for the security costs, Rubenstein said. The LAPD spokesman also issued a statement saying the officers were sent to protect the politicians who went to the wedding — a group that included Mayor Eric Garcetti and other elected officials.
"Upon learning of the event involving Justin Wesson and Alexis Marin, the Los Angeles Police Department decided to provide a small contingent of on-duty personnel to ensure the safety and security of a number of prominent elected officials, who were attending as guests," the statement said.
Vanessa Rodriguez, a spokeswoman for Wesson, declined to answer a series of questions about wedding security costs, saying the answers should come from the LAPD.
A spokeswoman for Martinez, whose district is located in the San Fernando Valley, also referred wedding security questions to the department. "Again, this was a private event that does not have to do with our office," spokeswoman Gabriella Landeros said in an email.
Rubenstein said former LAPD Chief Charlie Beck, who stepped down in June, had "sole discretion" over security for the wedding, and that no one from outside the department requested it. Such decisions, said Rubenstein, are made on a "case-by-case basis" at the LAPD.
"It's not wedding security," Beck said in response to questions from The Times. "We provide security at high-profile events and events with high-profile people who are at elevated risk. The council president is often in the second category."
Still, the expense drew questions from Susan Shelley, vice president of communications for the Howard Jarvis Taxpayers Assn., which weighs in on public spending. Shelley asked whether the LAPD provides the same type of security when multiple politicians go to campaign fundraisers or other private events.
"I don't think there's an additional risk because it's a wedding," she said.
Garcetti, who went to the wedding but not the reception, had his own two-person LAPD security detail with him at the event, said mayoral spokesman Alex Comisar.
Justin Wesson, 35, works as the council floor director for his father, one of the city's most powerful politicians. Marin is the legislative director for Martinez's office, according to Martinez's website.
The release of information by the LAPD comes as The Times is at odds with the city over security costs for Garcetti. Last month, the newspaper sued the city after officials refused to turn over records detailing taxpayer costs for security on out-of-state trips taken by Garcetti.
The lawsuit accuses the city of violating the California Public Records Act and the California Constitution. The Times is seeking a court order to make city officials turn over any information that is not exempt from public disclosure.
The wedding festivities included preparations for the bridal party at the Jonathan Club in downtown Los Angeles and dinner at the Ebell in Mid-Wilshire, where guests chose from artichoke ravioli, halibut or smoked tri-tip, according to photos previously posted on the blog of Wife of The Party, the wedding's organizer.
Rodriguez, the Wesson spokeswoman, said in an email that she spoke to Justin Wesson and was told that "Justin and Alexis, with assistance from their families, paid for their entire wedding."
Herb Wesson has had a series of financial issues in recent years, racking up five default notices in five years over two properties he owns in Los Angeles. The councilman's rental property in Ladera Heights came close to a foreclosure auction in July 2016. All five default notices were ultimately rescinded.
In May, Discover Bank obtained a $4,529.52 judgment against Wesson and his wife, Fabian Wesson, over unpaid credit card bills. The bank said it had not received payment since July 2016.
Wesson said last week that the Discover bill has now been paid.
Wesson faces term limits in 2020 and his son has been discussed in city circles as a possible candidate for his seat. Asked last month if Justin Wesson was interested in running, Rodriguez said the younger Wesson is "focused on today, not tomorrow."
Twitter: @DavidZahniser
---
UPDATES:
6:55 p.m.: This article was updated with comments from Charlie Beck and Susan Shelley.
This article was originally published at 6 p.m.
---
The stories shaping California
Get up to speed with our Essential California newsletter, sent six days a week.
You may occasionally receive promotional content from the Los Angeles Times.