L.A. narrows list of developers for upcoming homeless-housing projects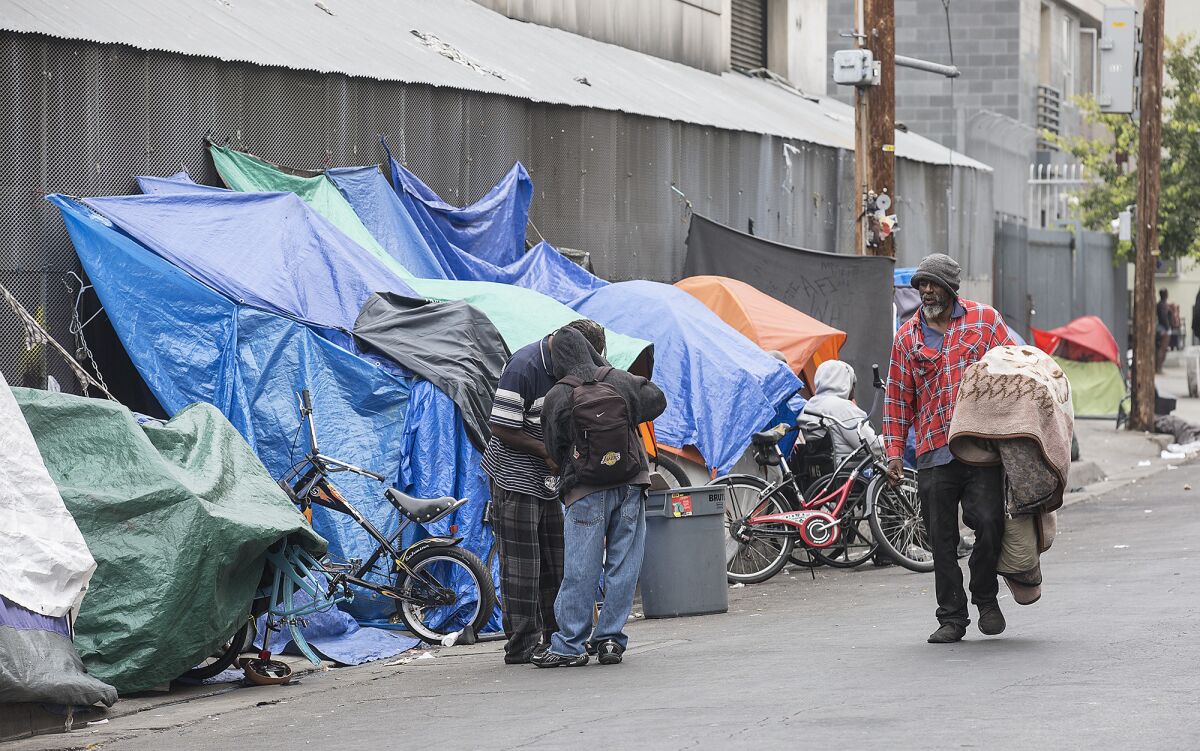 Officials on Thursday took a preliminary step toward using city land to build about 500 housing units for Los Angeles' chronically homeless population.
The City Administrative Office recommended four developers who will have exclusive negotiating rights to build on 10 parcels scattered across Lincoln Heights, the San Fernando Valley, the Westside and South Los Angeles.
For the record:
8:40 p.m. May 28, 2023A previous version of this story said the parcel at 11681 W. Foothill Blvd. was in Sunland-Tujunga. It is in Lakeview Terrace.
The use of excess city-owned land is a key element of the comprehensive homelessness plan the City Council adopted in February. Using municipal land could shorten the three to five years usually required to build such housing projects.
Chosen from among 49 developers that submitted proposals, the recommended firms include for-profit businesses and nonprofits.
Meg Barclay, Los Angeles' homelessness coordinator, said that once the council gives approval to the developers — perhaps by the end of the year — negotiations on specific plans can begin.
The city initially planned to offer the sites for supportive housing, which would include on-site services. But the recommendation released Thursday said proposals could include affordable housing, mixed-income housing, market-rate housing and occupant-owned housing as well.
City Administrative Officer Miguel Santana said the other types were included to give developers maximum flexibility in shaping their proposals to the surrounding communities.
Two of the parcels, Old Fire Station No. 5 on Manchester Avenue and Old Fire Station No. 53 on North Mesa Street, were deemed not suitable for development. They will be sold to help fund affordable housing.
Five lots in Lincoln Heights, in the vicinity of North Workman and North Daly streets, will be combined into one project. The remaining four projects are located at 11681 W. Foothill Blvd. in Lakeview Terrace; 11950 Missouri Ave. in the Sawtelle area; 2322 S. Thatcher Ave. in Marina del Rey and 200 E. North Venice Blvd. in Venice.
A developer has yet to be chosen for a lot at 283 W. Imperial Highway in South Los Angeles.
The development teams are GTM Holdings/Works, LA Family Housing/Many Mansions, Hollywood Community Housing Corp./Venice Community Housing Corp. and Thomas Safran & Associates.
Santana has said he hopes to have groundbreakings on the projects before the end of the fiscal year in June.
Several hurdles, including potential community opposition, could slow that timeline.
According to Yolanda Chavez, assistant city administrative officer, some of the projects would require zoning changes to allow the number of units planned. That could spell trouble if voters in March approve the Neighborhood Integrity Initiative, which would prohibit project-specific amendments to the city's general plan.
doug.smith@latimes.com
Twitter: @LATDoug
The stories shaping California
Get up to speed with our Essential California newsletter, sent six days a week.
You may occasionally receive promotional content from the Los Angeles Times.