Oklahoma man sentenced in 2016 slayings of Long Beach mother and daughter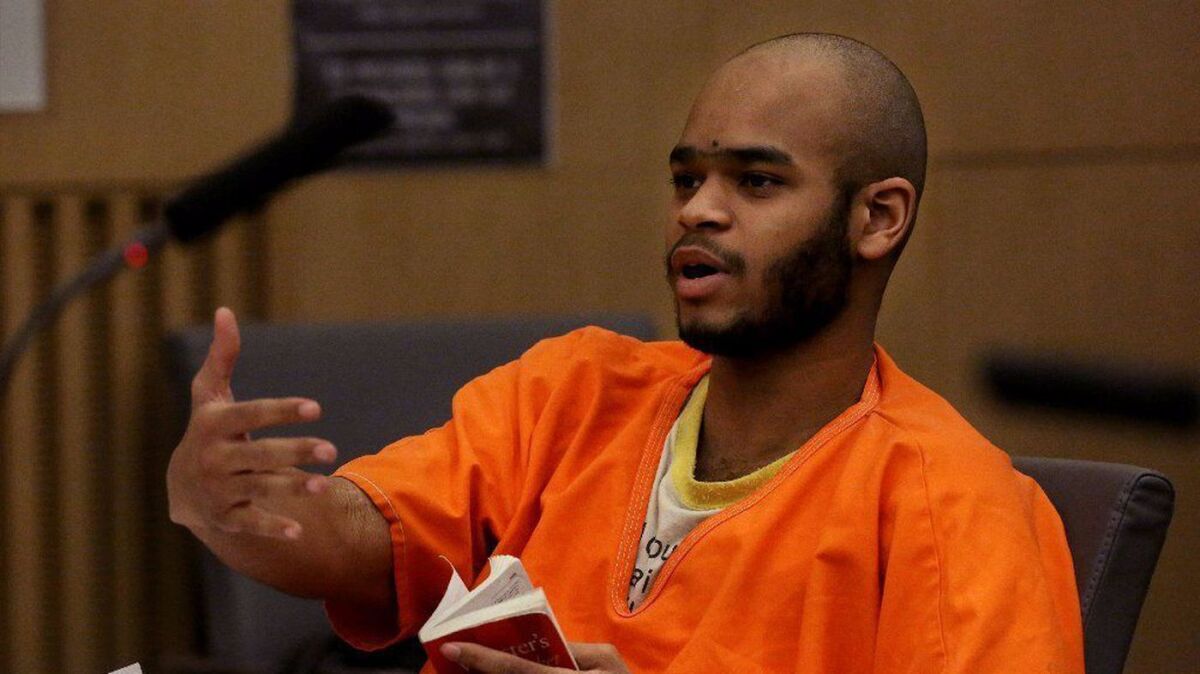 An Oklahoma man who gunned down a woman and her 4-year-old daughter in Long Beach and tried to kill the child's father was sentenced today to two life-without-parole prison terms, but he had to be restrained in court after trying to walk away.
At the beginning of his sentencing hearing, Brandon Ivan Colbert Jr., 23, stood up and tried to walk out of the court, but three bailiffs pounced on him and wrestled him to the floor.
The hearing had to be delayed while Colbert was restrained in a safety chair and brought back into court.
Superior Court Judge Jessie I. Rodriguez sentenced him to two consecutive terms of life in prison without parole for the Aug. 6, 2016, killings of Carina Mancera, 26, and her daughter, Jennabel Anaya. Colbert was also sentenced to another life term for the attempted murder of Luis Anaya, along with 75 years to life for personally discharging a firearm.
In a sentencing memorandum, Deputy District Attorney Cynthia Barnes cited "the nature of the crimes and total lack of remorse shown by the defendant" and the number of people killed to justify her request for back-to- back life-without-parole terms.
The prosecutor wrote that the attack was "without any provocation."
A Long Beach jury found Colbert guilty a week ago of two counts of first-degree murder and one count of attempted murder.
Jurors also found true the special circumstance allegations of murder while lying in wait and multiple murders, along with allegations that he personally discharged a firearm.
Prosecutors opted not to seek the death penalty against Colbert.
Authorities said he hid behind a sign and opened fire on the family with a shotgun.
Mancera and her daughter were gunned down near 9th Street and Locust Avenue about 10:20 p.m. Aug. 6, 2016, as the family was returning home from grocery shopping. The gunman also fired at Luis Anaya, but missed, according to police.
Long Beach police Chief Robert Luna said Colbert was arrested about three weeks after the killings by Los Angeles police on suspicion of driving a stolen vehicle. A DNA swab was obtained from him, ultimately linking him to the killings, for which he was arrested in November.
The surviving victim told investigators that a man walked up to his longtime girlfriend and their daughter and suddenly -- without provocation -- opened fire, then ran off. He said he did not recognize the man, nor did anyone else in the neighborhood.
Colbert acted as his own attorney during the trial.
---
The stories shaping California
Get up to speed with our Essential California newsletter, sent six days a week.
You may occasionally receive promotional content from the Los Angeles Times.