The legal way the rich get their kids into elite colleges: Huge donations for years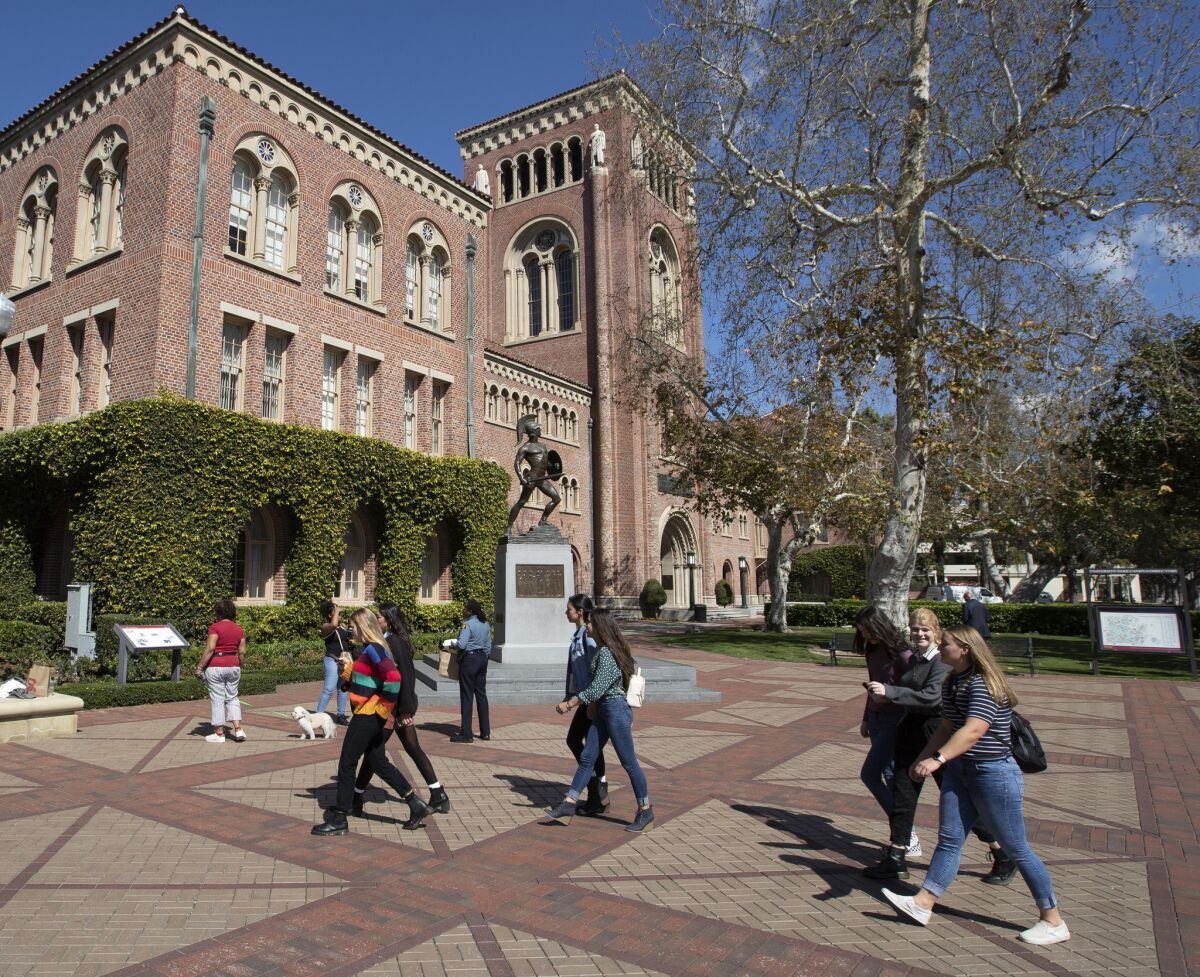 For the children of the well-off and well-educated, cultivating the hallmarks of an outstanding college application starts early.
Those whose parents attended a prestigious university are born far more likely to get into that institution. And the advantages pile up from there: lessons for aristocratic sports such as sailing and fencing might begin in elementary school, while private tutoring, prep school and — if they're exceptionally wealthy — large donations to preferred colleges come later.
The "Operation Varsity Blues" FBI investigation has highlighted the outsize role that wealth and social connections play in college admissions, and the many ways the rich get a leg up in this opaque process without resorting to bribery, lying and cheating.
"Money allows you to really engage with a different network of resources," said Wil Del Pilar, a former admissions specialist and current president of higher education for the nonprofit Education Trust.
High GPAs and SAT scores hold a lot of weight, of course, but so do a myriad of other factors that have nothing to do with academic ability, such as being a recruited athlete, or the child of an alumnus or donor.
One of the most common and affordable ways money can help bolster a student's chances of getting accepted is through college admissions consulting.
These consultants have visited hundreds of colleges and forged years-long relationships with university officials, so they know how much weight schools place on GPA, extracurriculars and other factors. They relay this information to students, helping them navigate the complicated admissions process.
FULL COVERAGE: Dozens charged — including Hollywood actresses — in connection with college admissions scheme »
Some families approach consultants early on for guidance in selecting stellar middle and high schools that will put their child on a path to prestigious colleges. As time goes on, a consultant might help the teen pick out high school courses or internships that will set them apart from their classmates, or assist them in formulating application essays, said Mark Sklarow, chief executive of the Independent Educational Consultants Assn.
Most consultants charge between $2,000 and $10,000 for a comprehensive package, according to the association. Some charge more than $75,000, depending on the type of service.
The industry has ballooned as college admissions have become more cutthroat. The number of independent education consultants quadrupled between 2005 and 2018, and the industry pulled in an estimated $2 billion in revenue last year alone, according to the market research firm IBISWorld.
Melissa Ozeas, a mother of two in La Crescenta, first hired a consultant when her daughter, Samantha, was a sophomore in high school. The counselor made sure she studied for the PSATs, helped her narrow down a list of colleges to pursue and kept her on track to meet application deadlines.
It was a "student-led process," Ozeas said.
"They focused on having kids start on applications during the summer before senior year, so they aren't super stressed out when taking AP classes," said Ozeas, who works in television.
Samantha is now a theater student at Carnegie Mellon University. Her younger brother, Will, also met with a consultant. He applied to 14 colleges in the fall, including USC, UC Berkeley, Yale and Stanford.
Often, families who employ consultants also have SAT and ACT tutors, who can cost anywhere from $50 to a few hundred dollars an hour. Those students can also afford to take those tests multiple times, noted Daniel Golden, author of the 2006 book "The Price of Admission: How America's Ruling Class Buys Its Way into Elite Colleges — And Who Gets Left Outside the Gates."
And many of those same teens attend top-rated public or private high schools, where GPAs may be inflated. It's theorized that teachers are more likely to give students high marks in these high-pressure environments due to the stress placed on college admissions, Del Pilar said.
"This is a less prevalent practice at lower-income high schools where the majority of students are black and brown," he said.
Guidance counselors at affluent high schools are also more likely to give students tips for boosting the likelihood of acceptance, such as applying early decision, according to Richard Reeves, a senior fellow at the Brookings Institution who focuses on inequality and social mobility.
They may also advise students to visit the colleges they're pursuing, and note that they did so in their application — something admissions specialist called "demonstrated interest," Reeves said.
In a 2017 report from the National Assn. for College Admission Counseling, around 40 percent of colleges surveyed rated this demonstrated interest as having considerable or moderate importance in their freshman admissions decisions.
Prevailing admissions practice, Reeves said, "favors those with time and money and knowledge to make those campus visits."
Elite colleges also favor athletic recruits who compete in the kind of patrician sports played at country clubs and prep schools — think sailing, water polo, fencing and lacrosse, Golden said. Those sports aren't typically offered at urban high schools, and playing at the collegiate level requires years of coaching, traveling for tournaments and tons of equipment. Survey research from Utah State University shows that the average family of a lacrosse player spends about $8,000 annually.
With all these cards stacked in favor of the rich, perhaps it is no surprise that — according to UC Berkeley, Stanford and Brown University researchers — children from the top 1 percent are 77 times more likely to attend an elite private college compared with children in the bottom 20 percent.
Contributing to this equation of inequality is the preference many elite colleges give to legacy students — children of alumni. The Ivy League and top private schools, including Harvard, USC and Cornell, give legacies special treatment, while others, such as MIT and UC Berkeley, do not take legacy status into account.
Depending on the university, legacy admissions can make up 10 percent to 25 percent of the student body, Golden said.
At the very far end of the affluent-applicant spectrum are those whose families donate large sums to a university. But buying that sort of advantage costs more than it ever has, said Sklarow of the Independent Educational Consultants Assn.
"You used to be able to sway an admissions office for $1 million," he said. "Now it's probably $10 million and up."
The process is more of a wink and a nod rather than an outright quid pro quo. A parent might call a school's development office to let them know their child is applying, and that they've always been big contributors to the college. The development office will then do some research to determine what size gift the family would probably contribute.
"It'll go something like, 'I'm so glad we had a chance to talk, let me walk over to the admissions office and make sure they give your son or daughter a second look,'" Sklarow said.
In his reporting, Golden described how Jared Kushner, President Trump's son-in-law, got into Harvard soon after his dad, Charles Kushner — who attended New York University — pledged $2.5 million to the school in 1998.
Colleges are more dependent than ever on big donations due to declines in federal research aid, state funding and grass-roots alumni giving, Golden said.
In his announcement of the Operation Varsity Blues indictments, Massachusetts U.S. Attorney Andrew Lelling made a distinction between these sorts of gifts and illegal maneuvering.
"We're not talking about donating a building so that a school is more likely to take your son or daughter," he said. "We're talking about deception and fraud."
While it's true that making large donations is a relatively transparent, legal tactic, Del Pilar said, it speaks to the prevalence of social reproduction at these schools: a system that is designed to benefit the class they've traditionally served, generation after generation.
"We talk a lot about merit in this country. We want kids to get in based on the work that they've put in," said Del Pilar, a first-generation college student who attended Chapman University. "What we don't acknowledge is that not everyone begins from the same starting line."
laura.newberry@latimes.com | Twitter: @LauraMNewberry
---
The stories shaping California
Get up to speed with our Essential California newsletter, sent six days a week.
You may occasionally receive promotional content from the Los Angeles Times.