UCLA tops USC in college rankings, with Caltech in the top 10
Memorial Auditorium on the campus of Stanford University, which was the top-ranked California university by the U.S. World News & Report.
(Francine Orr / Los Angeles Times)
The Olive Grove at California Institute of Technology in Pasadena.
(Ricardo DeAratanha / Los Angeles Times)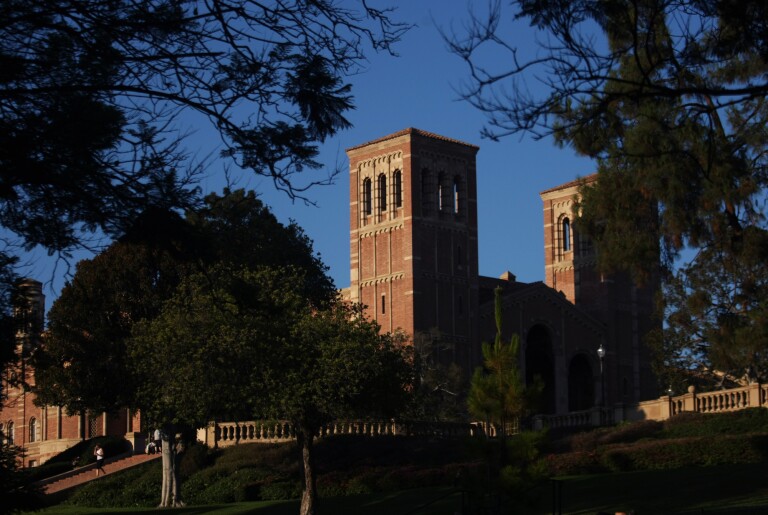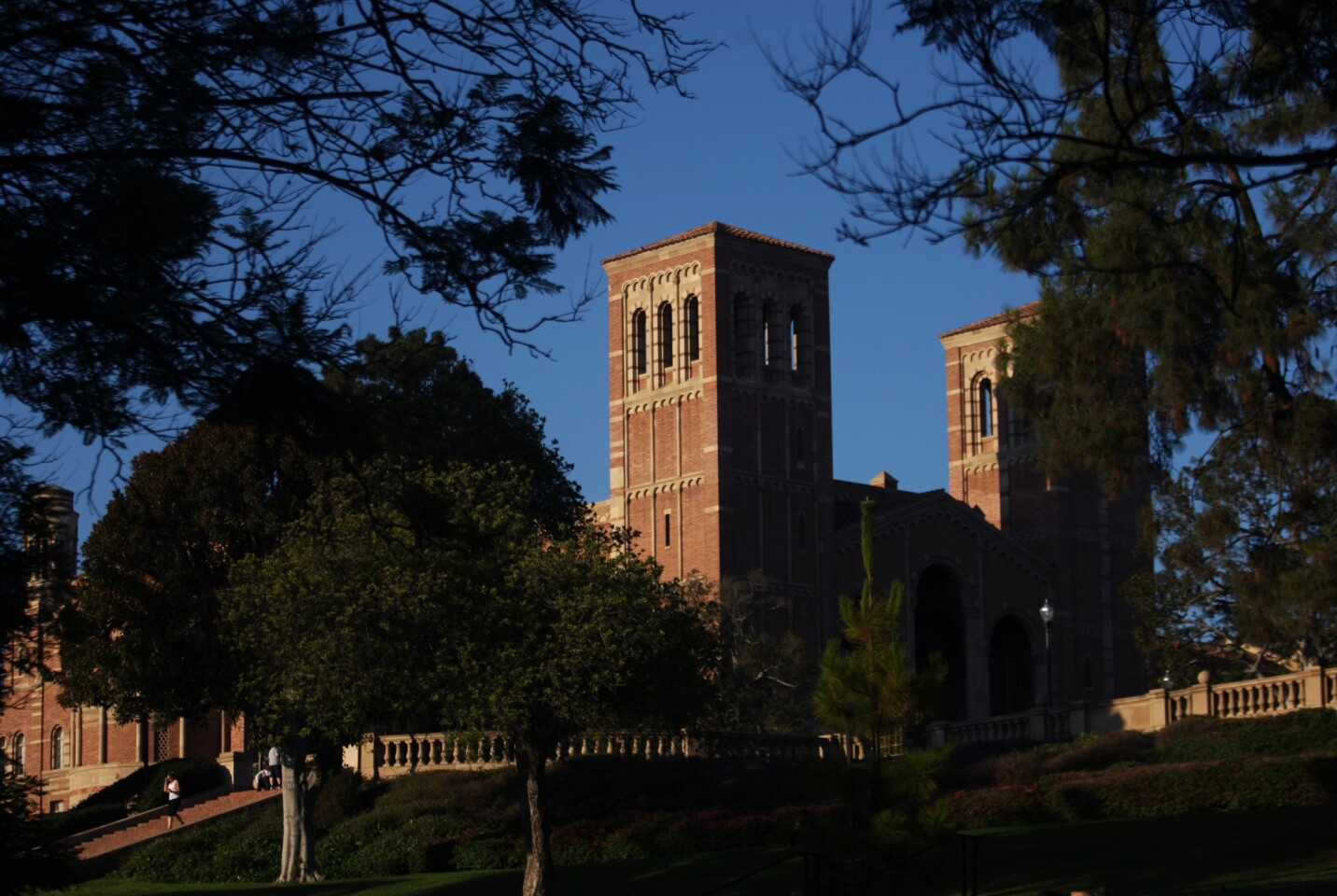 Complaints from parents and state legislators over University of California system's admissions of out-of-state students have prompted UC President Janet Napolitano and other system leaders to consider putting limits on such enrollment.
(Genaro Molina / Los Angeles Times)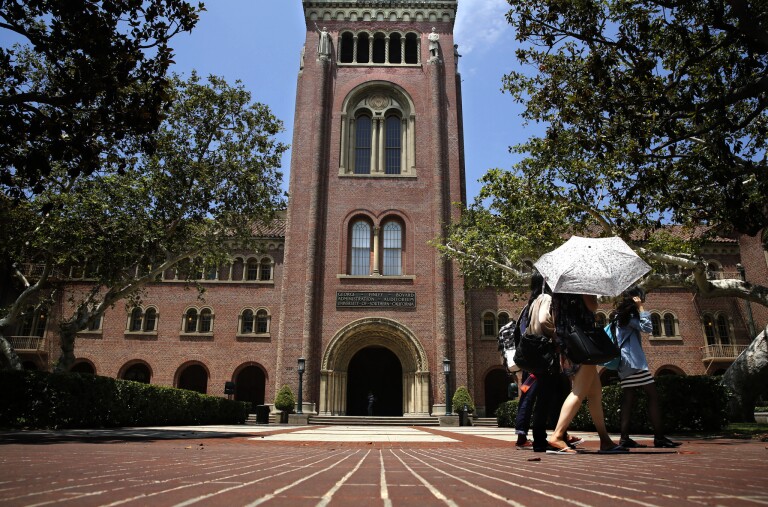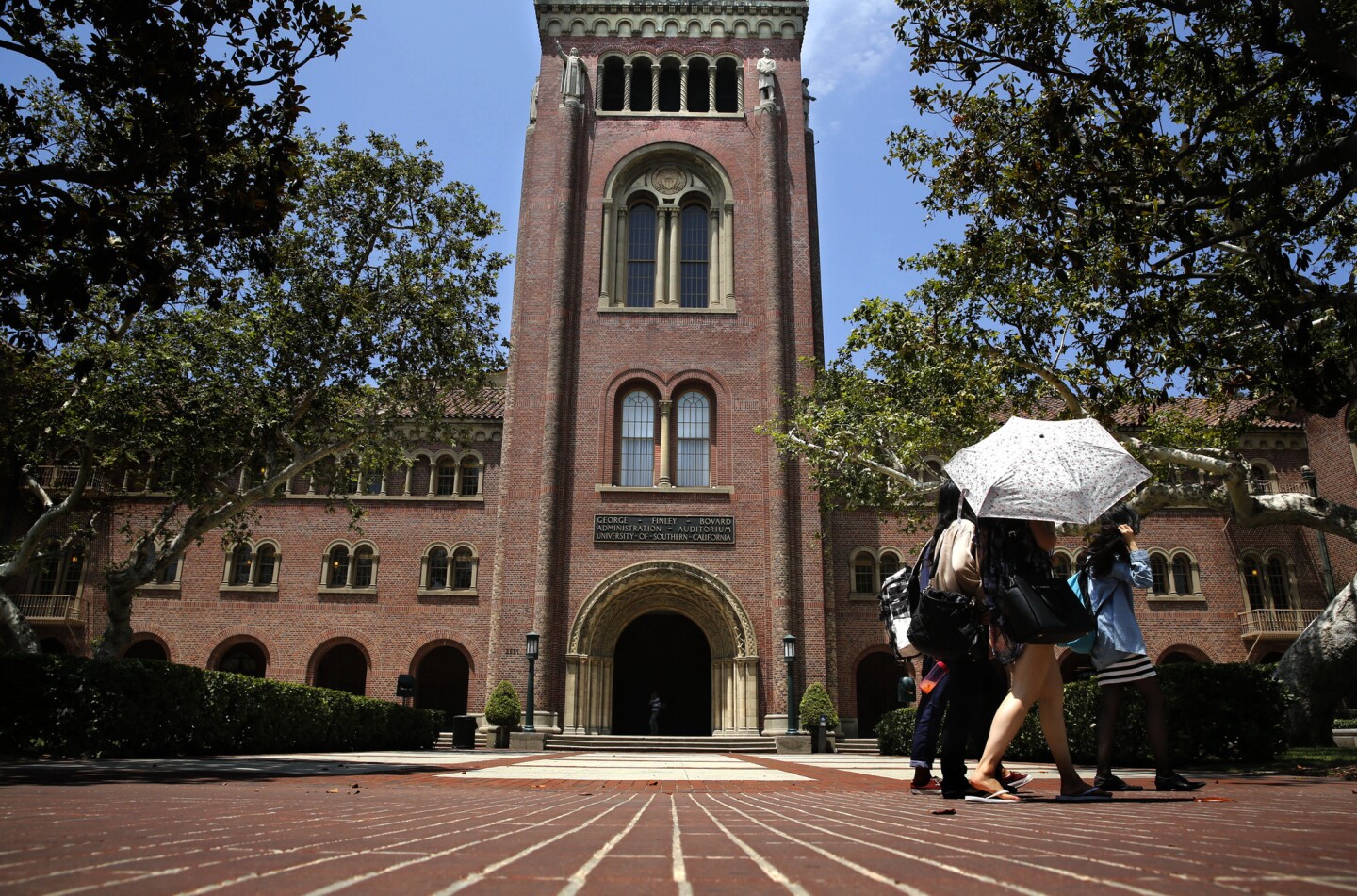 The University of Southern California tied for 25th place with Carnegie Mellon University on U.S. News & World Report's annual list of university rankings.
(Don Bartletti / Los Angeles Times)
UCLA edged out USC in U.S. News & World Report's annual list of university rankings, and another local campus, Caltech, once again cracked the top 10 in the widely anticipated survey.
In the list released Tuesday, UCLA placed 23rd, tied with the University of Virginia. Crosstown rival USC tied for 25th place with Carnegie Mellon University. Last year, the Los Angeles schools shared 23rd place with Virginia, Mellon and Wake Forest.
The top 10 campuses largely mirrored last year's list, with Princeton first, followed by Harvard; Yale; Columbia, Stanford and the University of Chicago tied for fourth; the Massachusetts Institute of Technology at No. 7; Duke and the University of Pennsylvania tied for eighth; and Caltech at No. 10.
UC Berkeley repeated its ranking as the top public university, placing 20th overall.
Among other factors, the magazine measured graduation and retention rates, assessments by peers, faculty resources and admission test scores at nearly 1,800 colleges and universities.
For the first time this year, information on campus crimes and federal loan default rates are included on each school's profile page. The same information on campus security and loan defaults is publicly available from the U.S. Department of Education.
The goal is to help parents and students make better college choices, although the data was not used to rank institutions, according to the magazine.
The handling of sexual assaults on campuses has raised scrutiny from students and lawmakers, but the crime data especially should be viewed with caution, said Robert Morse, who heads the magazine's rankings, and Diane Tolis, director of data projects.
"Many experts believe that campus crime is significantly underreported by many colleges," they said in a release accompanying the rankings. "In addition, comparing crime stats is problematic because there are too many variables, such as campus size, location (big city versus small town), number of students and campus security measures including number of police among others, for such comparisons to be fair or accurate."
The college rankings themselves have been criticized for focusing too little on outcomes and spurring some universities to manipulate data in a bid to improve their position.
A 2013 survey of the nation's college freshmen by UCLA's Higher Education Research Institute found that while 64% said academic reputation was very important when choosing a college, only 17.6% thought rankings in national magazines were "very important" to their decision.
Nevertheless, "Best Colleges" lists continue to proliferate with such publications as Forbes, the Princeton Review and Washington Monthly publishing annual lists.
In fact, on the eve of the latest U.S News release, the New York Times announced a new index, ranking selective colleges on enrollment and support of low-income students.
Vassar, Grinnell and the University of North Carolina-Chapel Hill emerged in the top three spots.
The U.S. News rankings also include the top schools for economic diversity, with UCLA, UC Berkeley and Columbia topping that list.
Despite criticism, such lists serve a purpose for families making expensive college decisions who lack better information, such as graduation rates for different types of institutions and students, and whose graduates are getting jobs and paying back debt, said Matthew Chingos, senior fellow for the Brookings Institution's Brown Center on Education Policy.
"You can shut down the U.S. News rankings tomorrow," Chingos said, "and someone else will step right up to take that role because the demand is there. Whether it should be is another question."
Twitter: @CarlaRiveraLat
---
The stories shaping California
Get up to speed with our Essential California newsletter, sent six days a week.
You may occasionally receive promotional content from the Los Angeles Times.