Substance thrown at Chief Charlie Beck during L.A. Police Commission meeting; 2 women arrested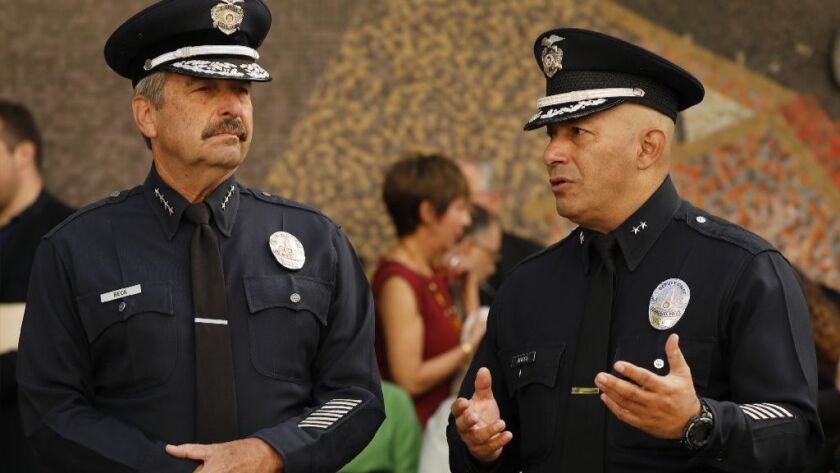 Two people were arrested at Los Angeles Police headquarters Tuesday morning after a substance was thrown at Chief Charlie Beck during a meeting of the city Police Commission, officials said.
The incident happened about 9 a.m., and involved activists who normally attend the commission's sometimes contentious weekly meetings, said Josh Rubenstein, the department's chief spokesman.
Black Lives Matter activists at the meeting identified the two women as Melina Abdullah, a Cal State L.A. professor and local Black Lives Matter organizer, and Sheila Hines-Brim, whose niece, Wakeisha Wilson, died while in the department's custody in 2016.
LAPD Officer Mike Lopez said the woman who threw the substance at Beck was Hines-Brim. Before the room was cleared, he said, Abdullah assaulted a police officer. He did not know how.
Both women were booked on suspicion of battery on a police officer, Lopez said. Jail records show bail was set at $20,000 each and they were released Tuesday evening.
Beck was not hurt, and it was not immediately clear what the substance was. Rubenstein said the activists may have claimed they threw Wilson's ashes at Beck.
Nearly a dozen Los Angeles firefighters were seen entering LAPD's downtown headquarters about 11 a.m.
Lopez said authorities tested the substance and determined it was not hazardous. He said he did not know what it was. The substance was collected and booked as evidence.
In a statement, Beck called the incident "not only disrespectful to the office of the chief of police, but more importantly to a process of community engagement that has been recognized across the nation."
"This only created chaos and fear for any Angelenos who wanted to voice their opinion about policing in our city," he said.
Some activists have rejected the finding that Wilson committed suicide, saying she died as a result of a confrontation with detention officers.
Police officials have said that there were no signs of an altercation and that the officers did not use force against Wilson. Her death, however, prompted internal reviews of some LAPD practices, including when jail staff should contact a mental health unit about an inmate, and how police and coroner's officials notify families about deaths.
Wilson's mother did not learn of her daughter's death until after the woman missed a court hearing.
The city paid nearly $300,000 last year to settle legal claims brought by Wilson's relatives.
Times staff writer Cindy Chang contributed to this report.
alene.tchekmedyian@latimes.com
Follow @JamesQueallyLAT for crime and police news in California.
---
UPDATES:
8:40 p.m.: This article was updated with to reflect the two women were released from custody.
6:45 p.m.: This article was updated with a statement from Chief Beck.
5:30 p.m.: This article was updated to reflect that the two women involved were booked on suspicion of battery on a police officer.
This article was originally published at 12:25 p.m.
---
The stories shaping California
Get up to speed with our Essential California newsletter, sent six days a week.
You may occasionally receive promotional content from the Los Angeles Times.