L.A. agrees to pay nearly $300,000 to settle case of woman who died in LAPD jail cell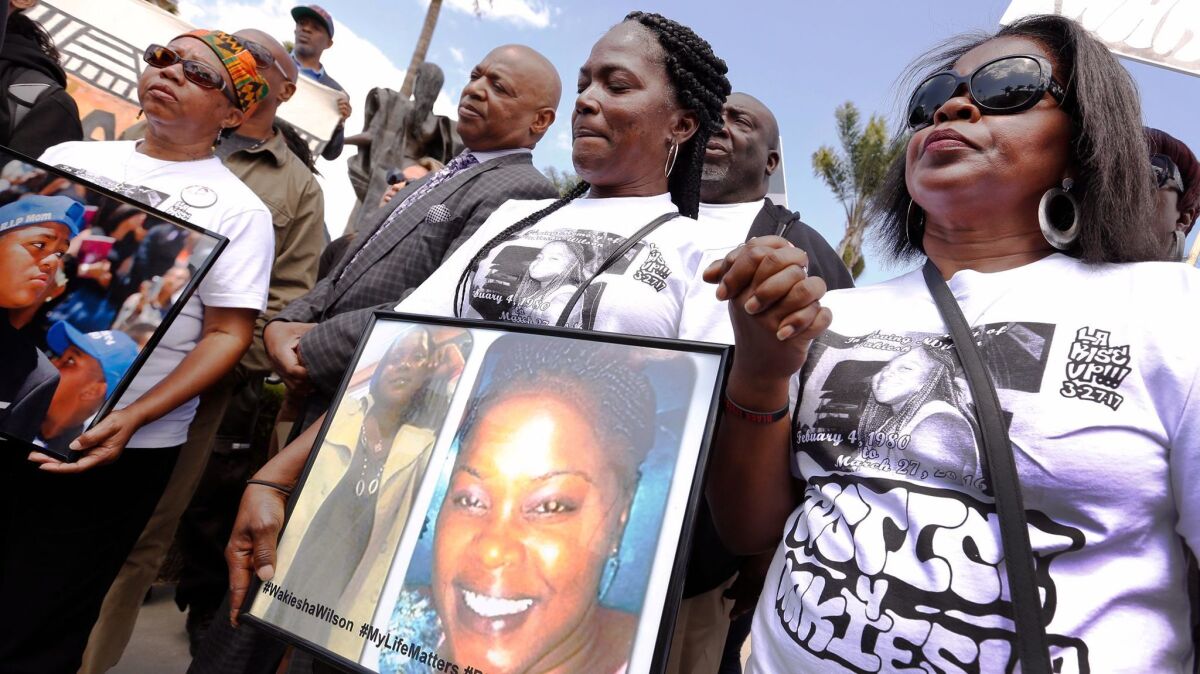 The Los Angeles City Council agreed Wednesday to pay up to $298,000 to settle a legal matter stemming from the controversial death of a woman who authorities say hanged herself in a downtown jail cell.
The 13-0 vote was the latest development in a bitter dispute that began soon after Wakiesha Wilson's body was found on Easter Sunday in 2016.
Wilson became a symbol of the Black Lives Matter movement in Los Angeles as her family and activists chanted her name at Police Commission meetings and demanded to know more about her death. They rejected the idea that Wilson died by suicide, and some said they believed some type of altercation with detention officers was to blame.
Police officials have said that there were no signs of an altercation and that officers did not use force against Wilson.
Her death, however, prompted internal reviews of some LAPD practices, including when jail staff should contact a mental health unit about an inmate, and how police and coroner's officials notify families about deaths. It was only after Wilson missed a court hearing that her mother learned she had died.
Wednesday's vote settled two legal claims — the precursors to lawsuits — filed by Wilson's mother and son.
Jaaye Person-Lynn, an attorney representing Wilson's son, said he believed city officials saved taxpayers money by agreeing to settle the matter before it rose to a lawsuit.
"At the end of the day, somebody died on their watch," he said. "I'm still not 100% sure of exactly what happened, but I am content with this resolution and I am happy that the city was willing to work with us."
Earlier this year, the Police Commission — the civilian panel that oversees the Los Angeles Police Department and reviews all deaths that occur in police custody — determined that officers were not "substantially involved" in Wilson's death. Six months later, prosecutors declined to file criminal charges in connection with her death, saying there was insufficient evidence proving anyone was criminally responsible.
LAPD officers arrested Wilson on March 26, 2016, after the 36-year-old was accused of punching a patient at a downtown hospital, authorities said. Wilson had checked herself into the hospital earlier complaining of back and chest pain.
Throughout the booking process, Wilson told officers and the jail's medical staff that she had mental health problems and took antipsychotic and antidepressant medications, according to a report from prosecutors made public this summer. She denied having suicidal thoughts or wanting to hurt herself, the report said.
The next day, Wilson seemed relaxed and was smiling, a detention officer told investigators.
Her cellmate, however, later recounted different behavior, saying that Wilson was "behaving erratically and aggressively," the report said. At one point, the woman said, Wilson wrapped a shirt around her neck and said, "I'm about to take my life."
When it came time to move the inmates to a different cell block, officers decided to keep Wilson alone in her cell.
About 35 minutes later, a detention officer spotted her on the floor. Wilson had tied her shirt around the cord of a wall-mounted telephone and hanged herself, authorities said.
Wilson's mother, Lisa Hines, has repeatedly rejected the account from authorities, saying her daughter was upbeat when they talked on the phone shortly before her death.
The City Council also agreed in a 14-0 vote Wednesday to pay $250,000 to settle a lawsuit filed by a man who accused LAPD officers of using excessive force when they arrested him in Watts in October 2015.
Steve Brown's arrest was captured on video that later aired on local television. The footage shows two officers on top of Brown, who tries to cover his head as one of the officers punches him at least three times.
Brown, who was walking home from work, denied he had committed a crime and in the lawsuit he filed last year, said he was never charged with one.
---
UPDATES:
12:35 p.m.: This article was updated with comments from an attorney representing Wakiesha Wilson's son and information about the City Council's vote to settle a second case involving Steve Brown.
This article was originally published at 10:55 a.m.
The stories shaping California
Get up to speed with our Essential California newsletter, sent six days a week.
You may occasionally receive promotional content from the Los Angeles Times.