Ex-Compton official and his wife plead guilty in $3.7-million embezzlement scheme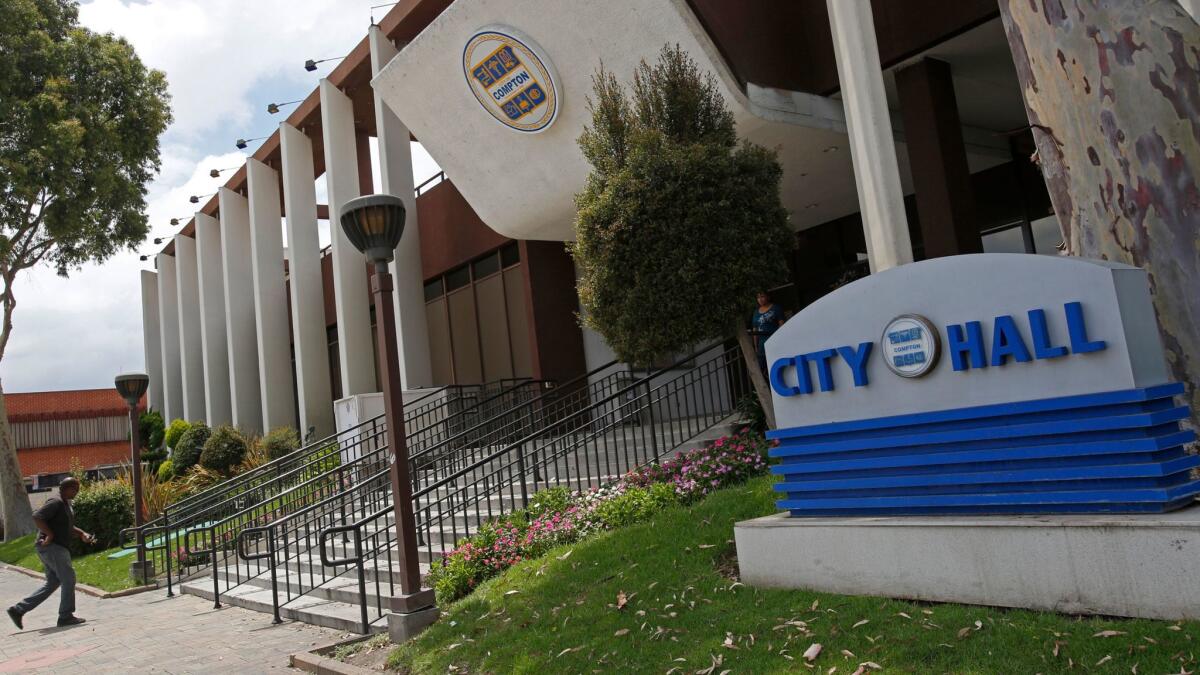 As Compton's deputy city treasurer, Salvador Galvan was tasked with collecting cash from the tills of his colleagues and tallying it up to take to the bank.
It was a position that required an extraordinary amount of trust, prosecutors said, as thousands of dollars came in daily from residents paying their water bills, trash bills, business license fees and building permit fees.
But with that responsibility, Galvan hatched a scheme that landed him in a federal courtroom this week facing up to 10 years in federal prison for embezzling more than $3.7 million from city coffers.
On Thursday, federal court records show, he pleaded guilty to one count of theft from an organization receiving federal funds. As part of his plea agreement, Galvan will be required to pay full restitution.
"You're supposed to serve the public, right, you're to do it honestly and selflessly," said Assistant United States Attorney Daniel O'Brien. "What happened here was the opposite."
Starting in May 2010, prosecutors said, Galvan would pocket anywhere from $200 to $8,000 a day, in amounts small enough that they went unnoticed for six years.
"He took the cash and prepared a deposit slip for the bank that reflected 'x amount,' then prepared a different deposit slip for accounting purposes that reflected 'y amount,'" O'Brien said.
In December, a colleague spotted a $7,000 discrepancy that triggered an investigation. When a supervisor confronted Galvan about other missing cash deposits, court records show, he immediately confessed.
"You're not going to find it because it never went to the bank," he told her, according to federal court records. She asked him what he meant. "I took and I used it," he replied, in Spanish.
That month, Los Angeles County sheriff's deputies arrested Galvan in connection with the theft of city funds. He posted bond and remained free until March, when he was arrested by federal agents.
Galvan, a 47-year-old resident of La Mirada who worked for the city for more than two decades, has been in custody ever since.
During his time with the city, co-workers privately thought some of his more lavish purchases, as well as his generosity in the office, were suspicious given his $60,000 annual salary.
Galvan's supervisor told investigators that he'd upgraded an old Toyota to a black Audi sedan. Galvan also reportedly paid for office parties and purchased gift cards for cashiers, along with a Keurig coffee machine for the office.
Galvan's wife, Rosa, who was accused of receiving hundreds of thousands of dollars in cash and money orders from her husband, pleaded guilty Thursday to one count of engaging in a monetary transaction involving property derived from specified unlawful activity, records show.
"She received money that she knew was the proceeds of criminal activity," O'Brien said. "Then engaged in financial transactions knowing this was dirty money."
Attorneys representing the couple could not be reached for comment.
Both Galvan and his wife are scheduled to be sentenced in November.
Under the plea deal, O'Brien said, prosecutors agreed to recommend a sentence of 46 months for Salvador Galvan. They have not agreed upon a sentence recommendation for his wife, he added.
alene.tchekmedyian@latimes.com
Follow me on Twitter @AleneTchek
ALSO
LAPD officer accused of having sex with teen cadet is charged with weapons crimes
Body of Manhattan Beach hiker is found, 9 months after he went missing in the Sierra
Murder suspect caught days after escaping Fresno police headquarters through window, police say
---
UPDATES:
9:40: This article was updated with comments from the prosecutor as well as information about how much time the couple faces in prison.
This article was originally published on July 13 at 10:55 p.m.
Sign up for Essential California for news, features and recommendations from the L.A. Times and beyond in your inbox six days a week.
You may occasionally receive promotional content from the Los Angeles Times.