LAPD officer accused of having sex with teen cadet is charged with weapons crimes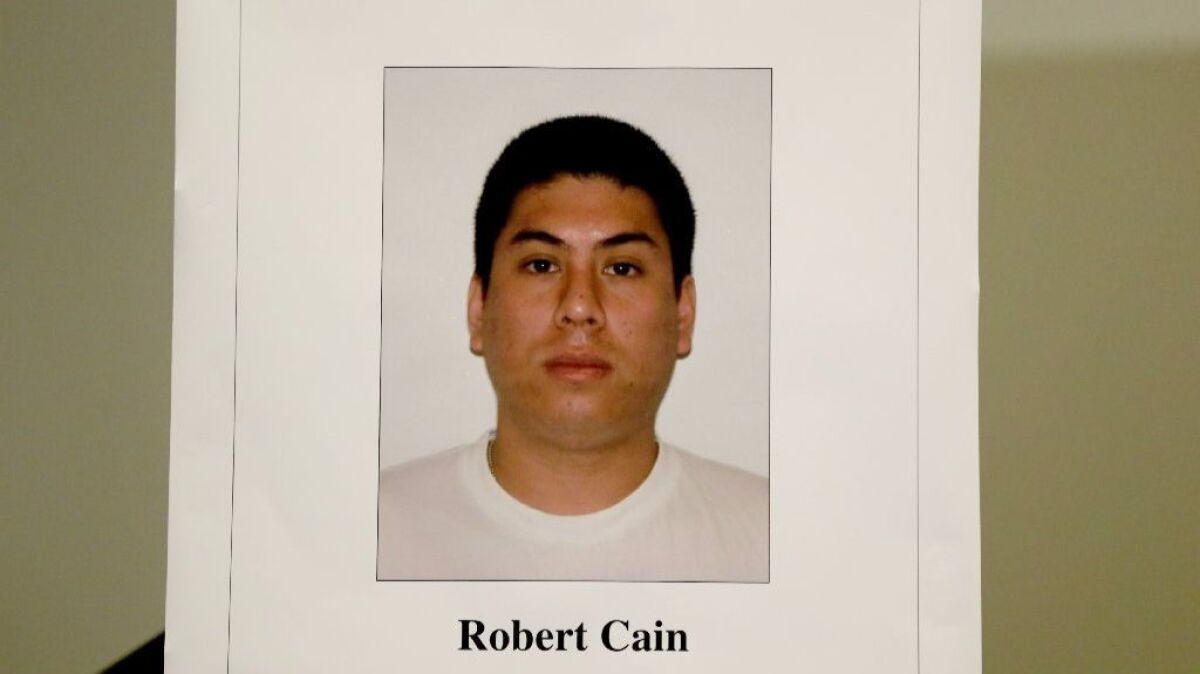 Los Angeles Police Officer Robert Cain, who is accused of having sex with a 15-year-old police cadet, is now facing felony weapons charges stemming from a cache of more than 100 guns found at his Rancho Cucamonga home.
Cain, 31, was back in jail Thursday after prosecutors in San Bernardino County charged him with 10 felonies, police said. Court records showed the charges included multiple counts of having an assault weapon and manufacturing, distributing or transferring such guns.
A court hearing was scheduled for Friday, according to jail records. An attorney representing Cain could not immediately be reached for comment.
In a statement Thursday night, the LAPD said its investigators presented their case to the San Bernardino County district attorney's office Wednesday. Cain surrendered himself to sheriff's deputies Thursday, the statement said.
The gun cache was discovered as the LAPD searched Cain's home after his June 22 arrest on suspicion of having sex with the teenage cadet. Those allegations were uncovered as part of the LAPD's investigation into a group of cadets who officials say stole police cars, Tasers, radios and other equipment.
Investigators seized more than 100 firearms, including assault rifles and inert grenades, sources with knowledge of the investigation have said. Sources said many of the weapons had been illegally modified and are not legal to own under California law.
The LAPD confirmed that in its statement Thursday night, saying investigators determined several of the guns were illegal in California.
Times staff writers Matt Hamilton and James Queally contributed to this report.
ALSO
Ex-Compton official and his wife plead guilty in $3.7-million embezzlement scheme
Body of Manhattan Beach hiker is found, 9 months after he went missing in the Sierra
Murder suspect caught days after escaping Fresno police headquarters through window, police say
The stories shaping California
Get up to speed with our Essential California newsletter, sent six days a week.
You may occasionally receive promotional content from the Los Angeles Times.