Jury reaches verdict in Coronado Bridge tragedy that killed 4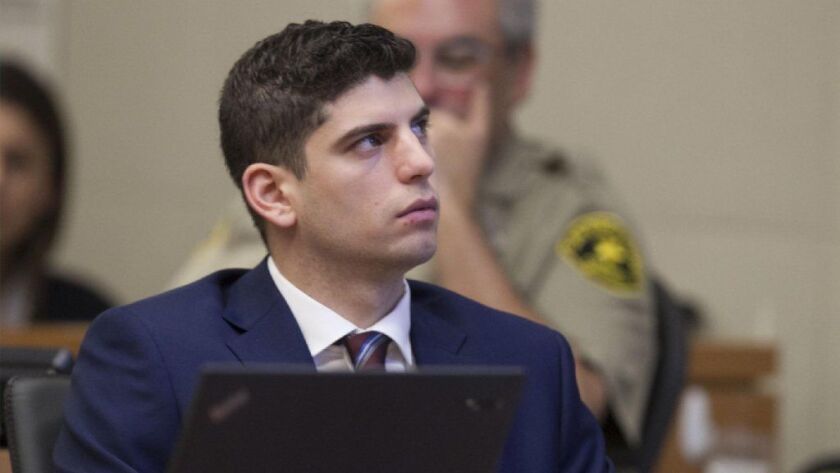 San Diego Union-Tribune
A jury reached a verdict Monday in the trial for a Navy petty officer who crashed off the San Diego-Coronado Bridge, killing four people in 2016 — but it will not be revealed until Wednesday.
The delay is designed to give family members of the victims time to travel to San Diego. Some live outside the county and some live out of state.
Defendant Richard Sepolio is charged with several felony counts, including gross vehicular manslaughter while intoxicated, driving under the influence and reckless driving in the Oct. 15, 2016, crash in Chicano Park in the Logan Heights neighborhood of San Diego.
Killed were Cruz Contreras, 52, and his wife, Annamarie Contreras, 50, of Chandler, Ariz., as well as Andre Banks, 49, and his wife, Francine Jimenez, 46, of Hacienda Heights.
According to authorities, Sepolio was starting to drive across the bridge and was going 81 mph just before he lost control of his pickup.
It launched off the bridge and plunged 40 feet into a park below, crushing vendor booths at the La Raza motorcycle rally, which about 3,000 people were attending.
Witnesses testified that several men rolled the truck off the victims, then hauled Sepolio out the back pickup window. He was clutching his cellphone, and, some witnesses said, smelled of alcohol.
The jury has several options. Some of the counts involve alcohol or negligence; others do not.
The panel began deliberations Jan. 31 and reached its verdict Monday morning.
State law allows for victims and survivors to be present for the verdict if they choose. But because court is closed Tuesday for Lincoln's birthday, the judge will take the verdict Wednesday morning.
During the trial, which included more than two weeks of testimony, prosecution and defense lawyers presented varying blood-alcohol test results on Sepolio.
The defendant testified that he had two alcoholic drinks — a hard cider and a glass of wine — during a 2.5-hour lunch with a colleague from North Island Naval Air Station in Coronado. He said they took an Uber ride back to her South Park apartment and hung out for an hour before he headed home.
Defense lawyer Paul Pfingst said Sepolio was not under the influence when he drove. The attorney said four blood and breath tests, taken later that evening, showed no higher than 0.05% to 0.06% blood-alcohol levels.
San Diego Deputy Dist. Atty. Cally Bright said one of the test results showed a 0.07% to 0.08% blood-alcohol level. Even with a lower level, she argued, Sepolio was still considered impaired for driving.
Drivers are presumed under California law to be under the influence with a 0.08% blood-alcohol level or higher.
Figueroa and Repard write for the San Diego Union-Tribune.
teri.figueroa@sduniontribune.com
---
The stories shaping California
Get up to speed with our Essential California newsletter, sent six days a week.
You may occasionally receive promotional content from the Los Angeles Times.