Cortines calls for unity in annual L.A. school district address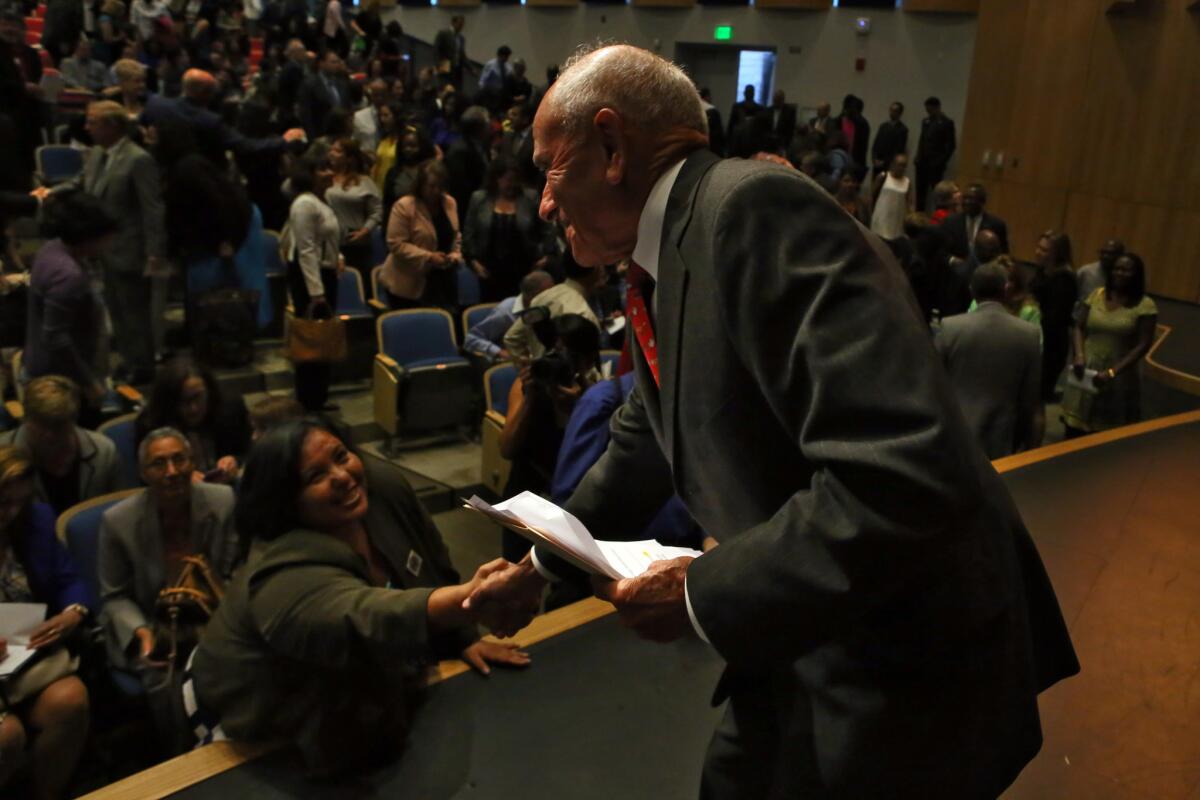 In an upbeat back-to-school speech, Los Angeles Unified Supt. Ramon C. Cortines told administrators Tuesday that the key to boosting student achievement is collaboration and unity among district employees working with parents and students.
The annual address was probably Cortines' last as superintendent, but also his first since the 83-year-old veteran schools chief returned from retirement upon the forced resignation of John Deasy last October. Cortines has said he hopes to leave by year's end, provided that the Board of Education has selected a successor.
Cortines, who seemed intent on rebuilding morale, said he was not backing away from the urgency of helping struggling students, but he rejected the rhetoric of district critics who refer to failing schools and blame district employees for the system's shortcomings.
"You are the heroes of this district," he told a packed auditorium at Garfield High School in East Los Angeles. "You are the ones that make this district great."
"Even a simple unexpected thank you is something all our people really want to hear," Cortines said, adding, "I am tired of hearing that some of our schools are failing schools…. Some need support. Even on those campuses, great things are happening every day."
His remarks — like the event itself — contrasted with the eloquent, almost militaristic intensity that Deasy brought to the podium.
Cortines introduced and commented on each of the seven school board members and every union leader. "Collaboration is extremely important in this district," he said, "especially with our bargaining units. And because of that, this district has been able to accomplish a lot in the last seven months."
He called particular attention to a student records system that caused districtwide chaos last fall and that the district has been working hard to salvage.
Cortines also announced a reorganization plan that divides L.A. Unified into six regions, each under a local superintendent with broad autonomy over schools in his or her area. It's an idea Cortines has tried to make stick each of three times he's led L.A. Unified.
Newly elected board member Ref Rodriguez, a charter school founder, said in a recent interview that he appreciates what Cortines wants to do.
"Decentralization and local control, pushing decisions down close to the schools and the community — that actually is transformative," Rodriguez said. "This whole notion is radical for a district this size."
The annual address is an anticipated event, used at times to launch major initiatives, set out challenges and tout accomplishments.
Last year, Deasy ordered a sealed envelope taped to every seat. In it was the name of a struggling student; each administrator was supposed to mentor and assist that student. In the furor of Deasy's last months, this endeavor immediately dropped off. No mention of it was made this year.
In 2012, Deasy announced his plan to provide a tablet to every student, which quickly evolved into the district's now-abandoned $1.3-billion iPads-for-all effort.
This year, Cortines said, students would have individual computers at more than 100 schools. The flip side is that students at close to 900 schools were likely to be sharing.
The superintendent also noted that the district has rushed to purchase up-to-date math textbooks. Originally, math materials were to have been provided on the iPads.
Cortines frequently served as humorist in chief. When the teachers union leader was not present to be introduced, Cortines said he would be put in detention.
When he asked board members to stand, he ad-libbed: "It's wonderful to be able to give orders to a Board of Education."
He also warned them away the next time they needed a superintendent: "I want you to know I've changed my phone number. So don't ever call again."
Twitter: @howardblume
Sign up for Essential California for news, features and recommendations from the L.A. Times and beyond in your inbox six days a week.
You may occasionally receive promotional content from the Los Angeles Times.