Costco shooting: Man pushed LAPD officer, had recently changed medications, attorney says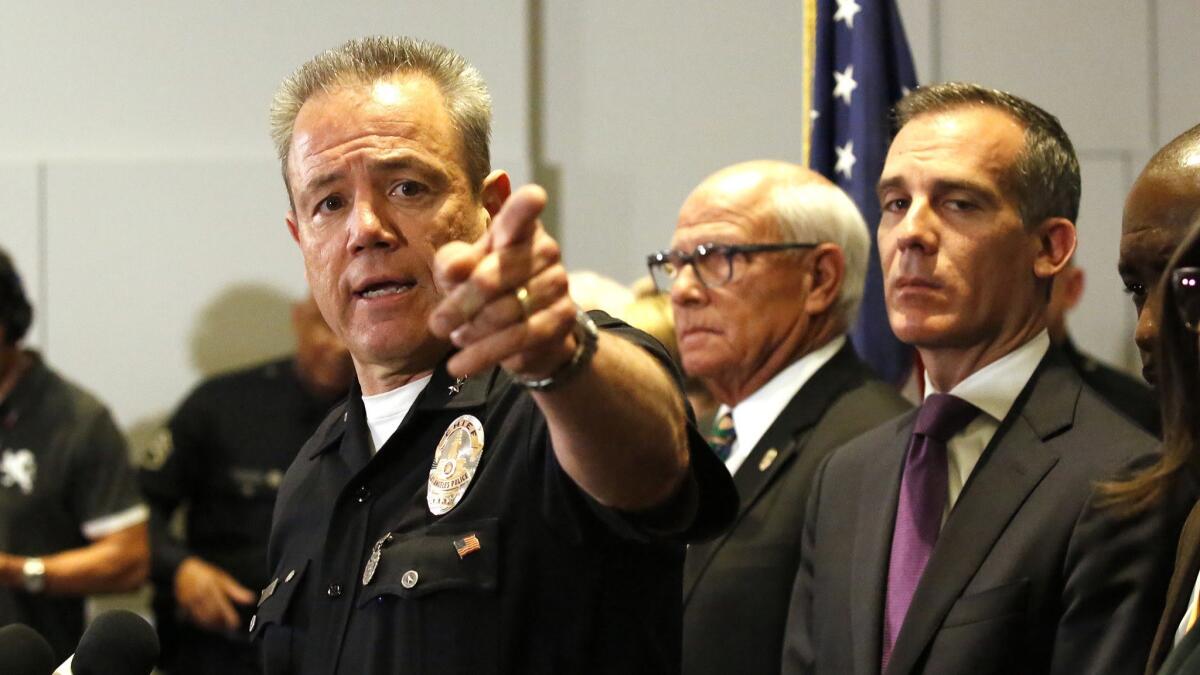 A man fatally shot by an off-duty Los Angeles police officer at a Costco in Corona pushed the officer — but that does not justify the use of deadly force, an attorney representing his family said Tuesday.
Civil rights attorney Dale K. Galipo said it was unclear why Kenneth French pushed the officer, who was holding his 18-month-old son in a food sample line when the altercation occurred Friday.
Before the officer fired, there was a gap in time when the officer declared he was a police officer and French's father stepped between them. Galipo said the security video shows this interaction.
"His father was trying to intervene and explain that his son had a mental disability," Galipo said. "He was not attacking him at the time the officer shot."
French is normally calm, but he had a recent change of medications that might have affected his behavior, Galipo said. The attorney said French was "non-verbal" due to his disability.
Galipo said the officer's life was not threatened and, instead, the officer acted out of anger because someone had pushed him.
"The shooting was excessive and completely unjustified," Galipo said, noting French was unarmed.
The officer fatally shot French and critically wounded French's parents.
Attorney David Winslow, who is representing the officer, said his client was getting a food sample for his son when he was attacked and knocked unconscious. When he awoke, the officer was "fighting for his life," the attorney said.
Authorities said the assault, which was captured on Costco security cameras, was unprovoked and led the officer to fire his 9-millimeter pistol.
LAPD Chief Michel Moore briefly addressed the shooting in front of the Police Commission on Tuesday, telling the panel, "There's many more questions than answers at this point."
"I'll wait for the full investigation before commenting on the officer's decision to use deadly force," Moore said. "The use of deadly force, whether on- or off-duty, is a matter that is the most-scrutinized decision that we have in this organization, and in this instance, it will be as well."
French was struck by gunfire multiple times. His parents, Russell and Paola French, remain hospitalized in critical condition, the chief said.
"My heart goes out to the parents of Mr. French," Moore added. "I pray for their recovery."
Corona Police Chief George Johnstone said in a video statement released Tuesday that his detectives will continue to interview witnesses and evaluate video and forensic evidence from the store.
"For several reasons, including the need to interview a number of witnesses and review evidence, no arrest was made at the time of the incident," Johnstone said, noting the chaotic scene.
Johnstone said his department's investigation had been hindered by not being able to interview everyone involved. It was unclear to whom he was referring.
Once all the evidence has been gathered and evaluated, it will be presented to the Riverside County district attorney for a decision on charges, he said.
The officer — who was identified by multiple sources as Salvador Sanchez, a patrol officer in the Southwest Division — suffered minor injuries.
Los Angeles investigators are assessing whether the off-duty officer, who has yet to be officially identified by the force, violated any department policies in the shooting. Sanchez has been employed with the LAPD since May 2012, according to department records.
Ultimately, the five-person Los Angeles Police Commission will decide whether the officer was justified in the shooting and whether he followed department rules before pulling the trigger. That investigation is separate from the criminal one.
If the officer was knocked unconscious during the attack, as his attorney alleges, it would justify the use of deadly force, said Ed Obayashi, a Plumas County sheriff's deputy and use-of-force adviser to the California Assn. of Police Training Officers.
The injury makes him a victim of a serious violent felony — one that would likely have made him disoriented, groggy and launched his brain into a "fight or flight" mode — as opposed to a misdemeanor battery in which the injury was not as significant, Obayashi said.
"What type of person punches a parent and knocks them out carrying a baby?" he said. "The justification based on this has really jumped way off the scale. He has every right to defend himself under those circumstances."
Family members of the Frenches are challenging that account of the event. Kenneth French was nonverbal and had the mental capacity of a teenager, said his cousin Rick Shureih. French had no history of being violent, he said, adding that his parents are kind and gentle people.
Galipo said there appears to be unequal treatment of police officers compared with other citizens when deadly force is used.
"This is demonstrated by police departments that often cover for their officers and find shootings to be in policy when civil juries find the same shootings to be excessive and unreasonable, and in violation of the United States Constitution," he said. "Additionally, rarely are any officers charged criminally with the shootings of unarmed people."
Galipo noted that the officer did identify himself as a police officer before opening fire.
Several people who spoke at the Police Commission meeting Tuesday criticized commissioners for remaining silent about the shooting and failing to ask questions.
Commissioner Eileen Decker said that "it would be premature and inappropriate to ask questions" because the commission "will be adjudicating" the case.
Other speakers questioned why an officer was carrying a firearm while off duty in a crowded store.
But experts say it's fairly common for officers to carry their firearms in public while not working. Off-duty police, like private citizens with firearm permits in California, are also legally allowed to fire their weapon in self-defense in the event of an imminent attack and if there is no ability to retreat from the situation, said Jody Armour, a law professor at USC.
"The real question will be whether a reasonable person in the situation of the shooter would have believed he was under attack, threatened with death or serious bodily injury," he said. "The shooter has to feel like they're about to be attacked and there was no less drastic alternative."
Times staff writers Laura Newberry and Jaclyn Cosgrove contributed to this report.
Twitter: @Hannahnfry
Sign up for Essential California for news, features and recommendations from the L.A. Times and beyond in your inbox six days a week.
You may occasionally receive promotional content from the Los Angeles Times.