School board member Monica Garcia launches bid for Huizar seat on L.A. City Council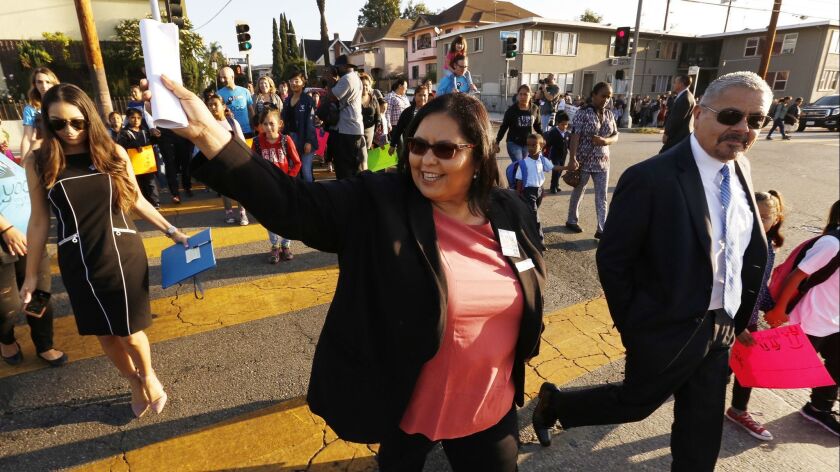 Los Angeles school board President Monica Garcia said Monday that she is entering the race to replace Councilman Jose Huizar, becoming the latest high-profile politician to seek the seat.
Garcia, a school board member since 2006, sent out a video of herself disclosing her decision to run in Huizar's district, which takes in neighborhoods from downtown and Boyle Heights to Eagle Rock. In an interview, she said she plans to pursue an agenda of "community wellness" that focuses on housing, public safety, environmental justice and economic opportunity.
"I have deep roots in this part of town. I'm proud to be a product of this community," she said. "And I've seen people come together and do amazing things over the 12 years I've served on the board."
Huizar faces term limits next year. Garcia, who was Huizar's chief of staff when he served on the school board, made her announcement nearly two weeks after former State Sen. Kevin de León announced his own plan to run for the seat.
The election will be held in March 2020, with a runoff set for November if no candidate receives a majority of the vote.
The announcement comes at a turbulent moment in the 14th Council District. In November, FBI agents raided Huizar's home and offices, carrying out an array of materials, including a cardboard box labeled "fundraising." Investigators have filed at least one search warrant seeking any evidence of possible bribery, extortion and other crimes involving Huizar and several other City Hall officials.
No one has been arrested, and no charges have been publicly filed. Garcia, for her part, repeatedly sidestepped a question about whether she would discuss the FBI probe on the campaign trail.
"I'm interested in talking with our folks about the issues that they want to raise," she said.
Garcia, 50, first made her announcement over the weekend at what her campaign described as a "private gathering" of more than 100 friends, relatives and community leaders. She represents a district stretching from Koreatown on the west to El Sereno and East Los Angeles on the east.
While serving on the school board, Garcia worked for passage of a $7-billion school construction bond measure and pushed for a greater share of spending to campuses with the greatest number of students from high-poverty neighborhoods. A trained social worker, she also has worked to reduce student suspensions and expulsions.
Garcia's tenure at L.A. Unified has been marked by two major political alliances. Early on, she was a loyal ally of then-Mayor Antonio Villaraigosa, supporting his push to gain control over the nation's second-largest school district.
The second alliance was with supporters of independently operated charter schools, which are privately run and compete with district schools for students. Most are non-union.
Both alliances put Garcia at odds with United Teachers Los Angeles, which tried without success to defeat her when she ran for reelection. However, she has forged strong relations with the union that represents most non-teaching employees, Local 99 of the Service Employees International Union.
Garcia has served multiple terms as board president. Term limits prevent her from running again for the school board.
david.zahniser@latimes.com | Twitter: @DavidZahniser
howard.blume@latimes.com | Twitter: @howardblume
---
The stories shaping California
Get up to speed with our Essential California newsletter, sent six days a week.
You may occasionally receive promotional content from the Los Angeles Times.