He wants to protest the far-right rally in San Francisco without being there, so he's asking dogs to do their worst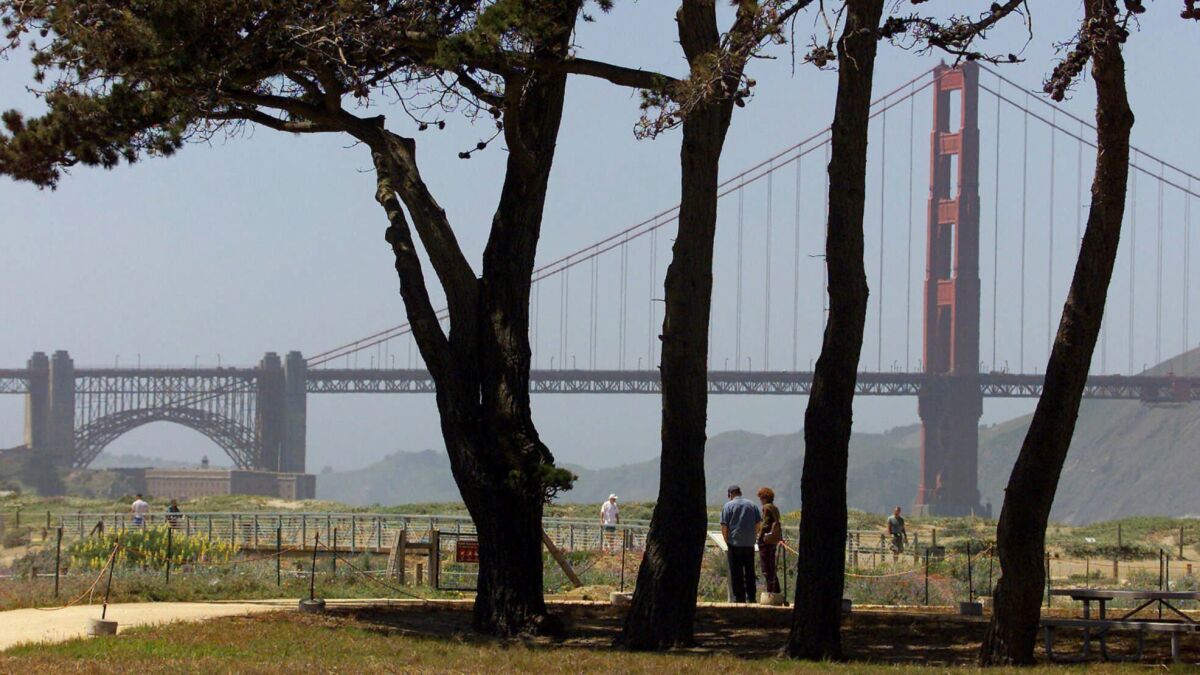 Tuffy Tuffington was wrestling last week with how to civilly protest the upcoming conservative "Patriot Prayer" rally in San Francisco when his two dogs began "doing their business" in Golden Gate Park.
That gave him an idea.
"I suddenly had this image in my head of a bunch of alt-right protesters marching through a field of poop," Tuffington, a 45-year-old graphic designer, told The Times.
That's when Operation: Doggy Droppings was born.
He went home and created a Facebook event, inviting 15 of his friends to walk their dogs in Crissy Field on Friday afternoon or Saturday morning and leave their pets' waste behind.
That way, he said, they could protest the rally without being there, eliminating the risk of physical confrontations.
Later that evening, he logged back onto the site to find that he had accidentally made the event public. By then, he said, 500 people had expressed interest.
"Obviously it resonated with a lot of people as a valid form of civil disobedience," he said.
Others criticized the campaign. Crissy Field Dog Group, a nonprofit whose volunteers refill the waste bag dispensers at the park, said in a statement that it does not support leaving dog poop on the field as a form of protest.
The group "has a long history of being a good canine citizen as we have cleaned up dog waste at Crissy Field for over 15 years," it said. "While we respect everyone's choice for their freedom of expression, there are many other constructive ways to protest."
As of Thursday evening, more than 900 Facebook users indicated they were attending, while more than 5,000 expressed interest.
"It's been kind of surreal," Tuffington said, adding that his inbox has garnered messages of both support and anger. "It continues to grow every day."
Saturday's pro-Trump rally is being organized by blogger Joey Gibson, who says he condemns white supremacists. But white nationalists have attended and spoken at past rallies.
A group of Democratic state lawmakers called unsuccessfully for the National Park Service to rescind a permit issued for the event, citing concerns that it will attract people who will engage in violence.
The gathering comes after violent clashes broke out at a white nationalist rally in Charlottesville, Va., where one woman was killed and more than a dozen were injured when a car plowed into a group of counter-protesters.
On Saturday, police plan to keep the two sides apart with officers separating rallygoers and counter-protesters.
A representative for the National Park Service could not immediately be reached for comment about Tuffington's campaign. A San Francisco police spokesman said the agency was aware of it but does not have jurisdiction over the park.
Tuffington said he plans to clean up the droppings — as well as any water bottles or trash left behind — after the protesters go home, in time for runners in a half-marathon to race through the park Sunday morning.
alene.tchekmedyian@latimes.com
Twitter: @AleneTchek
ALSO
Louise Linton pulls Valentino heel out of her regretful mouth
Trump pivots from racially charged vitriol to a call for national unity
Again breaking ground, Trump takes the permanent campaign to new heights
---
UPDATES:
Aug. 25, 8:25 a.m.: This article was updated with a statement from Crissy Field Dog Group.
This article was originally published on Aug. 24 at 10:25 p.m.
The stories shaping California
Get up to speed with our Essential California newsletter, sent six days a week.
You may occasionally receive promotional content from the Los Angeles Times.