Cal State Northridge plans off-campus exams after second threat of mass shooting at school is made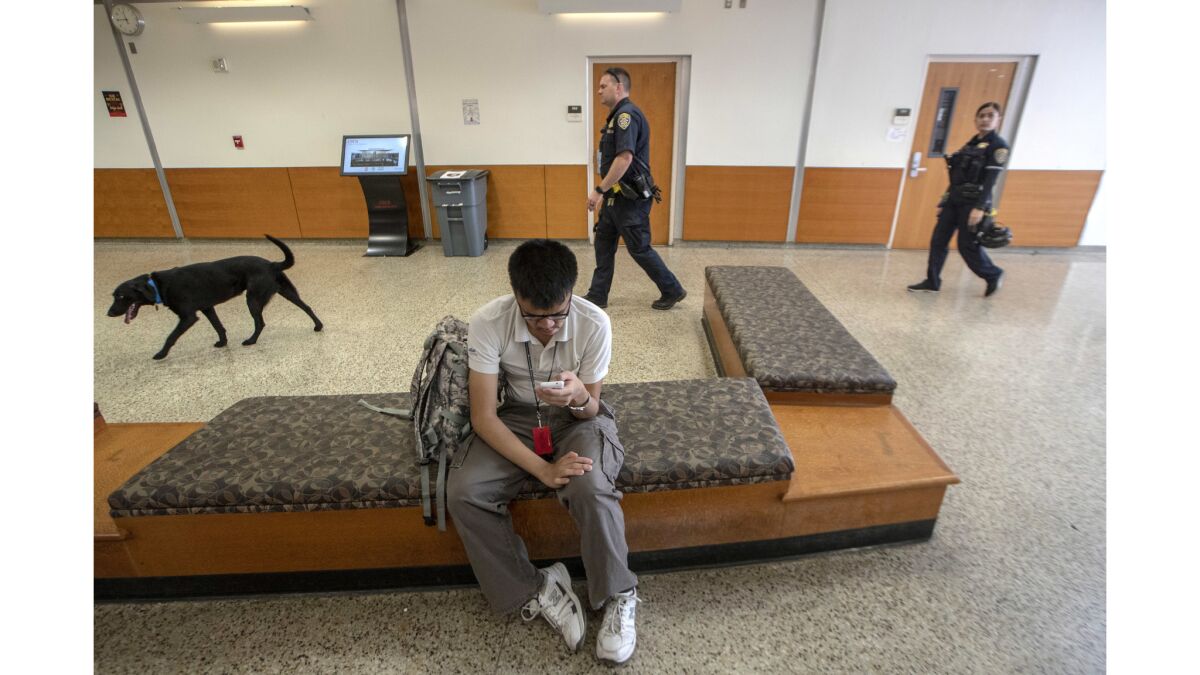 A letter discovered in a building at Cal State Northridge that threatens a mass shooting has prompted school officials to provide off-campus alternatives for final exams Wednesday.
A student found the note, written in red ink on lined notebook paper, late Monday folded up on the floor of a classroom in Redwood Hall. The student called campus police about 11:44 p.m. after he read it, said Cal State Northridge Police Chief Anne Glavin.
The letter, which is laced with profanity and warns of a shooting on the campus Wednesday, is the second threat made to the college in less than a week. A similar warning was scrawled in black marker on a bathroom wall in Sierra Hall last week. In that incident, anti-Semitic symbols accompanied racist language and the threat of a mass shooting, also Wednesday, the same day final exams are scheduled to begin.
Glavin said officials have not identified the person responsible for the bathroom messages or the letter. She declined to comment on any possible connection between the two incidents.
The letter also threatens that students from Northridge Academy High School will carry out a similar attack on their campus. Police increased patrols around the high school Tuesday, but officials have not announced any plans to cancel classes.
"The teachers and proffessors are surely going to … die for making students depressed and giving us … work that will never serve us good in life," the letter states.
In addition to directing instructors to provide options for online or off-campus exams that wouldn't require students to be in classrooms Wednesday, CSUN officials also have boosted police presence on the campus amid mounting concerns over safety.
Some students called for the school to be shut down Wednesday. More than 10,500 people have signed an online petition to close the campus. Less than 12 hours after the petition launched, administrators announced their plan to move the day's final exams off campus. The school will remain open.
"We're certainly not going to bow down to threats, but at the same time, we need to keep people safe," Glavin said. "Seeing this type of threat, especially after [the mass shooting in] Thousand Oaks, it turns people's nerves upside down."
Cal State Northridge President Dianne F. Harrison wrote in a message to the campus that "the last several days have been incredibly difficult for the CSUN family."
"Sadly, the world in which we live requires we take threats of violence and expressions of hate seriously — even when there is no evidence to suggest that the threatened acts are likely to materialize," she wrote. "The determination by CSUN Police and their law enforcement partners, at this time, remains that this threat is not credible."
Twitter: @Hannahnfry
---
The stories shaping California
Get up to speed with our Essential California newsletter, sent six days a week.
You may occasionally receive promotional content from the Los Angeles Times.