One month after a mass shooting, Thousand Oaks grapples with its new reality
For residents of Thousand Oaks, the past month has felt like the longest in city history.
The Los Angeles suburb awoke on the morning of Nov. 8 to news that a dozen people had been gunned down at a local bar. The next day, fires sent people fleeing from their homes. Then came the funerals for those lost, sometimes with multiple services in one day.
On the one-month anniversary of the shooting, officials and residents here say they are still grappling with the tragedy's aftermath, especially as developments emerge. On Friday, police revealed the news that the officer killed at Borderline Bar that night was wounded by the officer he stormed the bar with.
Many people in Thousand Oaks say they feel buoyed by the community solidarity that has surfaced in recent weeks; it's not difficult to spot a "Borderline Strong" T-shirt around town. Yet the horror of the massacre still looms large, even for those not directly affected.
Owen Roberts, 20, says he is struggling with the idea that the name of his hometown might evoke the same feelings as Columbine. Before the shooting, Roberts had to explain where Thousand Oaks was — 40 miles northwest of L.A., he would say.
"Now I say 'Thousand Oaks,' and the only response I get is, 'I'm so sorry,'" said Roberts, a student at Santa Monica College. "I feel like the community was robbed of some sort of a peacefulness that it'll never get back."
The pain of the 12 lives cut short at Borderline is palpable at a makeshift memorial that has formed outside the bar.
The street corner lined with crosses is piled knee-high with bouquets of lilies and roses. The air smells of overripe fruit from the aging petals. The tribute has grown so much over the past month that it now occupies the entire sidewalk, requiring visitors to stand in the street to look upon the pictures of those lost.
Many say the outpouring of support has made them hopeful. They believe the strong community bond was bolstered in part by subsequent fires that forced neighbors to help one another as they evacuated and sought shelter.
Since the back-to-back disasters, hundreds of thousands of dollars have been raised for affected families. Some in town now sport tattoos of cowboy boots or hats, in honor of Borderline's country theme. Parents of the young people who died at Borderline have shown up at funerals for other victims they didn't know, just to demonstrate their support.
"Out of this tragedy we've become friends with folks we never knew before," Pastor Rob McCoy said during a church service Saturday in Thousand Oaks for two young men killed at Borderline.
At the joint funeral for 21-year-olds Blake Dingman and Jake Dunham, family described them as close friends who loved dirt biking, cars and escaping to the desert on the weekends.
Dunham, who had hemophilia and lost sight in one eye as a child, didn't let obstacles stand in his way, friends said. Dingman was a warm goofball, the friend who would pick you up at 3 a.m. when your car broke down.
"Blake and Jake were always the life of the party, the ones doing the dumbest and the craziest stuff," said Dingman's mother, Lorrie. "As we have tried to wrap our heads around all of this, and put this tragedy in perspective, we have struggled."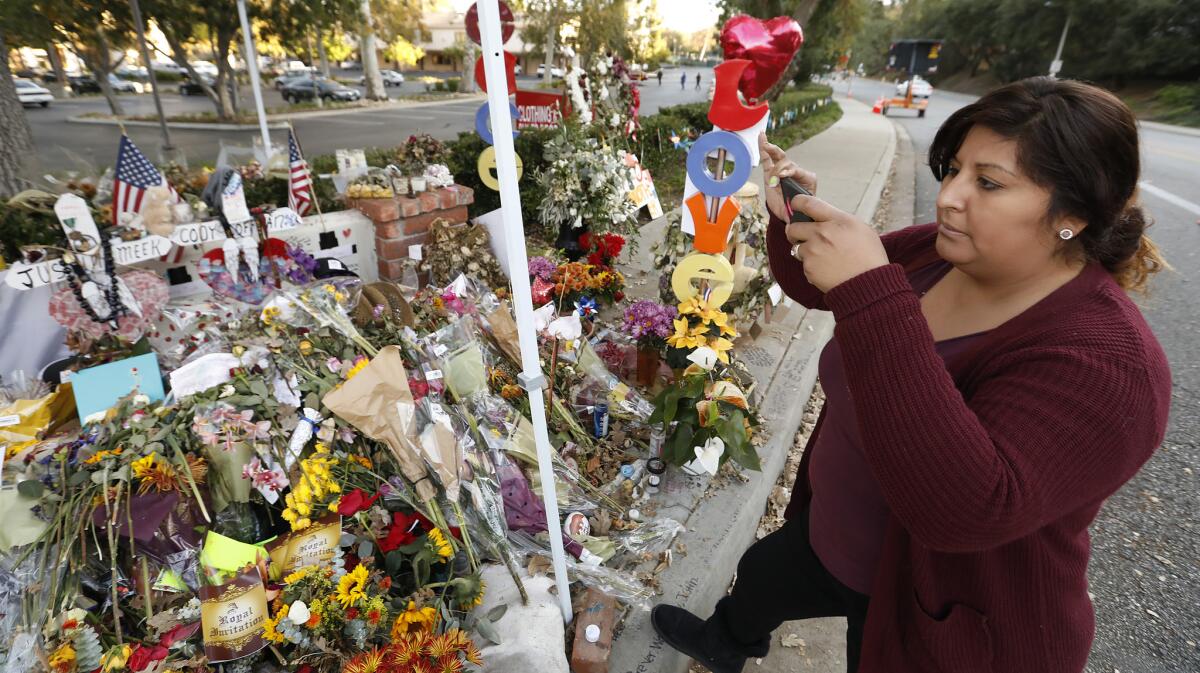 Elle Welch, who was raised in Ventura County, said the Borderline shooting feels particularly jarring because the gunman grew up in the area, which considers itself not just safe but also tight-knit.
"To have one of our own turn against us in such a heartbreaking, horrible, evil way, I think really rips through our community," Welch, a 43-year-old paralegal who lives in Oak Park.
Yet, in the past month, she has seen neighbors hosing off one anothers' houses to save them from flames. Some places in town had to begin turning away donations because they received so many, a reminder that the region is a place where "we all stay together and stand together," she said.
"Something like a shooting is not going to take this away from us," Welch said.
In Lisa Renshaw's cul-de-sac in Newbury Park, the tragedy has had an unexpected outcome. She and her neighbors used to drink margaritas together every weekend, but that fizzled out when Donald Trump was elected president, said Renshaw, 60. No one wanted to argue about political differences, she said.
Now, however, the sense of community has returned, with cocktail Saturdays becoming a possibility again, said Renshaw, a molecular biologist at the biotech company Amgen.
"I think it was kind of a slap in the face for us to remind us who we are and what we need to do to get back to that place," she said.
Many say they are holding their loved ones closer as they continue to grieve alongside families who are not so lucky.
On Saturday, hundreds of people gathered in Simi Valley to remember Sean Adler, a 48-year-old bouncer at Borderline who was killed in the shooting. Instead of the traditional black garb, many guests donned Hawaiian shirts, which Adler liked to wear.
Friends described Adler as a hard worker and a prankster. With his wife and two sons, he liked to cook and concoct extravagant desserts, including something his son Derek called "diabetes" — Cinnamon Toast Crunch cereal with melted marshmallows and caramel.
Derek, 12, told the audience that as a high schooler in Simi Valley, Sean Adler drove to the mountains at 4 a.m. to pack the bed of his truck with snow. He then started a snowball fight at school.
"But then it got kind of out of control and then he hit the vice principal in the head," said Derek, eliciting laughter from the room.
Derek spoke alongside Riley, his best friend, who called Adler his second dad. He said that Adler helped him deal with bullies when he was younger.
"Even though Sean could be as rough as a rhino, he could also be as soft as a teddy bear," he said. "He really helped me stand up to them when I didn't even know that was possible."
Dylan, Adler's older son, lovingly described his father as a man with a big personality.
When Dylan hated school, his dad helped him work through what he found challenging. He sat down and listened to him. He knew how to make someone feel better, the 17-year-old said.
"Nobody knew how great of a father he was except me and him," said Dylan.
soumya.karlamangla@latimes.com
Twitter: @skarlamangla
Sign up for Essential California for news, features and recommendations from the L.A. Times and beyond in your inbox six days a week.
You may occasionally receive promotional content from the Los Angeles Times.