California's university leaders are urging Trump to embrace students who are in the U.S. illegally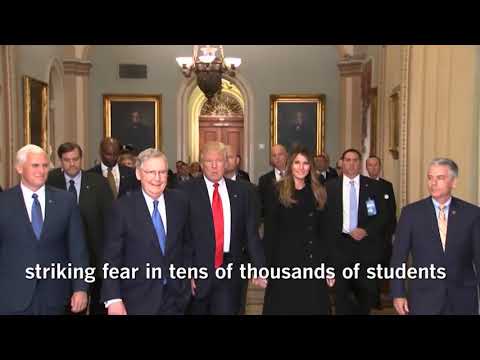 The California entreaty comes after more than 300 college presidents signed a letter to the country's leaders pushing for DACA to be continued and expanded.
Leaders of California's three systems of public higher education sent a joint letter to President-elect Donald Trump on Tuesday urging him to allow students who are in the country illegally to continue their educations without fear of deportation.
"These sons and daughters of undocumented immigrants are as American as any other child across the nation" in all but the letter of the law, do not pose a safety threat and have contributed to their communities, wrote University of California President Janet Napolitano, Cal State Chancellor Timothy P. White and Eloy Ortiz Oakley, chancellor-designate of California Community Colleges.
"They represent some of the best our nation has to offer," the three continued. "They should be able to pursue their dream of higher education without fear of being arrested, deported, or rounded up just for trying to learn…. we implore you to let them know they are valued members of our communities and that they will be allowed to continue to pursue the American dream."
Trump said during his campaign that he would reverse an Obama administration program that deferred deportation proceedings against certain young people who were brought to the country illegally as minors but stayed in school and out of trouble. That program, known as Deferred Action for Childhood Arrivals, or DACA, has approved applications nationally from nearly 742,000 people — 214,000 of them live in California, the most of any state.
The California entreaty comes after more than 300 college presidents signed an open letter to the country's leaders pushing for DACA to be continued and expanded as a "moral imperative and a national necessity."
That earlier letter was initiated by Pomona College President David Oxtoby and signed by leaders at campuses including Yale, Harvard, Stanford, USC, UC Davis, Occidental College, Pitzer College and Scripps College.
It is not clear that students face immediate risk, however. Terry Hartle, senior vice president of the American Council on Education, said that Trump's recent statements suggest he may focus first on building a wall along the U.S.-Mexico border and on deporting criminals.
California university officials say they also are heartened by state laws that provide some of the nation's strongest protections to students who entered the country illegally — giving them access to driver's licenses, state financial aid and in-state tuition, for instance.
Tens of thousands of these students have turned to UC, Cal State and California community colleges for a shot at higher education. The systems do not track students' immigration status, but the closest rough estimate comes from Assembly Bill 540, a 2001 state law that enables some California students who are in the U.S. illegally to qualify for in-state college tuition.
Last year, AB 540 waivers were issued to about 61,000 students at community colleges, 10,000 at Cal State and 3,700 at UC. Overall, the three systems educate 2.8 million students.
Administrators say the DACA program, which also gives access to work permits, empowered more students to come out of the shadows. At UC, for instance, the number of students who qualified for AB 540 waivers jumped from 885 in 2011 to 3,765 last year. Community colleges, Cal State and private campuses such as Pomona also reported significant increases.
Students who are in the country illegally account today for about 4% of Pomona College's 1,600 undergraduates.
"DACA — not just for Pomona, but for the whole country — has encouraged high school students to take their studies more seriously and get into college," Oxtoby said. "Before DACA, they didn't see the reason to go on, because they didn't see a future."
Oxtoby has personally assured students that Pomona will fill any financial aid gaps should Trump end the program and their access to work permits. Pomona also brought in an immigration lawyer to speak to students seeking legal advice and advised those without legal status not to study abroad next semester "because we just don't know what will happen when they try to return," Oxtoby said.
Ray Murillo, director of student programs at Cal State, the nation's largest public university system, said students who are in the country illegally have, since the election, feared deportation the most but also worry about their ability to keep their jobs and pay for school. Before DACA, he said, students had to find under-the-table work, typically with lower pay and poorer working conditions. Now, he said, students can fill campus jobs, compete for internships and study abroad — activities that help them feel more connected to their schools.
One oasis of support for such students is the Titan Dreamers Resource Center at Cal State Fullerton, which opened in 2014 — the first of eight such Cal State centers. On Monday, it was filled with students doing homework and bonding with classmates who shared their anxieties about the future.
Brenda Villa, a third-year undergraduate studying broadcast journalism and economics, walked past hand-painted canvases that proclaimed "UNDOCUMENTED AND UNAFRAID" and hugged a classmate. The threat that Trump would end DACA has brought students closer together, she said.
She said the uncertainty of the future for herself, her friends and her family hit her the morning after the election. She is trying to lead by example and motivate her two younger sisters to succeed in college.
"I just started crying. It felt like someone close had died," she said. She hoped to study abroad in 2018 and to graduate on time. Now she worries that won't be possible.
One young woman who would give only her first name, Jessica, for fear of being identified, said she graduated from Cal State Fullerton in 2012 without DACA, working 18 hours a week under the table as a waitress to pay for school and help her parents with rent. But she was devastated to find she could not accept a job offer at the Head Start program that helped her when she was in preschool because she had no legal work permit.
Under the DACA program, she was able to go back to Head Start and get the job. She worked there three years and went on to graduate school — well on her way to realizing her dream of becoming a social worker in high schools or even starting her own practice.
"My biggest concern now is, what's going to happen after I graduate?" she said. "And then of course, there's that fear of deportation… what could happen to my whole family."
Henoc Preciado, the center's coordinator, said the Trump victory triggered a sense of hopelessness among many of the hundreds of students who visit. Some began skipping classes and work; he referred one student to counselors after he spoke of having suicidal thoughts, and said many others have sought mental health services.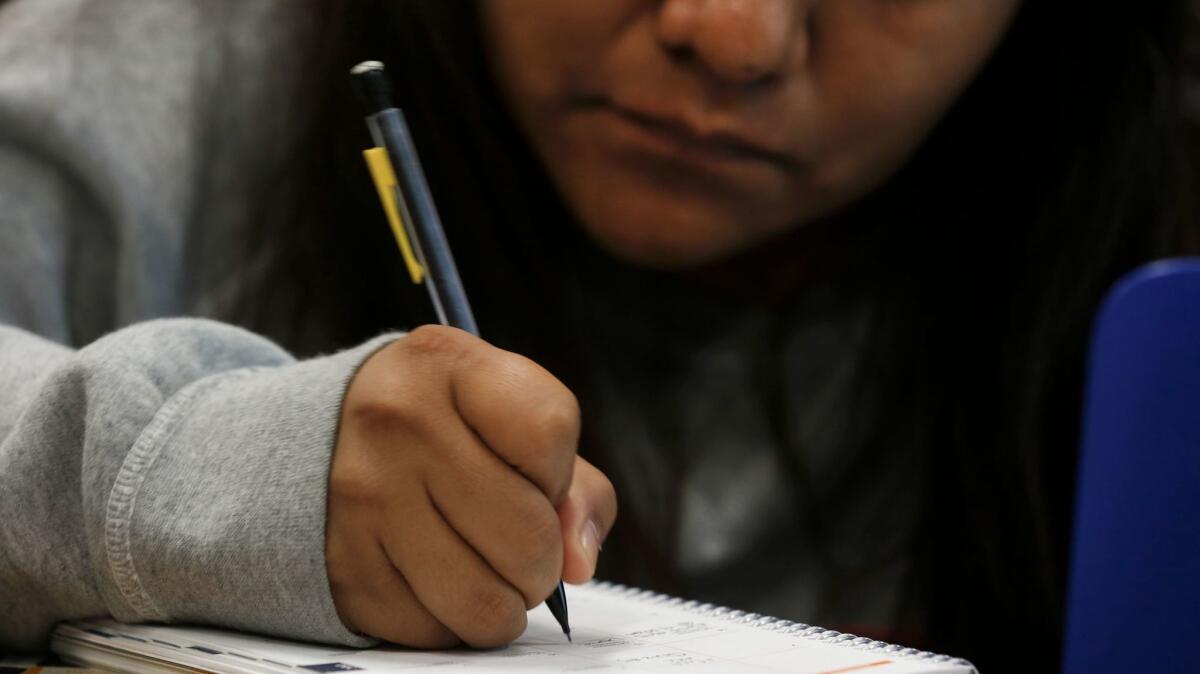 "For these students, when they don't yet know how they're going to protect themselves or their family members, school is going to be secondary," he said. "[DACA] is not just a policy, it's not just an executive action. These are people whose lives are in limbo."
Napolitano, who heads the 10-campus, 252,000-student UC system, has a particular interest in DACA, which she devised in 2012 when she was U.S. Homeland Security secretary under President Obama. At the time, she said, the administration was "stymied" by congressional inaction in its efforts to reform the nation's immigration laws and offer a path to legalization for those here illegally.
In an interview Monday, Napolitano said she wanted Trump and others to understand that the program is not a "blanket amnesty" as some have labeled it, but requires an individual case review to screen each candidate for potential safety threats, age requirements and other criteria. Nearly 65,000 cases were denied as of June, according to federal immigration data.
Napolitano has convened a task force to examine the potential effect on students of any actions by the incoming administration. All UC campuses have support centers for students in the country illegally, offering academic aid, legal advice and a wide variety of scholarships, fellowships and grants.
"We want to do everything we can to protect DACA students," Napolitano said. "They have done everything society has asked of them except they were brought here as children undocumented."
ALSO
Hire judges, boost prosecutions and cut funds: What Jeff Sessions could do on immigration as attorney general
For many L.A. blacks, Trump's supporters and advisors stir ugly memories and new fears
California mayors have a message for Trump about the border
---
UPDATES:
2:05 p.m.: This article was updated to add the names of additional schools that signed an open letter to the country's leaders.
7:04 a.m.: This story was updated with additional data.
This article was originally published at 5 a.m.
Sign up for Essential California for news, features and recommendations from the L.A. Times and beyond in your inbox six days a week.
You may occasionally receive promotional content from the Los Angeles Times.