Verizon 'throttled' critical internet service during wildfire battle, fire chief says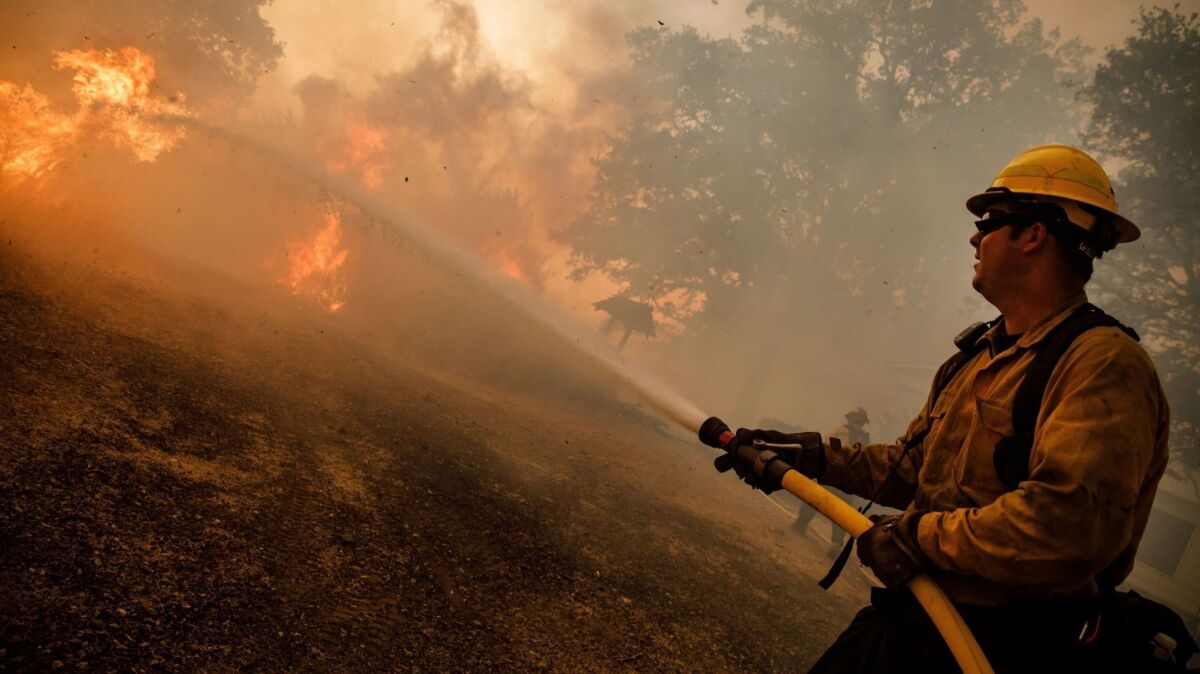 Santa Clara County firefighters were critically hindered by inadequate internet service while they helped battle the massive Mendocino Complex fire in July after Verizon slowed the speed of their wireless data, the county's fire chief wrote in a federal court filing this week.
While the agency believed it had paid for an unlimited data plan, the Santa Clara County Fire Department discovered its data connection had been "throttled" down to 1/200 or less than previous speeds as it fought the largest fire in modern California history. Verizon Wireless representatives told the department it had exceeded its plan limit for data and suggested the agency purchase a plan at more than double the cost, according to court documents.
"This throttling has had a significant impact on our ability to provide emergency services," Fire Chief Anthony Bowden wrote. "Verizon imposed these limitations despite being informed that throttling was actively impeding county fire's ability to provide crisis-response and essential emergency services."
Bowden's statement was submitted in an addendum to a federal lawsuit filed Monday by 21 states — including California — and the District of Columbia seeking to overturn the Federal Communications Commission's repeal of net neutrality rules. The repeal, which went into effect in June, scrapped Obama-era regulations that, among other things, prevented internet service providers from blocking content they didn't like or charging providers more for speeding up delivery of certain content.
Verizon spokeswoman Heidi Flato wrote in a statement Wednesday that the situation with the Santa Clara County Fire Department "has nothing to do with net neutrality or the current proceeding in court," instead calling it a "customer support mistake."
"This customer purchased a government contract plan for a high-speed wireless data allotment at a set monthly cost," she wrote. "Under this plan, users get an unlimited amount of data but speeds are reduced when they exceed their allotment until the next billing cycle."
However, Flato wrote that the company has a practice to remove data speed restrictions for emergency responders — regardless of the plan they have chosen — in emergency situations.
"In this situation, we should have lifted the speed restriction when our customer reached out to us," she said. "We are reviewing the situation and will fix any issues going forward."
Katharine Trendacosta, a policy analyst with the nonprofit Electronic Frontier Foundation, said the situation undercuts the argument that net neutrality rules hindered emergency services by not allowing internet service providers to prioritize their data.
"They've often said if we're allowed to throttle some and not others then we can give better service to emergency responders. We're seeing here that's not true," she said. "It wasn't net neutrality that prevented them from doing it. It's clearly their own policies."
Trendacosta said the Santa Clara County Fire Department's experience "is an example of why actions like this are so dangerous and why we need to pay attention to how we're getting our internet."
Santa Clara County Fire Capt. Bill Murphy said officials felt compelled to join in the lawsuit as a means to ensure that reduced data speeds won't impact the public's access to information like evacuation routes and fire maps disseminated online during emergencies.
"If the public were to experience the same level of throttling that we experienced, their ability to access basic information we're trying to get them would be significantly reduced," he said.
The necessity of prompt communication during disasters was highlighted during the wine country fires in Northern California; officials have debated whether more could have been done to give residents earlier warnings before the fires swept in, ultimately killing 44 people and destroying more than 10,000 homes.
Bowden wrote in the addendum that the data-slowing during the Mendocino Complex fire specifically hampered OES 5262, a department command vehicle that acts as a mobile emergency operations center and requires "near-real-time information exchange" to coordinate resources and staff during emergencies like large wildfires.
"Dated or stale information regarding the availability or need for resources can slow response times and render them far less effective," he wrote. "Resources could be deployed to the wrong fire, the wrong part of the fire, or fail to be deployed at all. Even small delays in response translate into devastating effects, including loss of property, and, in some cases, loss of life."
Fire crews that worked in the command vehicle faced email delays and challenges updating web-based documents with critical information about deployment because of the data speeds, which impeded their ability to communicate with one another, Murphy said.
"It essentially rendered those very routine communications almost useless or completely ineffective," he said. "They were essentially dealing with dial-up type speeds."
The department now uses FirstNet, a service that provides wireless network service to public safety agencies, as a supplement to Verizon to avoid future issues, Murphy said.
Emails between fire officials and Verizon representatives filed in court show that the department has been having issues with data "throttling" since December 2017. Fire crews noticed the problem again in June, as they fought the Pawnee fire, which burned 15,185 acres in Lake County. During that incident, Verizon suggested a $2-a-month upgrade to the fire department's plan to restore data speeds.
Data speeds continued to be an issue as Santa Clara County firefighters deployed to the Mendocino Complex fire, which began July 27 and had charred 410,482 acres in Mendocino, Lake, Colusa and Glenn counties as of Wednesday.
"Please work with us," a fire official wrote to Verizon on July 30. "All we need is a plan that does not offer throttling or caps of any kind."
In response, Verizon suggested the department upgrade to a $99.99 per month plan, which would have more than doubled its bill, to remove the data throttling. Before the department subscribed to the new plan, county fire personnel used other agencies' internet service providers and their personal devices to deploy fire resources, Bowden wrote.
"In light of our experience, county fire believes it is likely that Verizon will continue to use the exigent nature of public safety emergencies and catastrophic events to coerce public agencies into higher cost plans, ultimately paying significantly more for mission critical service, even if that means risking harm to public safety during negotiations," he wrote.
Twitter: @Hannahnfry
---
UPDATES:
1:05 p.m.: This article was updated with comments from a policy analyst with the nonprofit Electronic Frontier Foundation and a Santa Clara County Fire Department captain.
This article was originally published at 8:55 a.m.
---
Life is stressful. Our weekly mental wellness newsletter can help.
You may occasionally receive promotional content from the Los Angeles Times.