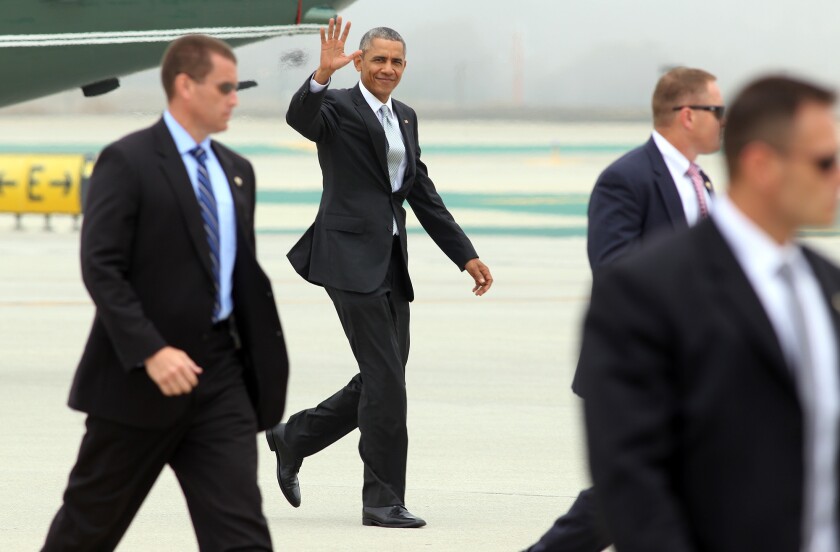 L.A. drivers can breathe a sigh of relief because Obamajam is over.
President Obama boarded Air Force One about 12:15 p.m. at Los Angeles International Airport, departing for San Francisco, where he is scheduled to attend fundraisers and speak at the U.S. Conference of Mayors.
Earlier, Obama went to Highland Park, where he sat down for an interview with Marc Maron inside the comedian's home garage.
The interview will air Monday on the "WTF With Marc Maron" podcast.
On Thursday afternoon, Maron tweeted, "Honored @POTUS is visiting the garage tomorrow."
"I am not freaking out about it," he said on a recent podcast. "Why would I freak out about the president coming to my house? Oh my god, I hope my bathroom is clean."
After the interview, Maron posted a photo of a coffee cup and a napkin stamped with the presidential seal, writing, "The President forgot his coffee."
Authorities said to expect major traffic delays Friday morning and afternoon.
Obama's trip started Thursday, when he arrived at Los Angeles International Airport to attend two Democratic National Committee fundraisers.
Obama went to the home of television producer Chuck Lorre in Pacific Palisades, where he held a $16,700-per person "intimate" roundtable discussion, Variety reported.
Then Obama went to film director Tyler Perry's home in Beverly Hills for a dinner reception, where supporters paid $2,500 and up to $20,000 per couple to attend.
For breaking news in California, follow @VeronicaRochaLA
---