Deasy challenges administrators to prevent every dropout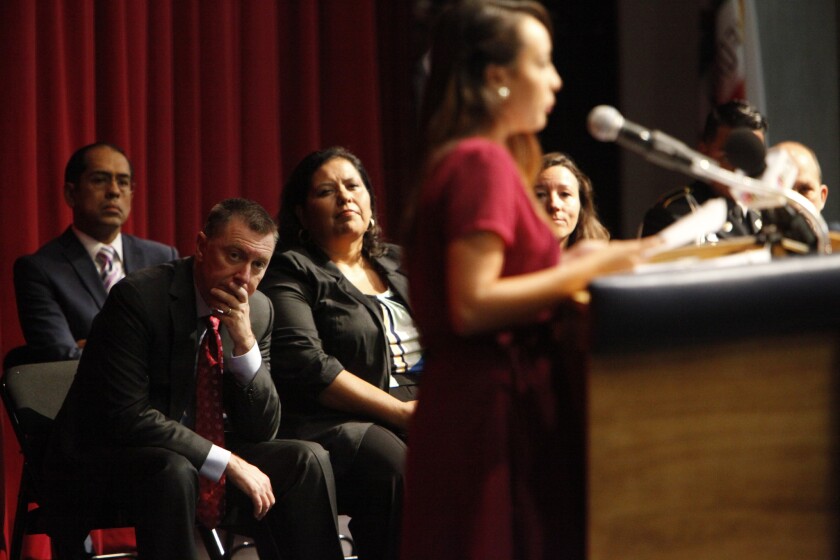 Los Angeles schools Supt. John Deasy opened the new school year Tuesday with a speech to administrators in which he urged them to eliminate the dropout rate, and then assigned each one a troubled student to look after.
Much of Deasy's talk at Garfield High School in East L.A. celebrated progress in the nation's second-largest school system, including rising graduation rates. Including students who stayed enrolled longer than the standard four years, the most recent graduation rate was 82%, Deasy said.
But then he quickly turned to another figure: 6,950, the number of dropouts from that same class. He said that number could be brought down to zero and implored his audience to "reach out to one youth at a time, every single one of us."
To that end, 1,500 sealed envelopes containing a student's name were placed on each seat in the recently rebuilt Garfield auditorium. He asked administrators to reach out to the student named; all of whom finished 9th grade last year at risk of dropping out. They are students who had problems with attendance, discipline, failed classes or low test scores -- or a variety of these, said district spokeswoman Ellen Morgan. Some are in foster care; some are learning English; some are disabled.
The example of what's at stake was provided by recent graduate Vanessa Perez, 18, who said her parents dropped out of her life because of drug addiction. Perez said she nearly went down that path herself but turned things around with the help of teachers, friends and caring relatives.
"I am a graudate of LAUSD, and I promise to make you all proud," she told district employees, who gave her a standing ovation.
In his envelope, Florentino Jauregui, an assistant principal at Palms Middle School on the Westside, received the name of a student at Wilson High School, east of downtown.
"I'm planning on contacting the student after first contacting the school and keeping in touch," Jauregui said. "I can email him and encourage him to stay in school -- whatever support I can give him."
The first day of the traditional school year in Los Angeles is Aug. 12.
In his remarks, Deasy also welcomed new administrators. Budget restorations have resulted in the hiring of more assistant principals, and there has been significant turnover in the ranks of principals. Ninety-six principals will begin their first year at their campus.
Deasy also alluded to other budget restorations -- after several years of cuts -- including the hiring of more teachers. He lauded unions that have agreed to contracts with the district; the teachers have yet to settle.
Deasy spent several minutes praising the elected Board of Education, which has, at times, been split over his policies and continued employment.
"I don't know a more courageous board in this state and quite frankly in this country," he said.
Other areas of improvement for the district, he said, included a growth in enrollment for Advanced Placement courses, a sharp decrease in suspensions and improved results on the National Assessment of Educational Progress, a standardized test given to a sample of students across the country.
Twitter: @howardblume
---
For reporting and exclusive analysis from bureau chief John Myers, get our California Politics newsletter.
You may occasionally receive promotional content from the Los Angeles Times.