'Back to the Future' fan gets 'dream ticket' after hitting 88 mph in his DeLorean
"Back to the Future" ultra-fan Spencer LaGrand White made his childhood dream come true in April when he saved up enough cash to buy a 1982 DeLorean.
On Friday night, he achieved another milestone, albeit a costly one, when he reached 88 mph – the magic speed that sent Marty McFly into the future. But the 36-year-old Santa Clarita Valley resident wasn't transported into the future: He got busted for speeding on the 14 Freeway in Newhall.
"If you are going to get a ticket, it's the dream ticket," White told The Times.
It was the first time White had taken his mother, Michelene, out for a spin on the highway. White said he got stuck behind a motorist who was driving about 45 mph in the far right lane, so he moved into another lane and sped up to keep pace with traffic. White glanced at his speedometer and noticed it was hovering between 84 and 85 mph.
He then looked over and asked his giggling 67-year-old mother, "Do you want to take it up to 88?" The mother and son agreed, saying "Yeah, let's do it."
As White pressed his foot on the gas, the gray DeLorean DMC-12 reached 88 mph.
The glory lasted all of two seconds.
'Do you know how fast you were going? You were going 88 mph'
A California Highway Patrol officer using lidar, a laser gun that emits a beam of infrared light to measure a vehicle's speed, was parked on the right freeway shoulder when he clocked in the high speed, said Officer Josh Greengard, a CHP spokesman. The officer took off and followed the speeding driver.
It wasn't until the officer was directly behind the vehicle that he realized it was a DeLorean, Greengard said.
After the DeLorean stopped, he said, the mother and son were joking with the officer.
Because the DeLorean's windows are too small, White said, he had to open the vehicle's gull-wing door to talk to the smiling officer.
The officer then asked "Do you know how fast you were going? You were going 88 mph."
To prove it, the officer allowed White to take a glimpse of his laser gun. It read "88 mph." White took a photograph of the laser gun for a keepsake.
"He had a big smile on his face," White said.
It became clear to White that the officer was going to issue a speeding ticket, but not before asking if the DeLorean had a flux capacitor, the technology that made time travel possible in the 1985 film.
A DeLorean with 15,000 miles and a flux capacitor
The DeLorean is a step up for White, who until a few months ago was driving a 2001 Volvo with 300,000 miles.
White, a graduate student studying sound design and music at the California Institute of the Arts, had been saving money for four years to purchase the sports car.
White first fell in love with the DeLorean in 1986 when he saw it in Robert Zemeckis' classic film. In it, Dr. Emmett Brown tells Marty McFly that pushing the vehicle to 88 mph would activate its flux capacitor and send them into another dimension.
"It's some kind of magic number," White said.
After doing some research, he found a seller: a 70-year-old man who had recently restored a DeLorean that had been sitting in a barn in Georgia for years. White declined to reveal how much he paid for the DeLorean, but said it was "more than I can afford."
A DeLorean can reach at least 150 mph, but White said his vehicle "was perfectly happy" doing 88 mph.
Although the original John DeLorean sports car does not have all the bells and whistles added by Doc Brown in the hit film, White's DeLorean did come with a faux flux capacitor installed by a previous owner.
But because the DeLorean is White's only car, he removed the prop to make more room for items like groceries.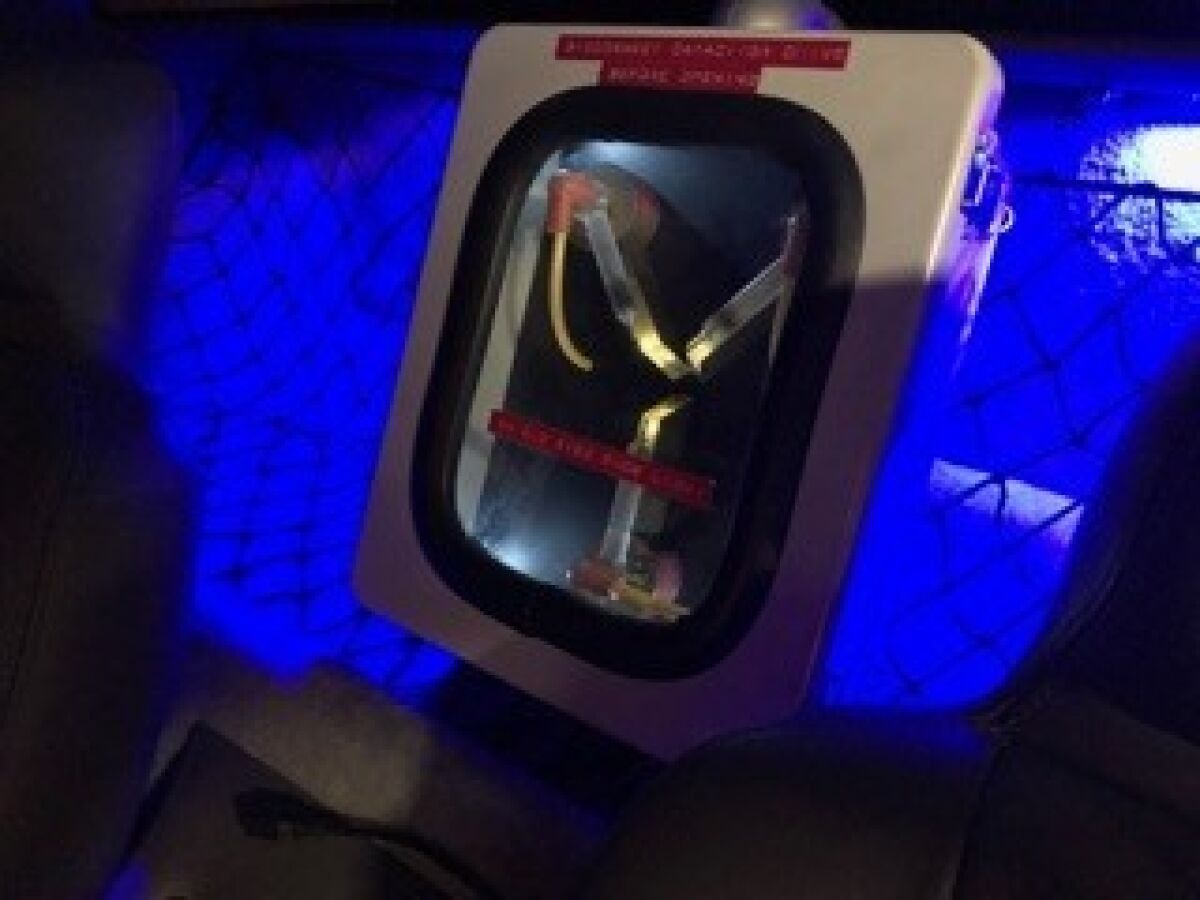 What's it like driving around in a DeLorean?
White's DeLorean, which only has 15,000 miles on the odometer, is a showstopper.
"Every time I go to a gas station, it turns into a car show," he said. "You have to plan around it."
White now makes an effort to pump gas in the middle of the night.
It's not like White doesn't welcome the attention. He said he knows it comes with owning a high-profile car.
He lets people take photographs of his DeLorean and occasionally allows them to sit inside. When he drives around, people whip out their cellphones and scream out lines from the movie.
"When you have a car like this, you want to be nice to everybody," White said.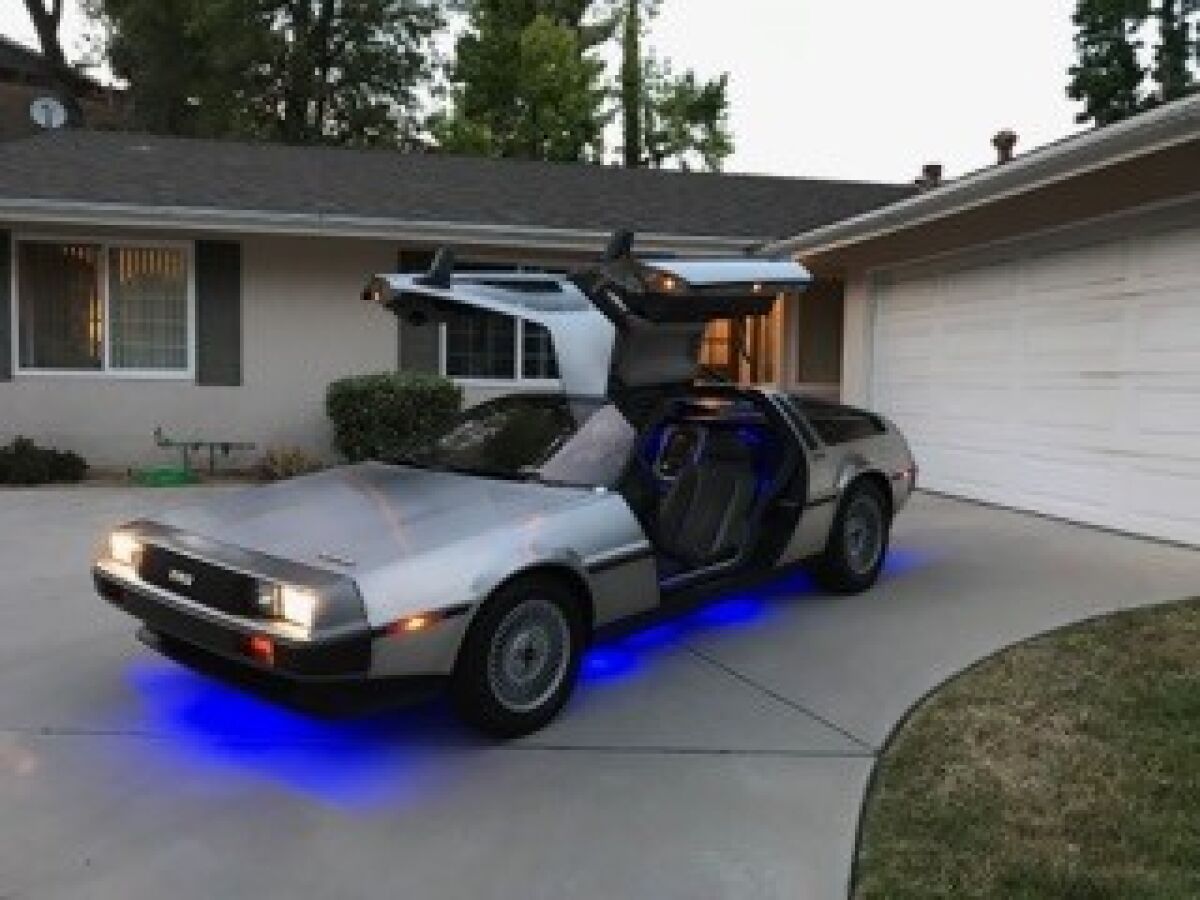 Dream ticket carries hefty price
White had planned to add an air-conditioning system to the DeLorean. But getting a ticket put those plans on hold.
The ticket is likely going to cost about $400.
"I am sure he isn't going to do it again and I am sure he got it out of his system," said Greengard, the CHP spokesman.
White said he definitely learned his lesson and there was no doubt he was speeding.
He plans to frame the ticket and take it with him to car shows.
ALSO
No way 'Back to the Future' for vintage DeLorean smashed in carjacking pursuit
How 'Back to the Future II's' 2015 compares with the actual 2015
Hoverboards, almanacs and more: A guided tour of 'Back to the Future's' props with Bob Gale
The stories shaping California
Get up to speed with our Essential California newsletter, sent six days a week.
You may occasionally receive promotional content from the Los Angeles Times.