Veteran who was deported to Mexico returns home to the U.S.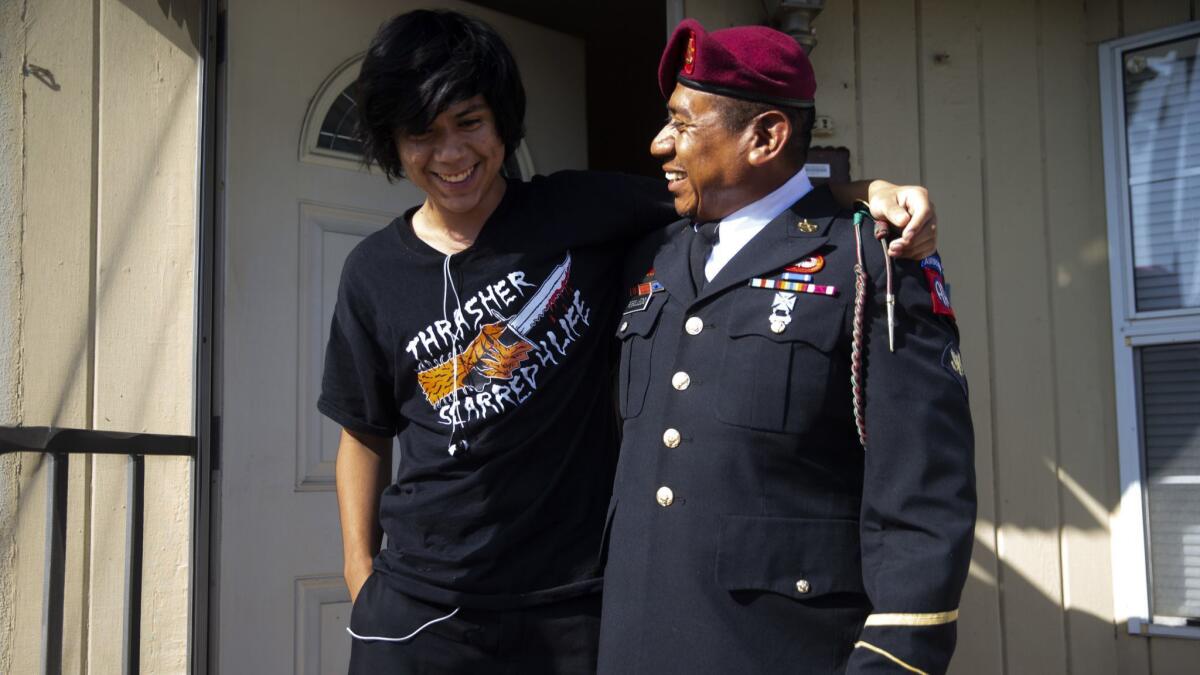 Eight years after immigration officials detained Fabian Rebolledo in his Baldwin Park home and deported him to Tijuana, the U.S. Army veteran has returned home.
Rebolledo crossed the border at San Ysidro on Wednesday morning, proudly wearing his Army uniform. It was the culmination of a years-long battle by the UC Irvine Immigrant Rights Clinic, which was able to reopen the case in December and regain his green-card status in August.
"It took a few weeks to make preparations, but he was able to cross through today, and he's now in the U.S. and reunited with his family," said Annie Lai, a professor and co-director of the immigration clinic.
Rebolledo was recruited into the military as a young man. He served at Ft. Bragg and in 1999 was deployed to Kosovo, where he was a peacekeeper who retrieved bodies of villagers killed by Serbian forces. Upon his return to California, his Kosovo experience began haunting him. He sought help for post-traumatic stress disorder and struggled with alcohol, leading to a series of DUI charges.
"That experience was harrowing for him," Lai said. "But that's all behind him now."
The veteran still worked diligently to care for his family and obtained several jobs. But in 2007, a check he received from one employer turned out to be fraudulent — that would be the offense that led to his deportation.
In Tijuana, Rebolledo slept on the streets and in shelters before finding more permanent housing with another deported veteran. He found support among a group of veterans who had also been deported, and he began doing advocacy work. He even helped create a mural at Tijuana's Friendship Park to educate people about deported veterans.
In 2015, Proposition 47 made it possible for Rebolledo's fraud charge to be reduced to a misdemeanor. Led by Lai, UC Irvine School of Law graduates Andani Alcantara Diaz and Danielle Nygren were able to file a motion with the Board of Immigration Appeals to reopen his case. In August, a judge closed the case, giving him the OK to return to the U.S.
Rebolledo will talk with reporters about the plight of deported veterans Wednesday in Azusa, where his family lives.
"It's outrageous that our country deports veterans who have served the country and sacrificed their lives," Lai said. "But its important to see this in a broader context. Our immigration laws are harsh on many people, and the fact that veterans are also affected illustrates just how much more congressional leadership is needed to look hard at our immigration system."
Lai added that many people of color who live in low-income communities are recruited into the armed forces. Those who are not U.S. citizens join with the promise that they will obtain citizenship.
"When they come back, it's not a surprise they may have criminal justice involvement sometimes related to their post-traumatic stress disorder," Lai said.
Rebolledo plans to continue advocating for the return of all deported veterans.
alejandra.reyesvelarde@latimes.com
Twitter: @r_valejandra
Sign up for Essential California for news, features and recommendations from the L.A. Times and beyond in your inbox six days a week.
You may occasionally receive promotional content from the Los Angeles Times.