County approves $6-million payment to woman raped by sheriff's deputy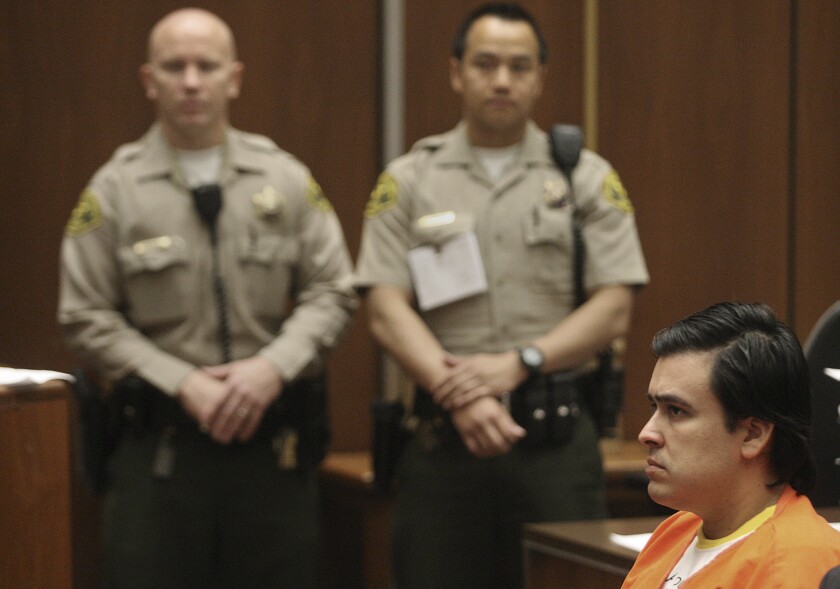 Los Angeles County officials approved a $6-million settlement Tuesday in a lawsuit by a woman who was raped by an on-duty sheriff's deputy.
Former sheriff's deputy Jose Rigoberto Sanchez was sentenced to nine years in state prison last year after pleading no contest to one count of rape while under the color of authority and one count of soliciting a bribe.
Interested in the stories shaping California? Sign up for the free Essential California newsletter >>
Sanchez pulled a 24-year-old woman over in Palmdale on Sept. 22, 2010 after running her license plate and finding she had a misdemeanor traffic warrant. According to a summary prepared by sheriff's officials, he then drove the woman to a "remote, dark, and isolated area where he sexually assaulted her."
The woman reported the assault the next day.
At Sanchez's sentencing in April 2014, the victim, whose name is not being released, told the former deputy, "You essentially murdered a part of me... A police officer is supposed to serve and protect. I had nowhere to run because the one who I should have been able to run to for help was the one harming me."
Prosecutors said two nights later, Sanchez solicited a bribe in the form of sexual favors from another woman who was suspected of drunk driving.
The county Board of Supervisors approved settlement of the lawsuit brought by the woman who was raped in a 5-0 vote. Of the $6.15 million total, $2 million will be paid out of the Sheriff's Department Contract Cities Trust Fund, and the contract cities' excess insurance carrier will cover the remainder.
Twitter: @sewella
ALSO:
Taco Bell executive charged in attack on Uber driver
Long Beach police offer $50,000 reward for information in officer's 1975 killing
7 passengers kicked off Spirit Airlines flight at LAX; some claim racial discrimination
---
Get breaking news, investigations, analysis and more signature journalism from the Los Angeles Times in your inbox.
You may occasionally receive promotional content from the Los Angeles Times.