As Trump continues to push deportations, a fight over data goes to court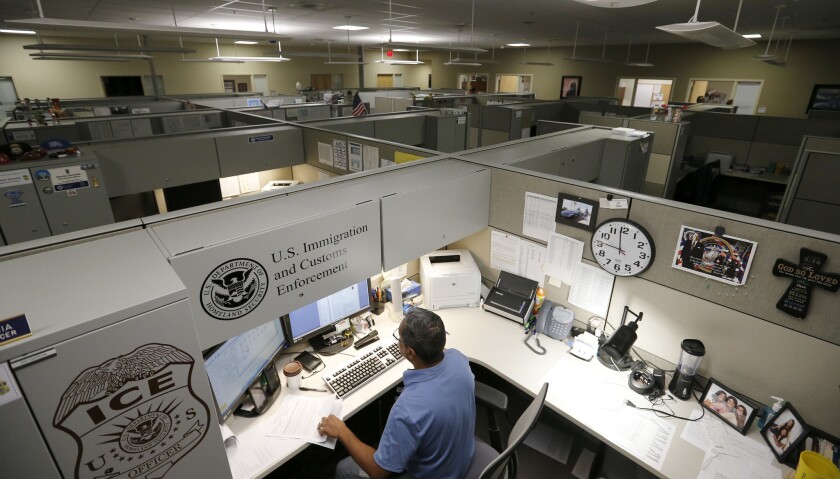 Throughout years of legal battles over the country's immigration system, a basic question has received relatively little attention: Is information the government stores on the country's millions of immigrants reliable?
That will change this week with the opening of a federal trial in a downtown Los Angeles courtroom.
The civil case, which has wound its way through years of delays and legal wrangling, has broad implications for President Trump's crackdown on illegal immigration as the American Civil Liberties Union and other groups seek to upend how immigration officers target people for being in the country illegally.
Opening statements in the case are scheduled for Tuesday.
At issue is the hodgepodge of databases that U.S. Immigration and Customs Enforcement officers rely on when issuing so-called detainers, which are requests made to police agencies to keep people who have been arrested in custody for up two days beyond the time they would otherwise be held. Tens of thousands of the requests are made each year to allow ICE agents additional time to take people suspected of being in the country illegally into federal custody for possible deportation.
The class-action lawsuit, which represents broad categories of people who have been or will be subjected to detainers, alleges the databases that agents consult are so badly flawed by incomplete and inaccurate information that ICE officers should not be allowed to rely on them as the sole basis for keeping someone in custody.
A spokesperson for the U.S. Department of Justice, which oversees ICE and is representing the government in the case, declined to comment on the upcoming trial.
Although police in California do not honor these ICE requests because of earlier court rulings that found them unconstitutional, agencies in other parts of the country continue to enforce them.
If U.S. District Judge Andre Birotte, who will hear the case without a jury, sides with the legal team headed by ACLU attorneys, the decision will affect any detainers issued by an ICE officer in the federal court system's Central District of California.
That designation is significant because the Pacific Enforcement Response Center, a facility in Orange County, is an ICE hub from which agents send out detainer requests to authorities in 43 states, Guam and Washington, D.C. It is covered by the Central District.
The detainer process begins when police arrest and fingerprint a person. The prints are sent electronically to the FBI and checked against the prints of millions of immigrants in Homeland Security databases. If there is a match — such as someone who applied for a visa or was apprehended by Border Patrol — it triggers a review process, which often culminates with an agent at the center deciding whether to issue a detainer.
About 80 deportation officers and contract analysts work in shifts around the clock every day at the center. Last year, the center issued 45,253 detainers and alerted agents at field offices to more than 28,000 additional people released from law enforcement custody before ICE could detain them.
Trump has singled out police in California and elsewhere for their refusal to honor detainers, using them to highlight what he says are problems with the country's stance on immigration enforcement and the need to take a more hard-line approach.
In the years since the lawsuit was filed, ICE has amended its policies, saying the changes made the process for issuing detainers more rigorous.
Previously, for example, agents would check individual databases in search of evidence of someone being in the country illegally. But three years ago, the agency launched a new system, in which 10 databases are automatically queried. A supervisor is required to sign off on decisions to issue detainers.
"We've worked really hard to make sure we have duplicity, to make sure we have layer upon layer to make sure that if we miss something another database won't," Timothy S. Robbins, deputy assistant director of ICE's targeting operations division, said recently when a Times reporter toured the facility.
Such assurances are insufficient, ACLU lawyers have argued.
In a country in which millions of people were not born on U.S. soil but gained citizenship because their parents satisfied the requirements set out by complex naturalization laws, the government's databases do not contain information needed for ICE agents to reach reliable conclusions about a person's immigration status, the lawsuit alleges.
"The databases are incomplete in several fundamental ways," ACLU attorney Jennifer Pasquarella wrote in a filing.
Among other shortcomings, Pasquarella wrote, information on whole categories of citizens is not collected, while there "are large gaps in records of naturalization and immigration benefits," and "there are no records of information necessary to determine derivative citizenship, such as parents' full names, among numerous other things."
Instead of simply checking databases, agents should be required to check hard-copy files that are maintained on immigrants, and interview the suspected immigrant and others who know the person before deciding whether to issue a detainer, attorneys have argued.
The trial is expected to last several days.
---
For reporting and exclusive analysis from bureau chief John Myers, get our California Politics newsletter.
You may occasionally receive promotional content from the Los Angeles Times.