Man faces charges in the 1977 rape and murder of a South L.A. woman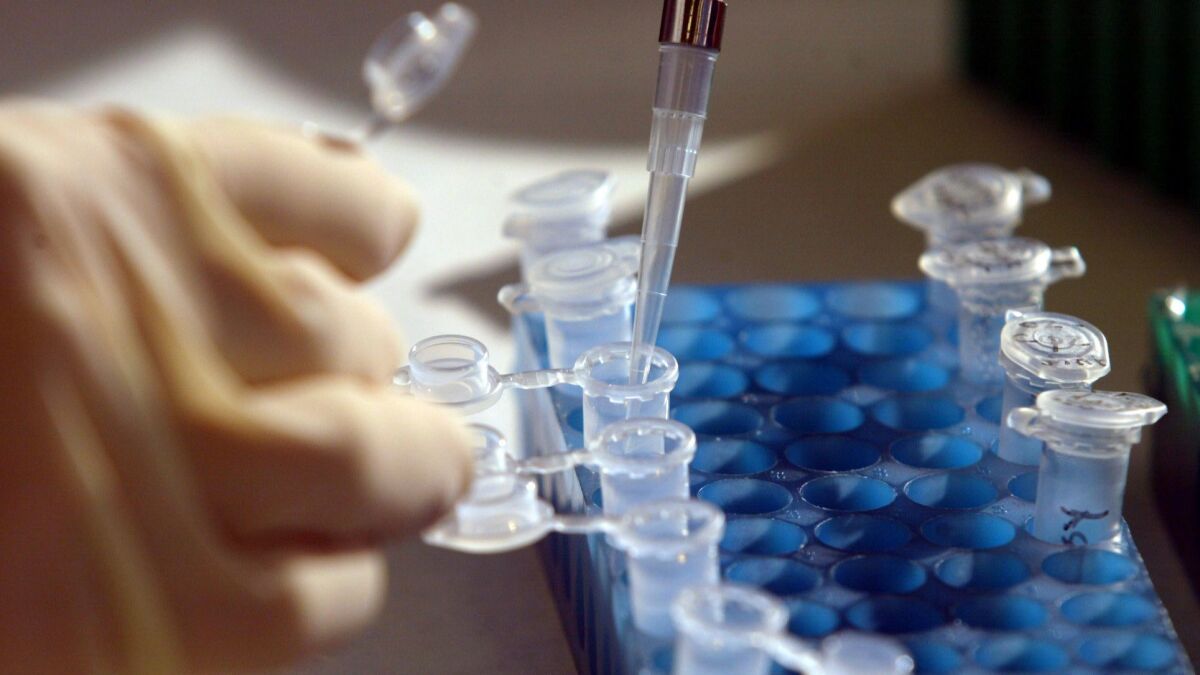 When a man entered Leona Davis' South Los Angeles home in 1977, he didn't seem to care that two children were staring at him.
The intruder sexually assaulted the 25-year-old woman and fatally stabbed her in the neck, all while her young sons looked on, according to Los Angeles County Deputy Dist. Atty. Michele Hanisee.
The assailant told the two boys, who were just 4 and 7 years old, "not to look," Hanisee said.
The killing remained unsolved for roughly four decades, but a fingerprint found at the scene and additional DNA evidence helped Los Angeles police last week capture the man they believe is responsible.
Kenneth Ray Matthews, 60, appeared in court Monday to answer a charge of murder with special circumstances, but did not enter a plea. Wearing glasses and sporting salt-and-pepper stubble on his chin, Matthews barely spoke during the brief hearing. His arraignment was continued until May 30.
Investigators believe Matthews sexually assaulted Davis and attempted to rob her before taking her life, but the statute of limitations on the rape and robbery charges has expired, Hanisee said.
The arrest marks the latest instance in which the combination of preserved forensic evidence and offender databases helped crack a decades-old case in California.
Last week, authorities announced a breakthrough in the decades-long hunt for the Golden State Killer, a serial predator linked to a dozen murders and at least 45 sexual assaults across California from 1976 to 1986. Police arrested a 72-year-old ex-police officer named Joseph James DeAngelo Jr. after uploading DNA evidence to a publicly accessible genealogy website to find potential relatives of the killer, which eventually led them to DeAngelo, authorities said.
In the South Los Angeles killing of Davis, LAPD homicide detectives began focusing on Matthews after fingerprint evidence found at the crime scene returned a hit in a criminal information database, according to Hanisee, who did not say what database Matthews' fingerprints were found in.
Investigators from the Los Angeles Police Department's elite Robbery-Homicide Division were able to match Matthews to DNA collected in the 1977 rape kit by recovering a discarded piece of dining ware last year, Hanisee said.
Matthews had turned 18 only a few months before the crime took place, according to Hanisee, who would not say if she planned to call Davis' children as witnesses at trial.
It was not clear what, if any, relationship Matthews had to Davis. He is being held without bail.
Matthews would be subject to the death penalty if convicted, though prosecutors have yet to decide if they will try Davis' slaying as a capital case.
For more breaking crime and cops news in Southern California, follow me on Twitter: @JamesQueallyLAT
---
UPDATES:
3:40 p.m.: This story was updated with information from Matthews' first appearance in court and additional comments from Hanisee.
This story was first published at 11:50 a.m.
The stories shaping California
Get up to speed with our Essential California newsletter, sent six days a week.
You may occasionally receive promotional content from the Los Angeles Times.