Dodgers: Father of slain fan was 'one of our security guards'
This photo, taken Sept. 25 and provided by Matthew Gomes, shows, from left to right, Jonathan Denver, his father, Robert Preece, and his brother Rob Preece at a baseball game between the San Francisco Giants and the Los Angeles Dodgers in San Francisco.
(Matthew Gomes / Associated Press)
San Francisco Police Chief Greg Suhr speaks at a news conference in San Francisco. Michael Montgomery of Lodi was taken into custody shortly after the incident and will be charged in the slaying of Dodgers fan Jonathan Denver, police said.
(Jeff Chiu / Associated Press)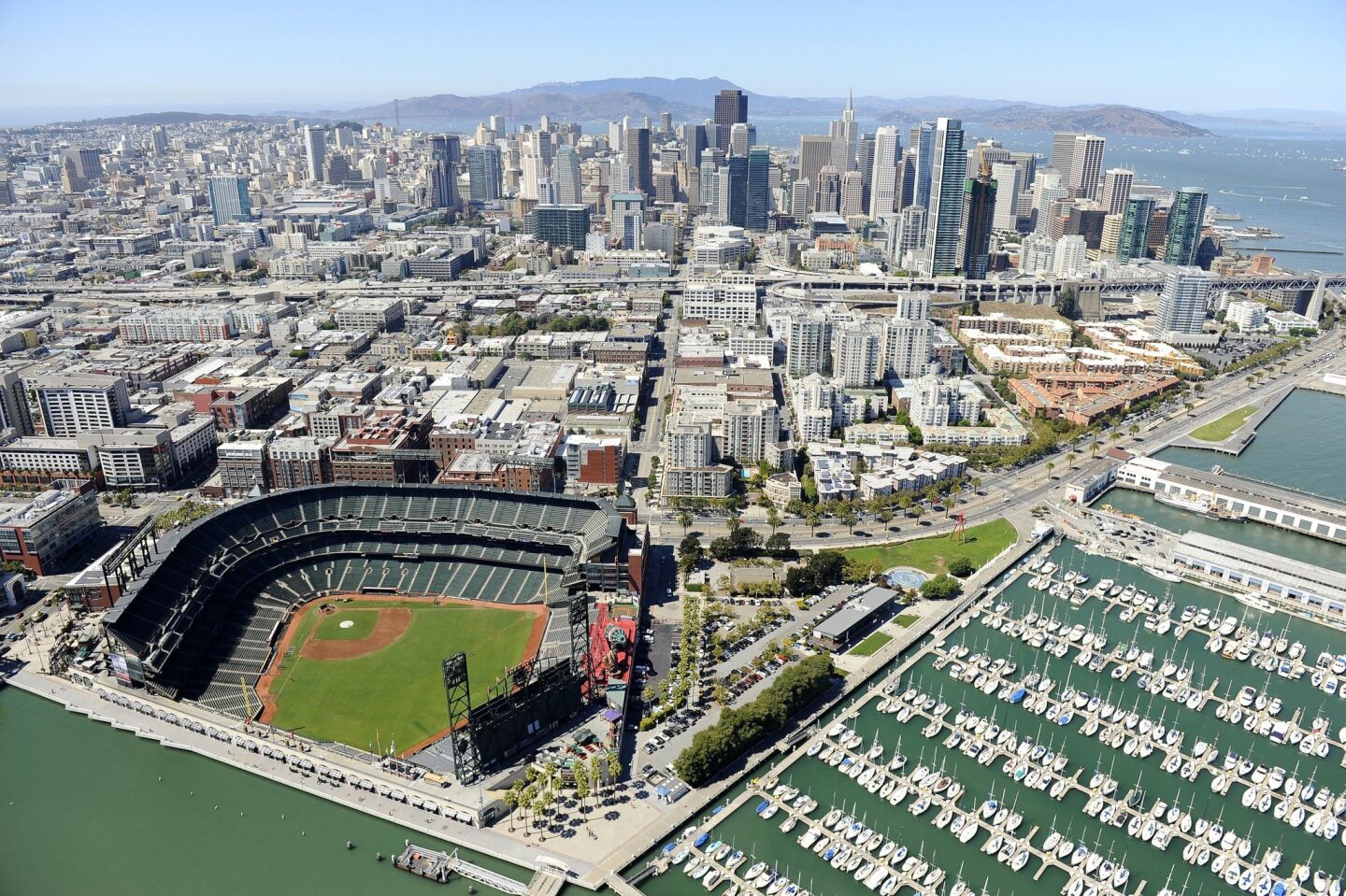 An aerial view of San Francisco's AT&T Park. A Los Angeles Dodgers fan was stabbed several blocks from the park on the night of the Dodgers-Giants Sept. 25 game.
(John G. Mabanglo / EPA)
The Dodgers fan fatally stabbed after a game in San Francisco was the son of a security guard who worked for the team, officials confirmed Thursday.
In a statement issued Thursday afternoon, the Dodgers said they were "shocked and saddened" to learn of Jonathan Denver's death. They called him "the son of one of our security guards."
"There is no rational explanation for this senseless act which resulted in Jonathan's death," the statement continued. "The pain that this has caused his family and friends is unimaginable. Words are not enough to describe our sadness. Our thoughts and prayers are with him and his family during this extremely difficult time."
RELATED: Bryan Stow's family calls Dodger fan's death 'senseless'
Denver, who lived in Fort Bragg, Calif., and his brother met their father in San Francisco to watch the Dodgers play the Giants on Wednesday, friends said. Police said the group left the game in the 8th inning and were about four blocks away from AT&T Park when they encountered a group that had come to town to visit a nightclub.
"There was a back-and-forth about the Giants-Dodgers rivalry, which deteriorated into a physical fight," San Francisco Police Chief Greg Suhr said.
There were were no serious physical injuries during the first round, but then a second fight erupted, although it was "unclear who followed who," Suhr said.
That fight involved "two or three people" from the victim's group and "four or five" from the other group, Suhr said, and ended when Denver, who was wearing Dodgers gear, realized that he had been stabbed.
Denver died at San Francisco General Hospital, officials said.
The attackers fled. Two were taken into custody a few blocks away. They were undergoing questioning midday Thursday
Louie Padilla, 63, lived next to Denver's father in Alhambra. Padilla said Robert Preece worked as a security guard at Dodgers Stadium and other L.A. venues, such as Staples Center and Nokia Theatre.
Padilla said he last saw Denver about two years ago, when he came to visit his father in Los Angeles. The father and son were close, Padilla said.
"He's a good kid. Believe me, he's a good kid," Padilla said. "Very respectful, well-mannered."
"It's a tragedy," he continued. "I can't believe that happened to him."
Padilla said Denver -- whom he said would always root for the Dodgers -- would often talk to him about the team.
"He would come over as well and watch the games here and just kind of pick my brain -- what I thought about the Dodgers' chances this year," Padilla said. "Just sports talk all the time."
Padilla called Denver's death a "black eye on both cities."
"Most of the Dodgers fans and I know a lot of the Giants fans are great people," he said. "We respect San Francisco and San Francisco respects Los Angeles. It's just a beautiful game -- it's America's pastime. We shouldn't have to be losing our lives, our child's lives to be able to watch a game and just to enjoy it."
ALSO:
Fatal stabbing after Dodgers-Giants game: Details of the attack
School officials reject Costa Mesa teen's $28,000 broken-teeth claim
Alleged Miss Teen USA 'sextorter' forced victims to strip, complaint says
---
The stories shaping California
Get up to speed with our Essential California newsletter, sent six days a week.
You may occasionally receive promotional content from the Los Angeles Times.