Fatal stabbing of Dodgers fan: Father of accused claims self-defense
This photo, taken Sept. 25 and provided by Matthew Gomes, shows, from left to right, Jonathan Denver, his father, Robert Preece, and his brother Rob Preece at a baseball game between the San Francisco Giants and the Los Angeles Dodgers in San Francisco.
(Matthew Gomes / Associated Press)
San Francisco Police Chief Greg Suhr speaks at a news conference in San Francisco. Michael Montgomery of Lodi was taken into custody shortly after the incident and will be charged in the slaying of Dodgers fan Jonathan Denver, police said.
(Jeff Chiu / Associated Press)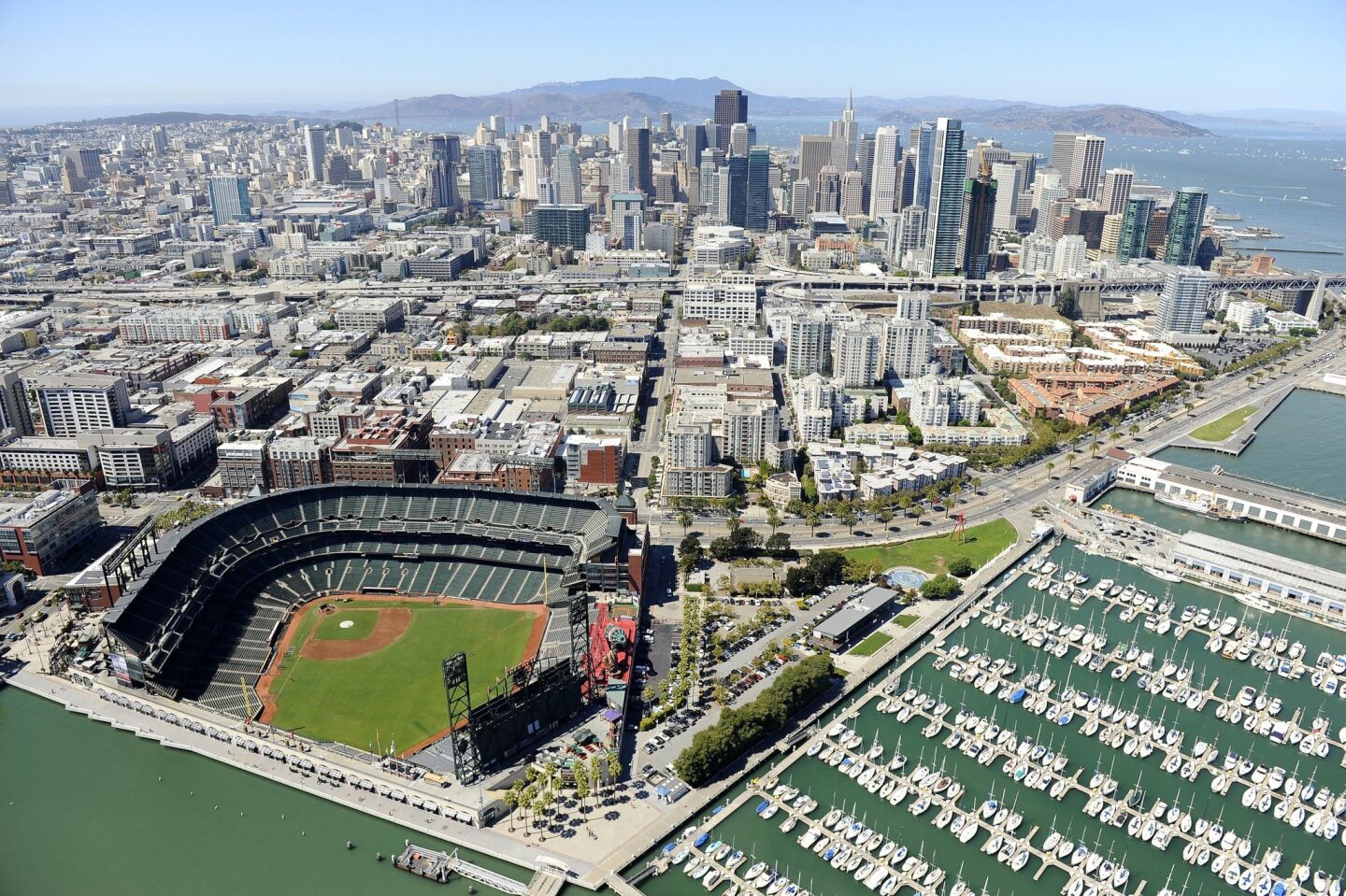 An aerial view of San Francisco's AT&T Park. A Los Angeles Dodgers fan was stabbed several blocks from the park on the night of the Dodgers-Giants Sept. 25 game.
(John G. Mabanglo / EPA)
The father of a 21-year-old man accused of fatally stabbing a Dodgers fan in San Francisco after a Giants game on Wednesday says his son was acting in self-defense.
Michael Montgomery, of Lodi, who was taken into custody shortly after the incident, will be charged in the slaying of Jonathan Denver, 24, San Francisco police said Thursday.
But in an interview with the San Francisco Chronicle, his father said his son wielded his knife in self-defense only after "the kid that got stabbed" swung a chair, hitting Montgomery in the head.
"My son defended himself," Martin Montgomery, 47, told the Chronicle. "That's all it was. Everybody's making it look like it was a team rivalry, but really it was two kids walking."
PHOTOS: Fatal stabbing of Dodgers fan near AT&T Park
Martin Montgomery did not witness the incident but instead was relaying what his son told him Thursday afternoon, the newspaper reported.
Denver was wearing Dodgers apparel when he left the game early with his father, brother, his father's girlfriend and another friend to go to a bar a few blocks from the Giants' AT&T Park.
While on 3rd Street, they encountered a group of people who were going to a club, authorities said. One of the men in the other group may have been wearing a Giants cap, police said, and there was some jawing between the groups over the rivalry.
The encounter became physical. It ended when Denver realized that he had been stabbed. He died a short time later at San Francisco General Hospital.
Montgomery and another man were detained a few blocks away after the incident.
At a news conference Thursday, Police Chief Greg Suhr acknowledged that the rivalry between the two baseball teams was "one of the most storied" but said the fact that "anybody got in a beef over the Giants versus Dodgers and someone lost their life, it's just senseless."
MORE: Bryan Stow family calls fan's death 'senseless'
Denver was the son of a security guard who worked for the Dodgers. The team released a statement, saying they were "shocked and saddened" by the deadly incident.
"There is no rational explanation for this senseless act which resulted in Jonathan's death," the Dodgers said.
Both teams observed a moment of silence before the game Thursday night.
Meanwhile, Martin Montgomery said his son was "freaking out because someone is dead."
"He is a nice kid," he told the Chronicle. "This is really stupid what happened. I don't understand."
ALSO:
Paco Rodriguez's struggles continue in Dodgers' 3-2 loss to Giants
Don Mattingly: Fatal stabbing of Dodgers fan part of larger problem
Dodgers fan stabbed to death after Giants game was a 'good, good kid'
Twitter: @jasonbretwells / Facebook / Google+
---
The stories shaping California
Get up to speed with our Essential California newsletter, sent six days a week.
You may occasionally receive promotional content from the Los Angeles Times.