Company plans to end oil production at South L.A. site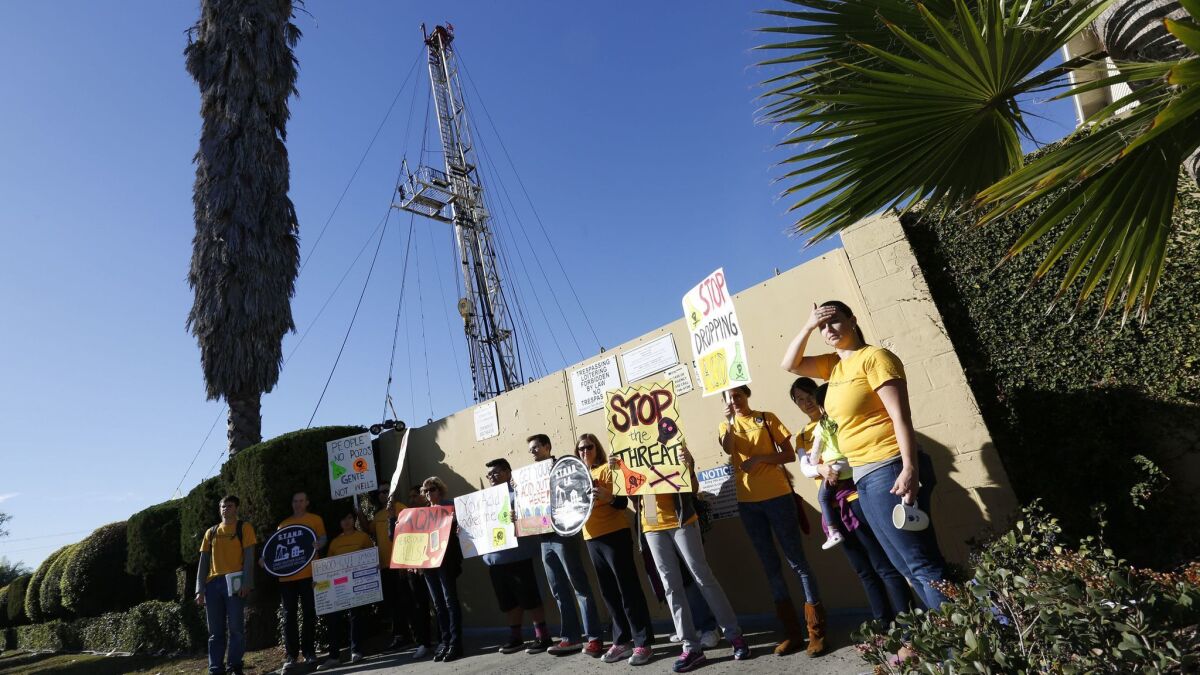 For years, neighborhood activists have argued that the Jefferson Boulevard facility that sits next to apartments is no place for oil drilling.
Now their hopes could be realized as the oil company says it plans to give up petroleum production at the South Los Angeles site.
Sentinel Peak Resources turned in paperwork Monday saying that it intends to abandon the wells and prepare the site for another "yet to be determined" use.
The move comes nearly a year after Los Angeles demanded the company follow new and stringent rules in order to keep operating the Jefferson Boulevard facility. Those rules were billed by officials as the toughest requirements for any drill site in the city.
Sentinel Peak Resources had bristled at the demands and filed a lawsuit, arguing that the city had imposed "unduly oppressive" conditions that were not based on proven violations. It complained that the new requirements — including the demand to erect a 45-foot-tall enclosure around drilling equipment — would force the company to curtail or cease its operations there.
Now the company says it plans to plug the wells. In paperwork filed with the city, Sentinel Peak Resources said it was seeking to modify the rules for operating the South L.A. site to accommodate the process of abandoning the wells, which it estimated could take as long as three years.
Many of the requirements that the city had imposed, including an enclosure around its equipment, would be "inconsistent with that process," the company wrote.
If Sentinel Peak Resources is successful in modifying those conditions, "the company plans to work to prepare the site for an alternative future use," said Christine Halley, its director of environmental health and safety, in a brief written statement Tuesday. She did not address why it had decided to abandon wells at the site.
Halley added that the lawsuit "will remain ongoing as we attempt to work collaboratively with the city on developing an adequate solution."
Filing the paperwork is only the first step in a process that will include a public hearing, according to the city.
"Today, we have measures in place that address the health and safety of our residents," planning department spokesman Yeghig Keshishian said in a statement Monday. "We wouldn't be acting in accordance with our own city rules and procedures if we simply set them aside.
"While their application will be taken under advisement, we still need additional information from the applicant as to their future plans for the site — and the community needs to be a part of those conversations," Keshishian said.
The news was celebrated by environmental and community activists who have held rallies and complained at City Hall about foul smells and thundering noise from the facility. Activists worried about urban drilling cite a Community Health Councils study that found the Jefferson Boulevard drilling site sits closer to homes than any other in the city.
"This is what we've been hoping for," said Richard Parks, president of the South L.A. nonprofit Redeemer Community Partnership. "This should give hope to tens of thousands of Angelenos who face toxic drilling in their backyards."
Others were less pleased. Oil and gas attorney Ed Renwick, who does not represent Sentinel Peak Resources, said the decision would hurt homeowners who had been getting royalty checks, and "whenever we shut down production here, that just means there's that much more that we have to import."
City Councilman Marqueece Harris-Dawson, who represents the area around the Jefferson Boulevard facility, said Tuesday that his office had ongoing concerns about "quality-of-life nuisances" there and would work with city agencies and the company "to ensure the negative conditions are fully abated throughout the process to abandon the site."
The Jefferson Boulevard site measures nearly two acres and has dozens of wells laid out in a U shape. It had been producing oil and gas as recently as February, but production levels had dropped sharply over the last decade, according to state records.
The same company has already floated plans to shut down another Los Angeles oil site and replace it with affordable housing. The United Neighborhoods Neighborhood Council, which represents residents in the area, welcomed the idea of repurposing the site at 4th Avenue and Washington Boulevard but has raised concerns about whether it would be cleaned up properly.
In June, the neighborhood council complained to City Council President Herb Wesson that Sentinel Peak Resources had broken promises to work on plugging old wells only while the neighboring school was not in session, had failed to notify the school or air-quality regulators before tearing down structures, and misrepresented its plans when it sought a demolition permit, evading environmental review.
Unless those problems are addressed, the neighborhood group wrote, it would "oppose any projects tied to those unsafe practices and improper processes."
Halley said in a statement last week that "all work has been completed in compliance with all established regulations and with all necessary permits" at the 4th Avenue site. She added that demolition work had been delayed at the request of the school district and "is now substantially complete."
Los Angeles is a metropolis built on oil, speckled with more than 800 active oil and gas wells. Across the county, the industry directly employs more than 30,000 people and produces nearly $7 billion in state, local and federal tax revenue, according to a Los Angeles County Economic Development Corporation study commissioned by the Western States Petroleum Assn.
Environmental and neighborhood activists have pressed the city to step up its oversight of oil production, with some urging officials to halt drilling near schools and homes entirely.
Two years ago, the city announced the hiring of a petroleum administrator to oversee oil and gas operations across Los Angeles — a job that had not been filled consistently for decades. That was a good step, City Controller Ron Galperin said in a recent report, but L.A. has continued to suffer from a "lax and reactive" approach to checking if oil sites are in line with city conditions.
Twitter: @AlpertReyes
---
UPDATES:
5:55 p.m.: This article was updated with a comment from attorney Ed Renwick.
12:40 p.m.: This article was updated with a comment from Councilman Marqueece Harris-Dawson.
11:25 a.m., Aug. 14: This article was updated with comment from Sentinel Peak Resources.
This article was originally published at 6:55 p.m. on Aug. 13.
---
The stories shaping California
Get up to speed with our Essential California newsletter, sent six days a week.
You may occasionally receive promotional content from the Los Angeles Times.