L.A. leaders want someone overseeing oil operations in the city full time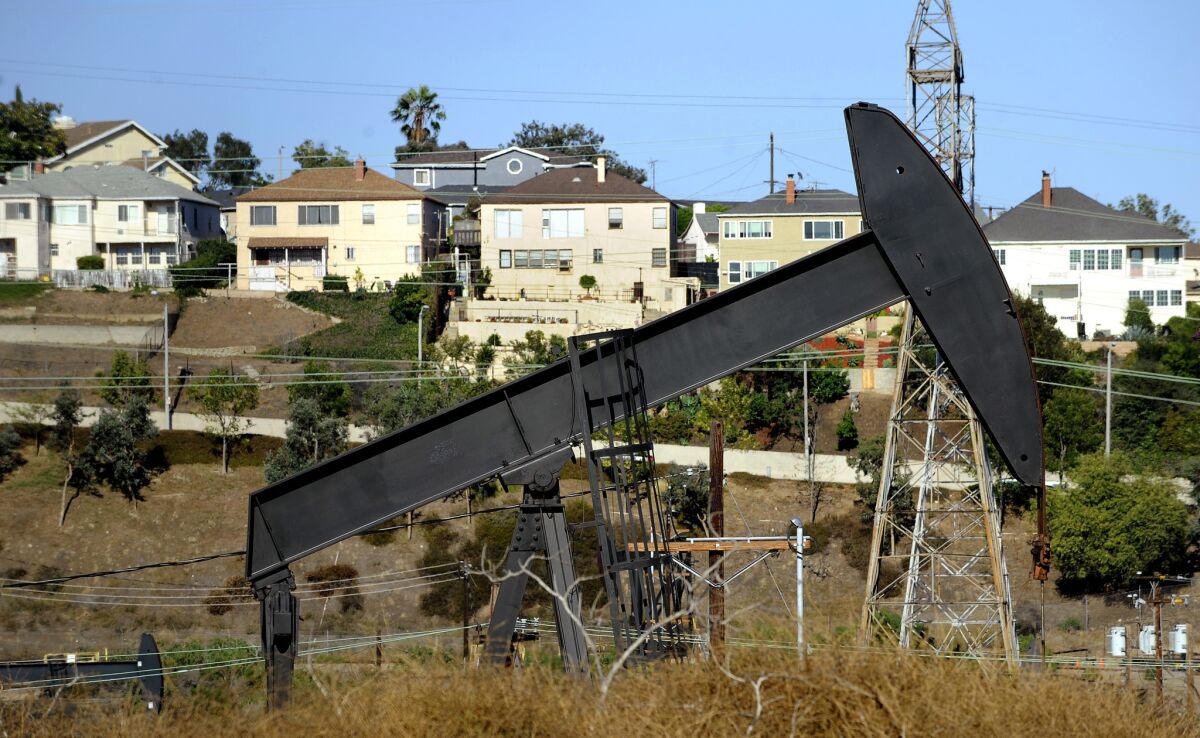 Los Angeles, a metropolis studded with hundreds of active oil and gas wells, is supposed to have someone who handles a long list of duties tied to petroleum, according to city codes.
Yet for decades, no one has held the job full time.
That vacuum has troubled some environmental and neighborhood activists, who argue that without an active, involved petroleum administrator, the slew of government agencies involved in regulating oil and gas have failed to coordinate to protect neighbors.
Now the head of the City Council says that has to change and is calling for the city to immediately hire a full-time expert.
"This is something that we don't have, something that we used to have, and something that, to me, is obvious that we need to have again," City Council President Herb Wesson said.
The push comes as thousands of Porter Ranch residents have fled their homes to avoid the stink of a massive gas leak just north of the city -- a debacle that has drawn fresh attention to the risks of oil and gas operations close to homes. It also follows pressure from environmental activists and residents who complain that the city has failed to fully exercise its municipal powers over drilling.
The proposal, introduced Tuesday at City Hall, says that "the city needs to take a more proactive approach to ensure that oil and gas production in the city is conducted in the safest manner possible."
Six other council members quickly seconded the proposal. Mayor Eric Garcetti said he would fund the position and that his office had already been talking to possible candidates.
"I couldn't believe that a city that was built on oil no longer had a full-time person dealing with oil," Garcetti said.
City codes dating to 1958 say a staffer is supposed to coordinate all matters tied to petroleum production in the city, make recommendations on existing restrictions on drilling and handle any other duties related to oil and gas that the council asks, among other responsibilities.
As oil drilling continued to spread across the city in the 1960s, the petroleum administrator was a familiar role. The Times described the position as ensuring "orderly development" of the booming industry and protecting neighbors against "any infringements of their rights to peaceful lives."
But the job was scaled down with time. It is now held by a city analyst who provides reports only when requested — and last fielded a request more than five years ago, according to City Administrative Officer Miguel Santana.
Steven Peckman, who lives in the South Los Angeles neighborhood of Jefferson Park, said the result has been "a totally uncoordinated response to community concerns."
"As a citizen, you may call the agency that you think is responsible, they point their finger at some other agency," Peckman said. "Someone needs to mind the store."
Peckman pointed to what happened at a South L.A. site run by AllenCo Energy Inc. Decades ago, the city had imposed rules meant to ensure that drilling at the 23rd Street site didn't cause fumes.
But when neighbors started to complain about foul odors and nosebleeds near the AllenCo site, they took their complaints to another government agency, the South Coast Air Quality Management District. Complaints piled up for years before AllenCo grabbed headlines, environmental officials fell ill while visiting the site and a senator successfully urged the company to suspend its operations.
If L.A. had a proactive petroleum administrator on the job, the air quality agency could have called that official and said, "Here's what's happening, use your knowledge to coordinate with the city and county, state and federal overseers and make sure that the issues are being addressed," said Angela Johnson Meszaros, a staff attorney at Earthjustice.
While community activists stress the possible benefits for neighborhood groups, others say having a knowledgeable person serving in the position could also protect the industry from bogus complaints. The California Independent Petroleum Assn., an industry group, said the job should be filled by someone with "technical expertise."
With an expert on the job, "the city could turn to them and say, 'Are these problems as bad as people say they are?'" said attorney Ed Renwick, who represents oil producers and royalty owners.
Newspaper articles from the 1960s and early '70s chronicle Arthur Spaulding, who had worked as a petroleum engineer, weighing in on a host of issues, including disputes over slant drilling from L.A. into Beverly Hills and the risk of a blowout on a San Pedro Channel drilling site.
The focus of the job, Spaulding said recently, was "to make sure all departments of the city knew what was going on."
When Jeff Druyun held the job in the '70s and '80s, he had to juggle his responsibilities with serving as a budget analyst. Still, he said he was active in city debates over oil issues, proposing changes to city codes and meeting with fire inspectors to monitor drilling sites.
NEWSLETTER: Get the day's top headlines from Times Editor Davan Maharaj >>
But Santana said that in recent decades, the job had been a "reactive" position, held by analysts who were not experts in the oil and gas industry.
Residents pushing for the city to step up its oversight say that isn't enough.
"The administrative code spells out these duties very specifically," said Michael Salman, a West Adams resident who has repeatedly raised the issue. "And the city for at least 25 years has not been doing them."
Wesson said he envisioned the petroleum administrator as both an expert and a skilled coordinator. For instance, Wesson pointed out that after the Southern California Gas Co. leak started north of Porter Ranch, Councilman Mitch Englander asked for several agencies to report to them on what was happening.
The petroleum administrator could have helped to coordinate that response, Wesson said, adding, "You don't want to just have a brilliant scientist locked in a room somewhere."
Some environmentalists questioned, however, whether beefing up the city position would address their concerns. Communities for a Better Environment staff attorney Gladys Limon, who is representing a youth group suing the city over drilling, said the job would mean little unless its main mandate was protecting residents.
Spaulding, for instance, was criticized by environmentalists during his tenure for backing proposed drilling, including a bitterly contested plan for Pacific Palisades that became a campaign issue.
"If the city is to fill a position, it should be for a health and safety administrator," Limon said.
Twitter: @LATimesemily
ALSO
2 top prosecutors sue Southern California over Porter Ranch leak
County supervisors move to halt commercial marijuana cultivation
In jail abuse case, jury is hung on excessive force but convicts deputies of falsifying records
---
The stories shaping California
Get up to speed with our Essential California newsletter, sent six days a week.
You may occasionally receive promotional content from the Los Angeles Times.