Drone surprises jetliner pilot at LAX; owner sought in investigation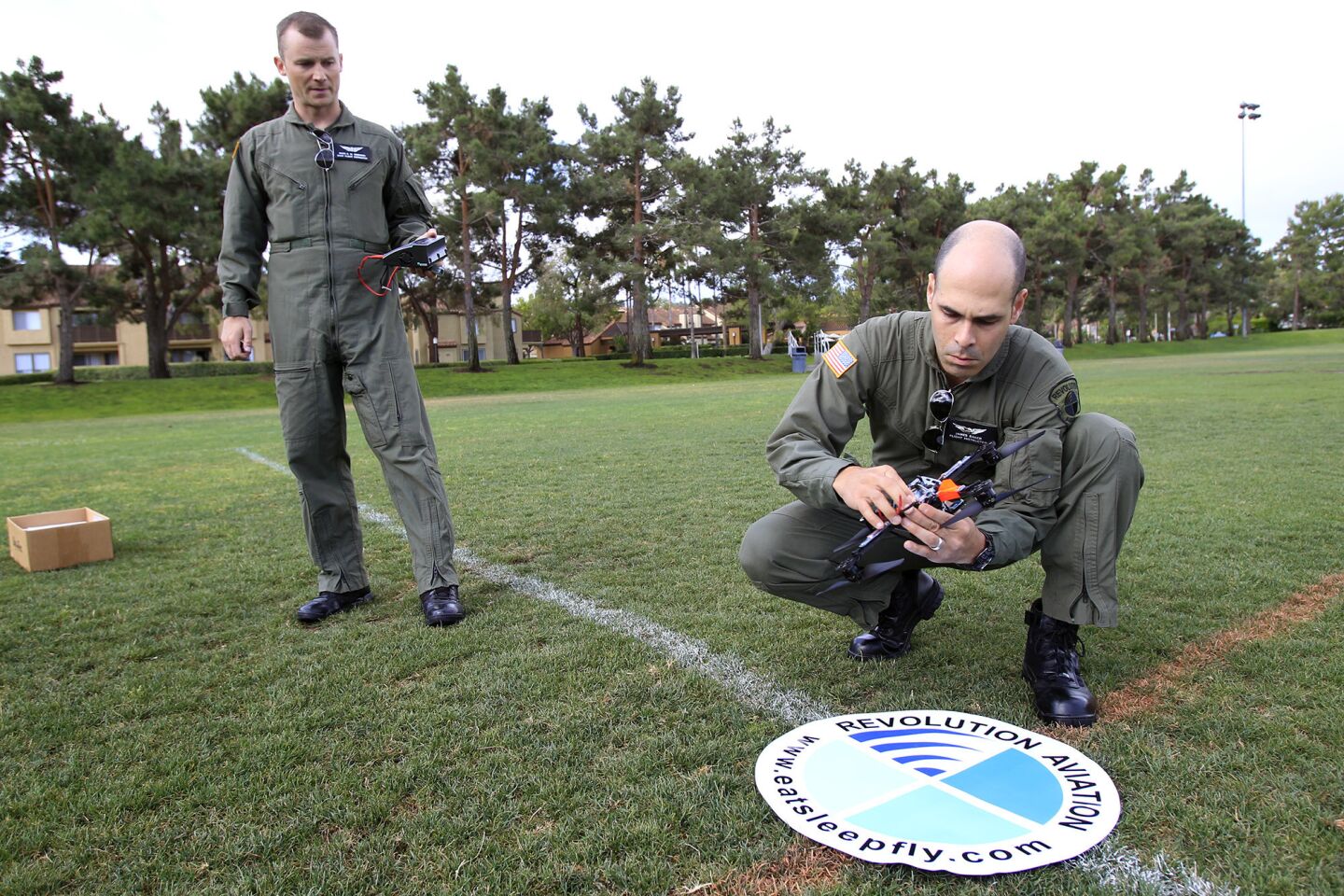 Flight instructor James Baker, right, and chief flight instructor Mark C. W. Robinson, both with Revolution Aviation, demonstrate the AscTec Hummingbird at Bonita Creek Park in Newport Beach.
(Kevin Chang / Daily Pilot)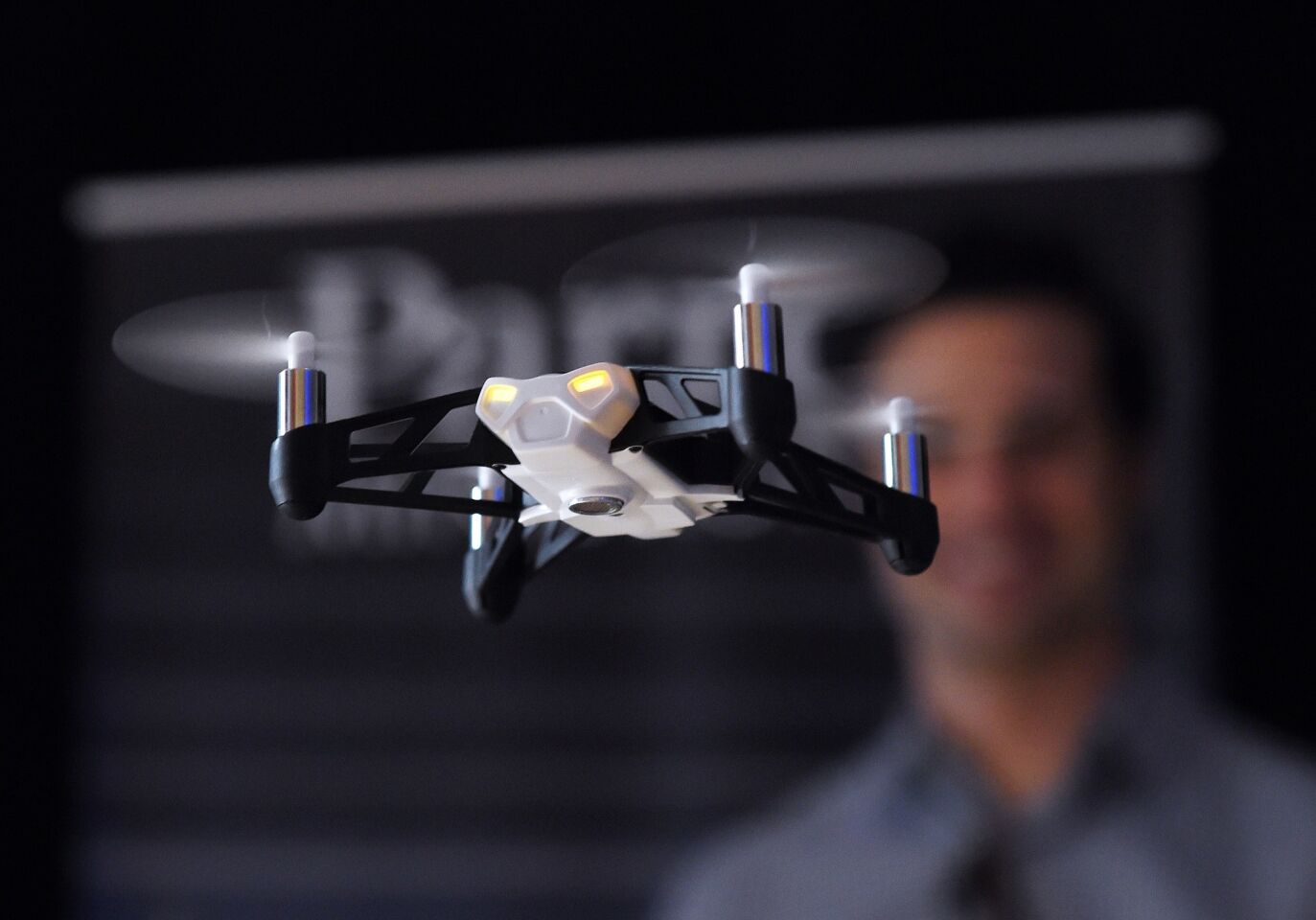 Technology journalist Tim Stenovec controls a Parrot Minidrone "Rolling Spider" during a demonstration June 10 in New York. The small consumer drone will fly like a helicopter and is controlled by a smartphone.
(Stan Honda / AFP / Getty Images)
This April 27, 2012, file photo shows the Draganflyer X6 helicopter in Seattle. The mayor of Seattle ended the police department's drone program after residents protested in 2013.
(Alan Berner / Associated Press)
A small drone hovers in the sky on Feb. 1 during a meet-up of the DC Area Drone User Group. Drone enthusiasts see great civilian potential for unmanned aerial vehicles, including construction work and wildlife conservation.
(AFP / Getty Images)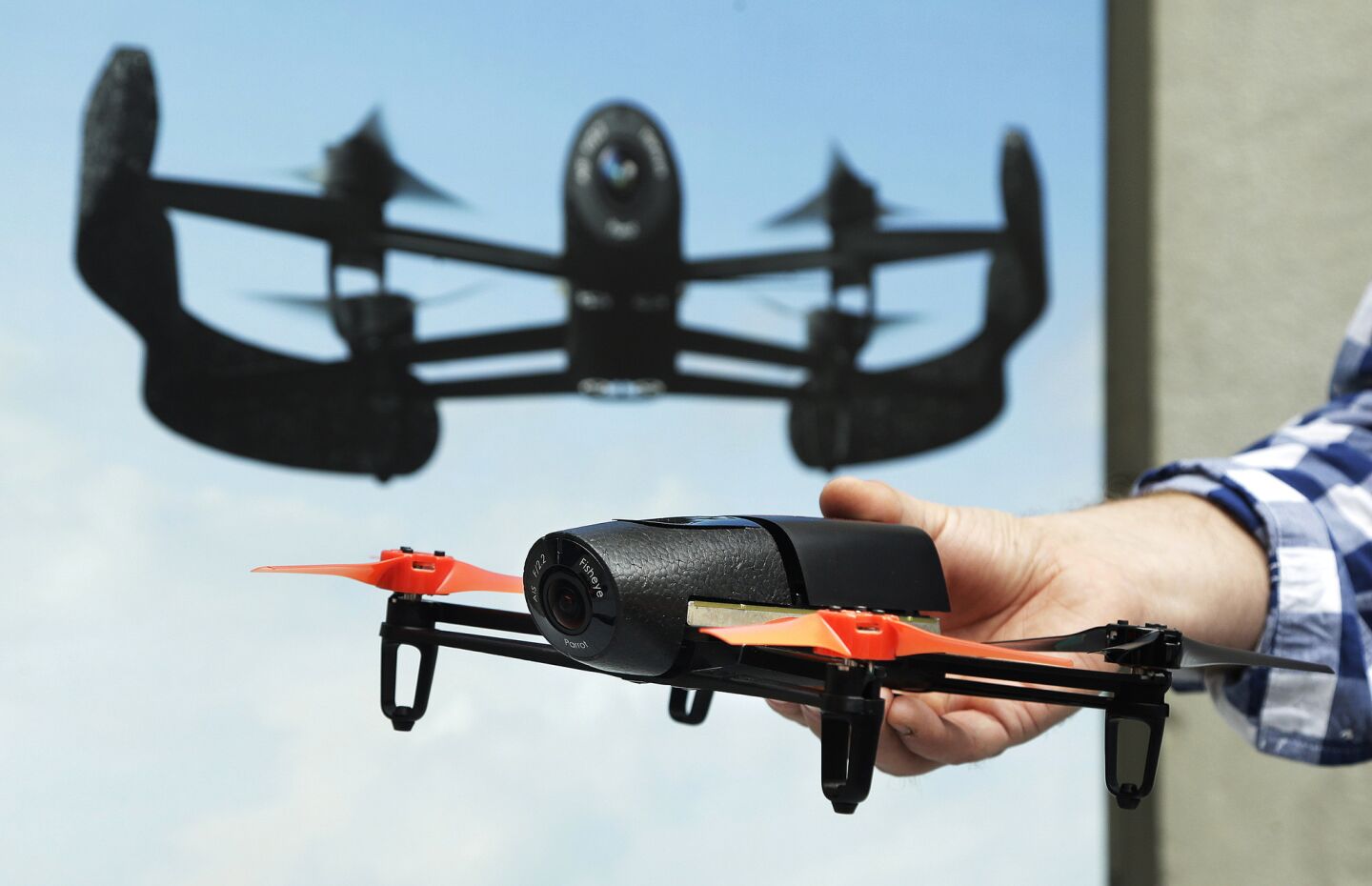 A Parrot Bebop drone is held during a Parrot event in San Francisco on May 8. The Parrot Bebop drone, which has a 14-megapixel fish-eye camera lens and battery life of about 12 minutes flying time, is scheduled to be released later this year.
(Jeff Chiu / Associated Press)
A drone spotted earlier this month by a Canadian jetliner pilot near Los Angeles International Airport has become the subject of an investigation.
On Aug. 4, Los Angeles police said, the personal drone was spotted by the jetliner pilot as the remote-controlled craft was hovering about 10 miles east of LAX at 4,000 feet.
That would place it at an altitude outside Federal Aviation Administration guidelines for hobbyists' drones and also within the airport's Class B airspace, where aircraft need to have a transponder and two-way communication with air traffic controllers, federal officials said.
Last year, the FAA restricted drones from coming within five miles of airports.
The agency cited recent "reckless use of unmanned model aircraft near airports and involving large crowds of people" in its announcement of the policy shift, which comes as federal officials are trying to determine how to regulate private unmanned aircraft in U.S. airspace.
Los Angeles police learned of the drone when the airline pilot asked air traffic controllers if it was a police drone. The LAPD's two drones are locked away in a federal building and have not been used.
Officials said the incident highlights concerns that better regulations are needed for the drones.
"Everyone is going to suffer because of a reckless pilot," said LAPD Air Support Capt. Gary Walters. "You don't expect to see one at 1,000 feet when you're doing 130 mph going to an emergency call to the Coliseum."
Police Department representatives are talking with FAA officials and local lawmakers about what can be done to bring existing laws up to date so they apply to drones, officials said.
For breaking California news, follow @JosephSerna
---
The stories shaping California
Get up to speed with our Essential California newsletter, sent six days a week.
You may occasionally receive promotional content from the Los Angeles Times.