Ex-NYPD detective admits having sex with witness during inquiry into Robert Durst's missing wife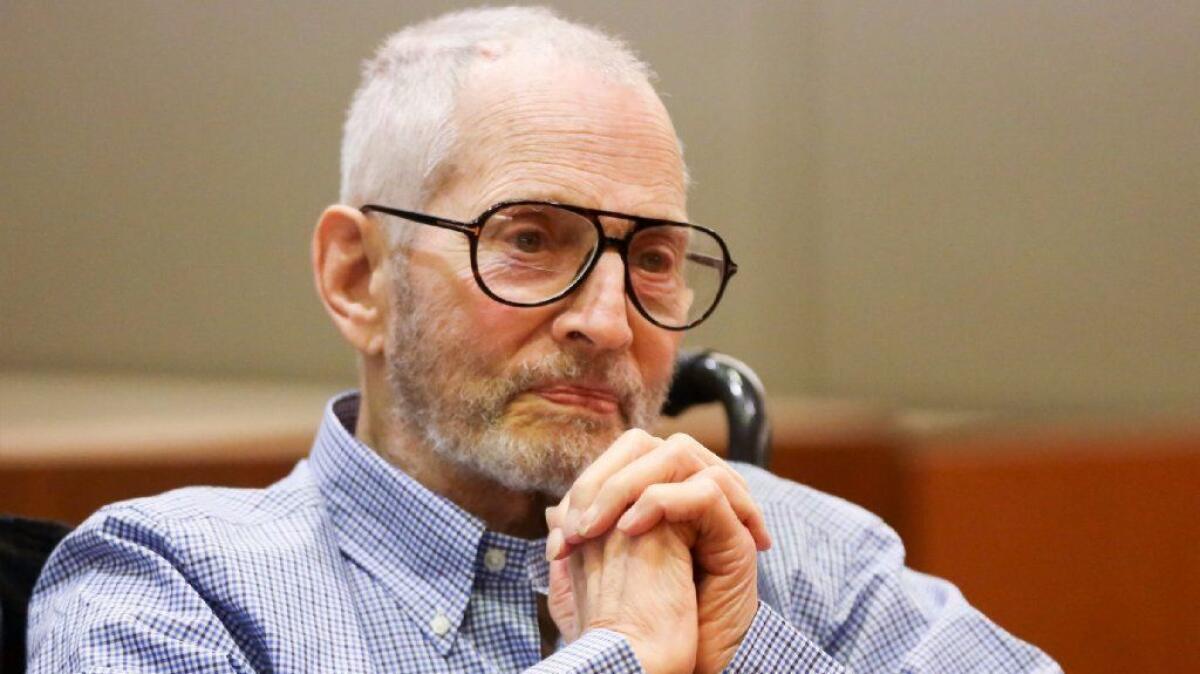 Retired New York police Det. Michael Struk testified Wednesday that during his investigation into the disappearance of Robert Durst's wife three decades ago he had sex with a witness.
Would you agree, a prosecutor asked, that your actions were "about as unprofessional as you could get?"
"Yes," Struk responded.
The bombshell testimony came during a hearing in Los Angeles, where Durst is charged in a separate case — the 2000 slaying of his best friend, Susan Berman. Prosecutors allege that Durst killed Berman, a crime writer and the daughter of a mob boss, to keep her from telling authorities what she knew about the 1982 disappearance of Durst's wife, Kathleen.
Durst, 74, has denied killing either woman.
In an L.A. court Wednesday, Struk testified that during his investigation he received a phone call from a witness asking him to come search a location the next day. When he arrived at the location, Struk said, two witnesses were there, but one of them soon left. The witness who remained — a woman who was not identified — then made a sexual advance, Struk said.
"I went along," the detective added.
Asked whether he was aware at the time that it was improper to have sexual relations with a witness, Struk said, "I would agree with that."
The detective also testified that he'd spent the night on the couch at the home of a friend of Kathleen Durst, after attending a party where he hoped to gather "some information" about the case. Asked whether he spent the night because he had been drinking, Struk responded, "I don't remember."
Earlier in the hearing, Deputy Dist. Atty. John Lewin grilled the detective about other problems with the investigation, which he called "well-intentioned" but "incompetent."
While on the stand, Struk testified that he had a practice of getting tips from Mary Hughes, Kathleen's sister, and Mary's friend Geraldine McInerney, and then following up on the information.
The prosecutor later inquired about whether the detective had ever asked the women for concert tickets to see Neil Diamond or the Rolling Stones.
He hadn't asked for the tickets, Struk said, clarifying that he did accept Neil Diamond tickets when offered them by McInerney, who he said got them for free from her job. (He said he didn't recall anything about Rolling Stones tickets.)
Lewin asked Struk if accepting tickets from a witness in a case he was investigating complied with New York Police Department policy.
"Sitting here today, I wish I had not done it," the detective said, adding, however, that he didn't think it had compromised the case. Pressed on whether he'd disregarded NYPD policy, Struk said, "It was a mistake — sure."
The detective also said that during the course of his investigation he'd visited a laundromat in Ship Bottom, N.J. — the location of a pay phone used to make a collect call to Durst's father's company, the Durst Organization, on Feb. 2, 1982, two days after Kathleen's disappearance.
Lewin asked the detective if his theory at the time was that Durst had discarded Kathleen's body in Ship Bottom.
"That was certainly one theory," the detective responded.
Struk, who said he worked hard to solve the case, testified that he'd traveled to Ship Bottom with Hughes and McInerney in their car — a move that he said was approved by his bosses.
"Isn't it true that they actually gave you a case of beer that was in the trunk of the car?" the prosecutor asked.
"That is totally beyond my memory," Struk said, shaking his head.
The detective, one of several older witnesses who has been questioned early by attorneys, previously testified that Durst told authorities numerous "inconsistencies" that stoked the detective's suspicion years ago.
According to handwritten notes from the detective's investigation, which a prosecutor displayed in court at an earlier hearing, Durst told detectives that on the evening of Jan. 31, 1982 — soon after the real estate tycoon says he saw his wife for the last time — he went to have a drink with neighbors in South Salem, a hamlet in Westchester County, N.Y, where the couple spent some weekends. But, according to police records, the neighbors told authorities that Durst hadn't been there that night, but a day earlier.
"Would you agree," a prosecutor asked the detective, "that was a big lie you caught him on?"
Struk responded, "Yes, sir."
Earlier this week, a prosecutor displayed a note allegedly retrieved around the same time from the trash outside the couple's South Salem home. The note reads: "town dump, bridge, dig, boat, other, shovel or ?" Asked if it appeared to be a list of how to get rid of a body, the detective said, "It may be."
The eccentric millionaire was arrested March 14, 2015, at a New Orleans hotel in connection with Berman's slaying. The next day, the finale of a six-part HBO documentary about Durst, "The Jinx," aired, including a recording of Durst muttering, "What the hell did I do? Killed them all, of course."
Some interpreted his comment, captured on a live microphone, as a confession to killing Berman and his wife as well as Morris Black, a neighbor in Galveston, Texas.
Durst was charged with murdering Black but argued at his 2003 trial that a gun fired while he was defending himself during a tussle with Black. He admitted dismembering Black's body and dumping the parts in Galveston Bay, but jurors acquitted him of murder.
For more news from the Los Angeles County courts, follow me on Twitter: @marisagerber
---
UPDATES:
5:25 p.m.: This article was updated with more information from Struk's testimony.
The article was originally published at 4:10 p.m.
Sign up for Essential California for news, features and recommendations from the L.A. Times and beyond in your inbox six days a week.
You may occasionally receive promotional content from the Los Angeles Times.