Judge rules Robert Durst will stand trial for the 2000 slaying of his best friend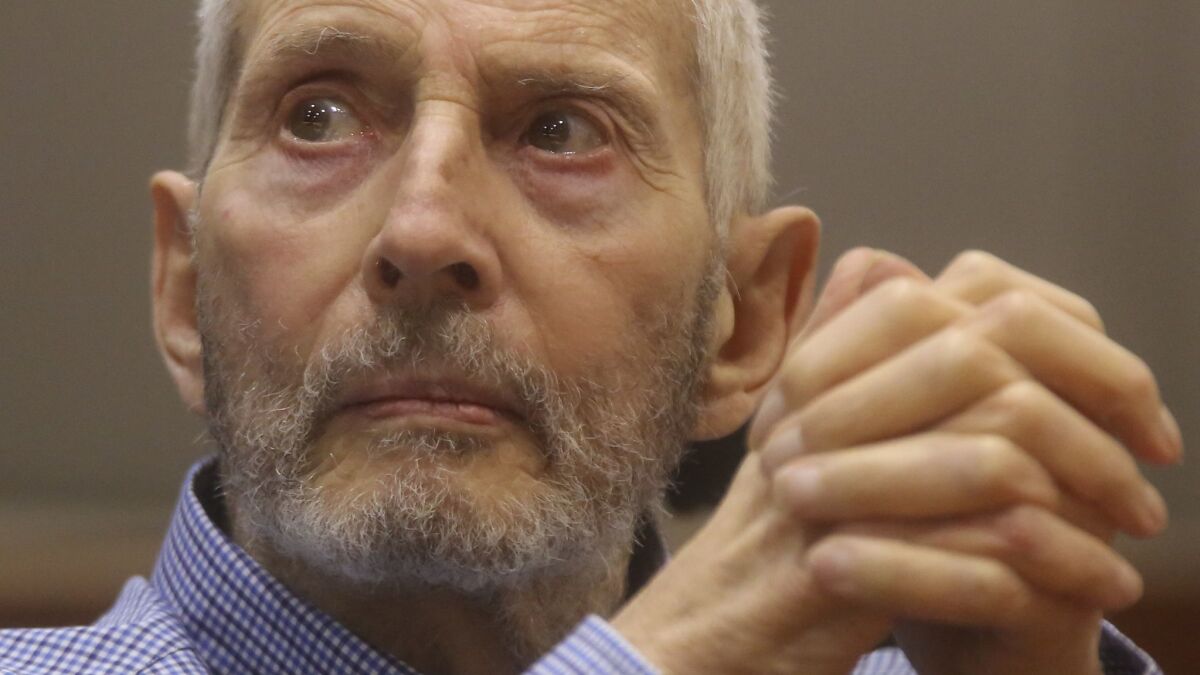 A judge on Thursday ruled there is enough evidence for New York real estate scion Robert Durst to stand trial for the 2000 slaying of his best friend, in a case that drew national intrigue after an HBO series chronicled Durst's life.
The decision came at the end of a lengthy preliminary hearing in Los Angeles, where Durst is charged with shooting writer Susan Berman in the back of the head inside her Benedict Canyon home.
Prosecutors allege that Berman was slain to keep her from telling authorities what she knew about the disappearance in New York of Durst's first wife years earlier. Los Angeles prosecutors have sought to build a case that Durst, the son of a prominent real estate tycoon, killed his wife, Kathleen, in 1982.
Durst, 75, has denied killing both his wife and Berman, and he has pleaded not guilty in the Los Angeles case — a case his lawyers argue was based on television hype, not evidence.
In explaining his finding that there was sufficient evidence for Durst to stand trial for murder, Superior Court Judge Mark E. Windham cited several factors, including comments Durst mumbled into a hot microphone during filming of the HBO series and two handwriting samples. The judge also ruled that there was sufficient evidence for prosecutors to pursue a special circumstance allegation at trial that Durst killed Berman because she was a witness to a previous crime.
"The evidence," Windham said, "does suggest that Robert Durst killed Kathie."
The eccentric multimillionaire was the key figure in "The Jinx," an HBO miniseries that focused on his wife's disappearance, Berman's death and the 2001 killing of Morris Black, Durst's neighbor in Galveston, Texas.
Durst, who was living in the coastal city disguised as a mute woman, admitted to shooting Black, dismembering him and throwing his body parts into Galveston Bay. Durst was acquitted at a trial in Texas after testifying that he accidentally shot his neighbor during a struggle. He dismembered the body in a panic, Durst said, because he feared police wouldn't believe him.
Durst was arrested at a hotel in New Orleans in connection with Berman's slaying on March 14, 2015, the day before the HBO series finale aired. Officials found guns, cash, a fake ID and a mask. The arrest was "urgent," prosecutors argued, because the final episode included "extremely damning evidence" against Durst. In the finale, Durst mumbles a comment on a hot microphone during a bathroom break, which some have interpreted as a confession to multiple murders. "What the hell did I do? Killed them all, of course," Durst says, according to "The Jinx."
But in court this week, prosecutors played raw audio from the recording, which indicated that the miniseries' producers spliced together statements out of order. Durst first mumbles "Killed them all, of course" and makes several other comments before later uttering, "What the hell did I do?"
"It was edited and taken out of order," noted Dick DeGuerin, Durst's lead attorney.
"Yes," replied the judge, "it appears it was."
The ruling Thursday marks a key step in Durst's protracted path toward a murder trial, which is unlikely to happen until at least 2019.
After his arrest in New Orleans, the multimillionaire wasn't transferred to Los Angeles until November 2016, after being sentenced on federal gun charges. In Los Angeles, the judge then allowed lawyers to hold several hearings to preserve testimony from more than a dozen older witnesses in case they're not available to testify at a later date.
Throughout the preliminary hearing, Durst — who does not hear well — stared at a screen in front of him that included a real-time transcription of what lawyers and the judge were saying in court. The defendant sometimes made small talk about the criminal justice system with his defense team.
"With a grand jury," he said in his signature gravelly voice, "the saying is, 'Any D.A. could indict a ham sandwich.' "
During the final day of the hearing, Durst asked for two breaks, at one point saying he needed to sleep. One of Durst's attorneys told the judge that the defendant got very little rest the night before because he was awakened around 3 a.m. to be transported from jail to court. When Durst, who hobbled slowly with help from two attorneys, returned to the courtroom, he said, "I am weak. W-E-A-K, weak."
While making a final argument to the judge, Deputy Dist. Atty. John Lewin turned to look at the defendant.
"Mr. Durst sits there, and he's decrepit and he's pathetic to some degree, but do not forget who that is and what he did," Lewin said. "He's here because he murdered three people and it's been 40 years of him getting away with it, and it's time he pays for what he's done."
David Chesnoff, another member of Durst's legal team, argued there was no compelling case against his client, noting there was no forensic evidence tying Durst to the crime scene.
"Absolutely no fingerprints," Chesnoff said, "no DNA, no weapons."
Toward the end of the hearing, as the judge explained his ruling, Durst, who appeared increasingly frustrated and exhausted, said: "No more. No more." The defendant, now seated in a wheelchair, began to roll himself away from the defense table.
"I understand he's having problems," the judge said, "but he's got to remain."
Durst sat silently with his eyes closed.
Earlier in the hearing, prosecutors played interviews of Durst used in "The Jinx" and DVD commentary that accompanied "All Good Things," a fictionalized film based loosely on Durst's life story. In the film, the character based on Durst is tied to the slayings of his wife, his best friend and his neighbor. The film also suggests that the defendant killed his dog, Igor, years earlier — the depiction of the dog's killing, prosecutors say, is the only part Durst sharply criticized.
DeGuerin scoffed at the prosecution's attempt to use the film as evidence.
"It's a work of drama," he said. "It has actors."
During a taped interview played in court, Andrew Jarecki, who directed the film and "The Jinx," confronts Durst with the handwriting on two envelopes — one from a letter he wrote Berman in 1999 and another from an anonymous note sent to police at the time of Berman's death alerting authorities to a "cadaver" at her home. Beverly Hills is misspelled as "Beverley Hills" on both envelopes.
"Same misspelling," Durst acknowledges to Jarecki.
What does that say to you, the director asks?
"The writing looks similar…. I could see the conclusion the cops would draw," Durst responded. He denied writing the cadaver note.
Did you kill Susan Berman, the director asks?
"I did not," Durst said.
DeGuerin worked to discredit the recordings, at one point telling the judge, "I'd like to point out that Mr. Durst is obviously stoned during all of this."
Earlier in the hearing, prosecutors displayed a police report based on an interview with Berman's friend, Laraine Newman.
Newman, a member of the original "Saturday Night Live" cast, told authorities that Berman once told her that she had provided an alibi for Durst regarding his wife's disappearance, according to the report. Newman said she believed her friend later regretted telling her about the alibi, noting that Berman had tried to "backpedal" on the information, the report said.
Elizabeth Camacho, one of the lead Los Angeles police detectives on the case, testified about a phone interview she and prosecutors had with Mary Hughes, Kathleen Durst's sister, in 2016.
As Robert Durst tried to leave a holiday gathering, Hughes told authorities, he yanked Kathleen by the hair, pulling out a chunk, before saying, "Let's go!" The sister told authorities that Durst owned a gun and kept it by the bed, according to Camacho's report.
Durst, who faces up to life in prison without the possibility of parole, is scheduled to return to court Nov. 8 for an arraignment.
Twitter: @marisagerber
---
UPDATES:
6:35 p.m.: This article was updated with additional details from the hearing and back story about Durst's criminal case.
This article was originally published at 4 p.m.
---
The stories shaping California
Get up to speed with our Essential California newsletter, sent six days a week.
You may occasionally receive promotional content from the Los Angeles Times.