The DWP's biggest union is in line to get six raises by 2021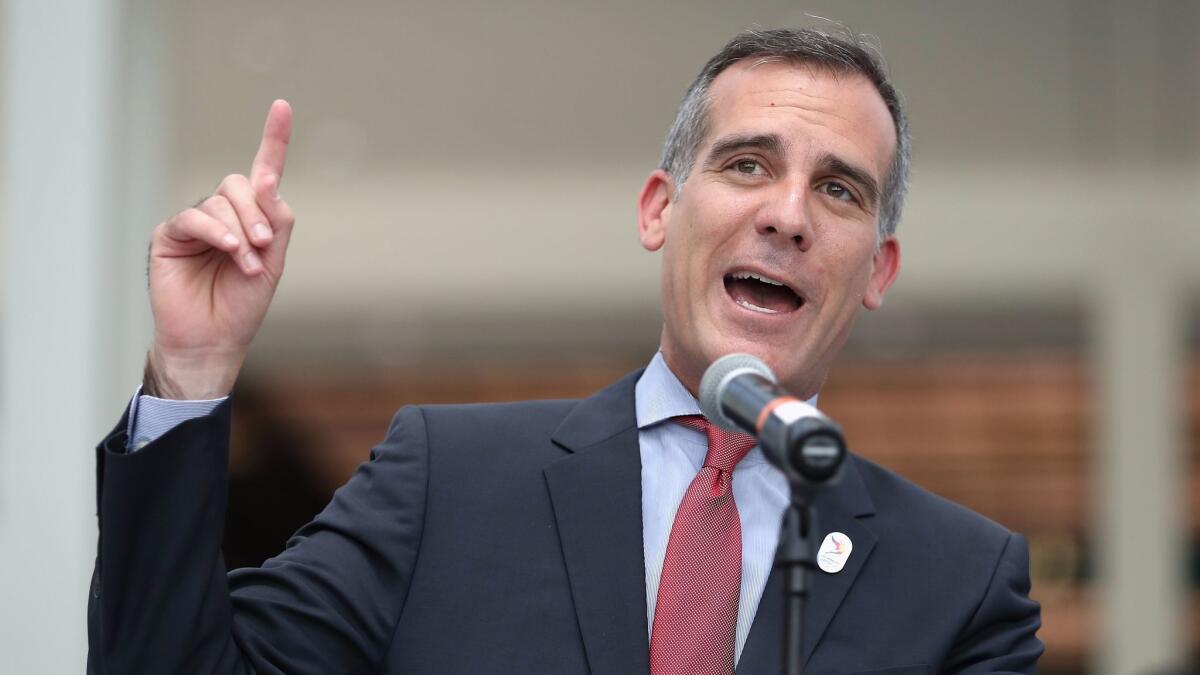 Los Angeles Mayor Eric Garcetti, who campaigned four years ago as someone who would stand up for Department of Water and Power ratepayers, is pushing a proposal to give six raises within five years to more than 9,000 workers at the utility.
The salary agreement, backed Tuesday by Garcetti's appointees on the DWP board, would provide raises of least 13.2% and as much as 22.3% by October 2021, depending on inflation. Beyond that, the pact would deliver a 4% boost over two years to the base pay of hundreds of DWP electrical distribution mechanics, also known as linemen.
DWP General Manager David Wright said the increases are needed because employees are quitting to join better-paying utilities.
Over the last two years, the DWP has invested $12.5 million in training and salary costs for apprentice lineman, only to see those workers lured away by signing bonuses and more lucrative overtime pay, officials said.
"The issue is, you've got to make sure you're not encouraging your employees to go look somewhere else for a job," Wright said. "No one's going to stay if you're paying less than everybody else is."
The agreement, which still needs City Council approval, could put pressure on Garcetti and city lawmakers to grant similar increases to an array of other municipal employees unions — further complicating the city's effort to balance the budget.
The DWP proposal drew criticism from an activist on city budgeting who argued that Garcetti is no longer taking a reform approach to the nation's largest municipally owned utility.
"This [agreement] is going to kill ratepayers," said Jay Handal, co-chairman of Neighborhood Council Budget Advocates. "This is just one more union giveaway, and I think it's absurd."
A representative of International Brotherhood of Electrical Workers Local 18, whose leaders backed the agreement weeks ago, declined to comment.
The city's handling of the union agreement is a departure from 2013, when the newly elected mayor initially blocked the approval of a new four-year contract so he could wring additional concessions. That agreement offered no raises for three years, followed by a single 2% increase that went into effect last fall.
This time around, city officials contend that a strong regional economy and a comparatively low unemployment rate are hampering the DWP's effort to fill key positions. "This is a very different situation than the economy in the last two [negotiation] processes," said Fred Pickel, the city's ratepayer advocate.
Matt Szabo, Garcetti's deputy chief of staff, argued that the new agreement will continue the mayor's "agenda of reform" by ending the utility's practice of sending $4 million annually to two controversial training institutes closely affiliated with the union. Those institutes have been heavily criticized over their secrecy and spending practices.
An audit released by City Controller Ron Galperin in 2015 found that officials at the institutes used their publicly financed credit cards to pay for travel, gasoline and other items without the proper policies and procedures to account for that spending.
DWP Commissioner William Funderburk said the institutes had become "an albatross" for the utility. Szabo said the pay agreement would also reform the utility by requiring that every union member undergo yearly performance reviews.
"It's a fair contract that allows the utility to retain the employees that they're investing in," Szabo said. "And it gives the department the ability to enhance the performance of the employees."
Garcetti ran for mayor in 2013 as someone who could be trusted to hold the utility, and its biggest union, accountable. That year, IBEW Local 18 and its affiliates spent $2 million to support his opponent, then-City Controller Wendy Greuel. After he took office, Garcetti spoke publicly of the need for DWP workers to begin contributing a portion of their salaries to pay for their healthcare.
That issue is not addressed in the new contract, which runs from Oct. 1, 2017, to Sept. 30, 2022. DWP employees who belong to the IBEW will continue to contribute nothing from their paychecks toward their health insurance, utility officials said.
"That was something that we weren't able to get," said commission President Mel Levine. "Hopefully we'll do better on that issue next time."
The DWP board approved the salary package on a 4-0 vote, sending the proposal to the council.
Under the pact, the first 3% raise would be awarded Oct. 1, followed by a 1.5% increase Dec. 1. Additional raises of 2% to 4% would come Oct. 1 in each of the following four years. The exact amount would be tied to the consumer price index, according to a report to the DWP board.
If the consumer price index rises less than 2% in a particular year, that year's minimum raise would be 2%. If the index's increase exceeds 4% in a particular year, the maximum raise would be 4%.
Council President Herb Wesson said he has not decided whether to hold a vote on the agreement before the council's summer break, which begins next month.
The pay agreement drew support from Mac Shorty, chairman of the Watts Neighborhood Council, who attended Tuesday's DWP meeting. Shorty said he wants more people in low-income neighborhoods working at the DWP and favors pay increases for the utility's workforce.
"They deserve it," he said.
Twitter: @DavidZahniser
Twitter: @dakotacdsmith
ALSO
More than 120 layoffs proposed in L.A. school district budget
Lawsuit alleges hostile environment for Jews on San Francisco State campus
Highland Park man's home doubled as an unlicensed day care center and cocaine den
---
UPDATES:
6:35 p.m.: This article was updated with reaction and additional details.
This article was originally published at 1:50 p.m.
Sign up for Essential California for news, features and recommendations from the L.A. Times and beyond in your inbox six days a week.
You may occasionally receive promotional content from the Los Angeles Times.