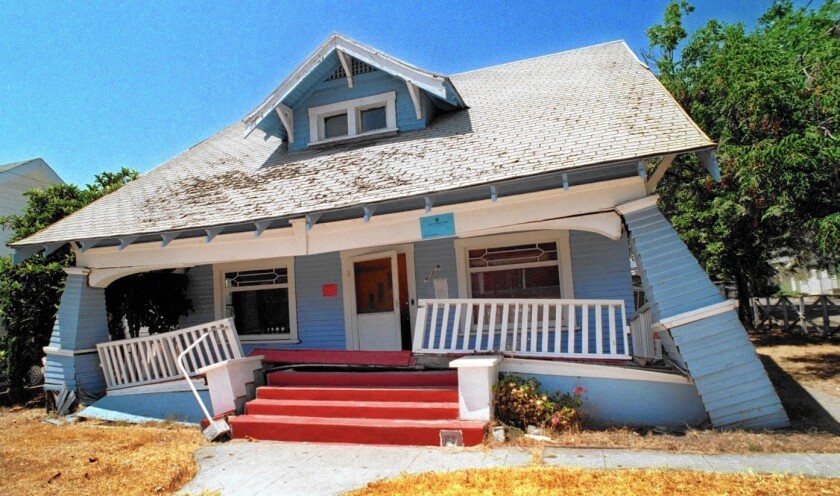 Officials will begin accepting applications Wednesday for homeowners to get grants of up to $3,000 to earthquake retrofit single-family homes with a common structural flaw that can cause houses to fall off their foundation.
Registration begins Wednesday and ends Feb. 20, and is run by a program that receives money from the state and the nonprofit California Earthquake Authority. Authorities expect as many as 1,600 grants to be available, nearly triple the number of grants available last year. Homeowners can register at earthquakebracebolt.com.
Homes in more than 150 ZIP codes in California will be eligible for the grants. In Southern California, they include areas of Los Angeles, Pasadena, South Pasadena, Santa Monica, West Hollywood and San Bernardino. In Northern California, certain ZIP codes of San Francisco, Oakland, Berkeley, Albany, Emeryville, San Leandro, Burlingame, Hillsborough, Millbrae, and Woodside are also included in the retrofit program.
Officials were scheduled to hold a press conference Wednesday morning at San Francisco City Hall to announce the opening of registration for the program.
Single-family homes that qualify for the grant are typically built before 1979 with a handful of steps above the ground. The heavy house can rest atop a flimsy wood-frame perimeter that isn't bolted to the foundation – when a quake hits, the house can topple or slide off. Engineers say it's like pulling the rug out from under the house.
These types of homes have been damaged in earthquakes as early as the 1906 San Francisco quake, as well as in the 1933 Long Beach, 1971 Sylmar, 1989 Loma Prieta and 1994 Northridge quakes, and last year's Napa earthquake.
To reattach an intact house to its foundation, an owner might have to pay to lift the entire structure several feet and pour a new concrete foundation, then lower the house, at a cost as high as $400,000.
By contrast, the cost of a preventive retrofit is usually between $2,000 and $10,000, with an average price tag of $5,000, according to the California Residential Mitigation Program, which administers the grants. The solution is generally simple: add metal rods to attach the wooden house to the concrete foundation, and plywood to add stiffness and strength to keep the house on its foundation.
There are more than 1.2 million houses in California estimated to be particularly vulnerable to earthquakes because of how they were constructed.
"You wouldn't feel safe driving a car that has no seat belts, and you shouldn't feel safe living in a house that hasn't been bolted to its foundation," Janiele Maffei, a structural engineer who heads the grant program, said in a statement. "To protect their families and most valuable asset, all Californians should ensure their homes are properly braced and bolted."
Interested in the stories shaping California? Sign up for the free Essential California newsletter >>
City governments have not required homeowners to make seismic retrofits to single-family homes. After the 1994 Northridge earthquake, Los Angeles city building officials briefly considered requiring 50,000 single-family homes to be retrofitted, but the idea was rejected.
The $3 million in state funding -- approved by Gov. Jerry Brown last year -- allows officials to expand the grant program to homes in more areas than has been offered in previous years; the last time the grants were offered about a year ago, only about two dozen ZIP codes were eligible. The grants are income-tax exempt at the state level, officials said.
The California Earthquake Authority -- a publicly-managed nonprofit established by the Legislature in 1996 that operates with private funds and through the sale of earthquake insurance -- is also pitching in $1.8 million for the grant program.
Expanding the program, known as Earthquake Brace + Bolt, "is an important step forward in preparing California for a large earthquake," said Assemblyman Adrin Nazarian (D-Sherman Oaks), who sought additional funding for the program. "Bracing and bolting homes to their foundation can help protect property and save lives."
Homes in the following ZIP codes will now be eligible for the program:
Los Angeles: (90004, 90005, 90006, 90012, 90013, 90014, 90015, 90017, 90019, 90020, 90021, 90023, 90026, 90027, 90028, 90029, 90030, 90031, 90032, 90033, 90036, 90038, 90039, 90041, 90042, 90057, 90063, 90065, 90068, 90071, 91604)
Pasadena: (91101, 91102, 91103, 91104, 91105, 91106, 91107, 91108, 91110, 91114, 91115, 91116, 91117, 91118, 91121, 91123, 91124, 91125, 91129, 91131, 91175, 91182, 91184, 91185, 91186, 91187, 91188, 91189, 91191)
South Pasadena: (91030, 91031)
Santa Monica: (90401, 90402, 90403, 90404, 90405, 90406, 90407, 90408, 90409, 90410, 90411)
West Hollywood: (90046, 90048, 90069)
San Bernardino: (92404, 92405)
Albany: (94706)
Berkeley: (94609, 94618, 94702, 94703, 94704, 94705, 94707, 94708, 94709, 94710, 94720)
Burlingame: (94010, 94011, 94012)
Emeryville: (94608)
Hillsborough: (94010)
Millbrae: (94030, 94031)
Oakland: (94601, 94602, 94603, 94605, 94606, 94607, 94610, 94611, 94612, 94613, 94618, 94619, 94621)
San Francisco: (94101, 94102, 94103, 94104, 94105, 94106, 94107, 94108, 94109, 94110, 94111, 94112, 94114, 94115, 94116, 94117, 94118, 94119, 94120, 94121, 94122, 94123, 94124, 94125, 94126, 94127, 94128, 94129, 94130, 94131, 94132, 94133, 94134, 94135, 94136, 94137, 94138, 94139, 94140, 94141, 94142, 94143, 94144, 94145, 94146, 94147, 94148, 94149, 94150, 94151, 94152, 94153, 94154, 94155, 94156, 94157, 94158)
San Leandro: (94577, 94578, 94579)
Woodside: (94061, 94062)
Follow us for the latest news in earthquake safety and El Nino: @RosannaXia and @ronlin
See more of our top stories on Facebook >>
ALSO
Lawmaker renews push for Marine killed in Iraq fight to receive Medal of Honor
Businesses in Porter Ranch struggling as customers relocate
L.A. to pay $24 million to two men imprisoned for decades after wrongful murder convictions
---