State to boost oversight of services for students learning English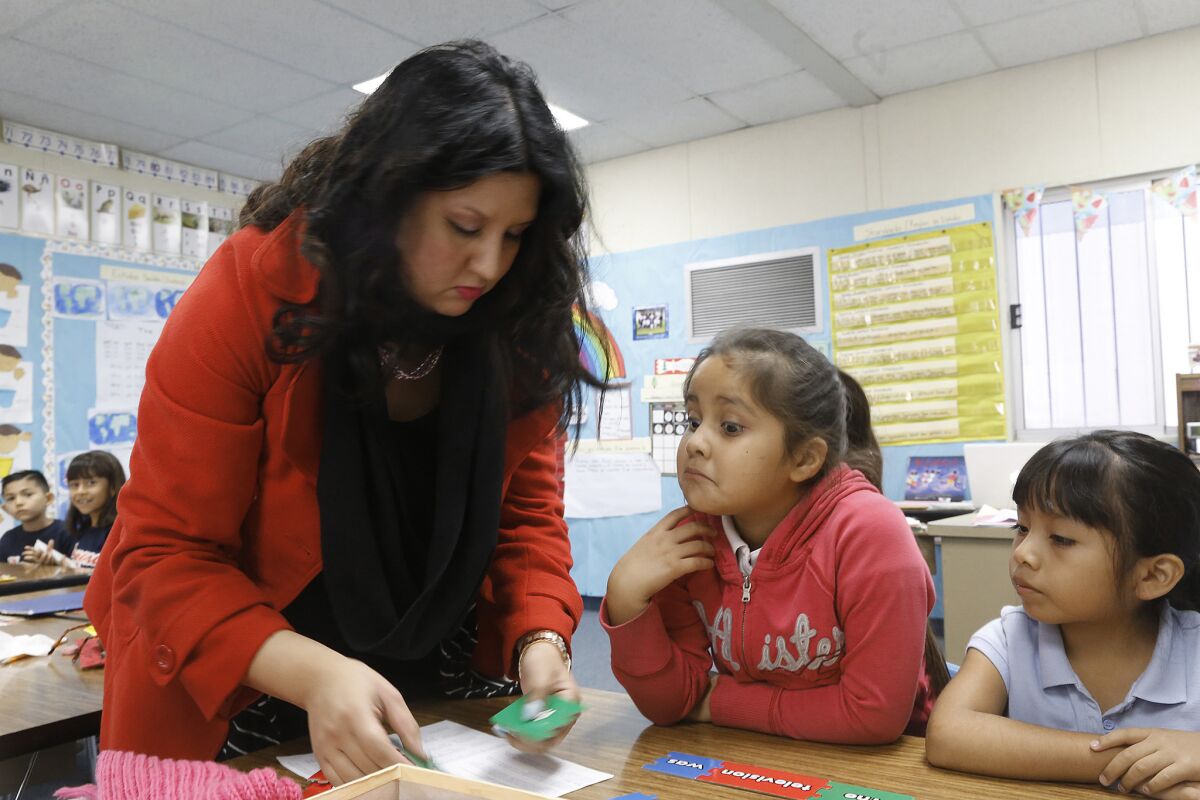 California officials have agreed to boost oversight of school district efforts to help the state's 1.4 million students learning English under a legal settlement announced this week.
The settlement came after a Los Angeles judge ruled last fall that the state Department of Education had failed to compel numerous school districts to provide students learning English with legally required assistance.
More than 20,000 students in 251 school districts were denied English language services in 2010-11, according to state data cited in the lawsuit filed by the American Civil Liberties Union of California, Public Counsel, Asian Americans Advancing Justice-Los Angeles and Latham & Watkins LLP. Those students represented one-fourth of all English learners in California.
Interested in the stories shaping California? Sign up for the free Essential California newsletter >>
Under a new watchdog process, state officials agreed to improve data collection systems to more easily identify students denied English language services, better inform school districts of their legal obligation to help them and strengthen reviews of their assistance programs.
Civil rights attorneys hailed the settlement Friday.
"For the first time in California history, all English learners will learn English," said Mark Rosenbaum of Public Counsel, a pro bono law firm in Los Angeles. "What's riding on this is not only closing the achievement gap, but the well-being of the state."
State Supt. of Public Instruction Tom Torlakson announced he would seek funding for three new specialists to help improve English language services and strenthen oversight.
"We are eager to carry out the terms of this settlement ... so together we can make sure English learners get the support they deserve," he said in a statement Thursday.
It remained unclear how many students learning English were actually denied services. Several school districts told state education officials last year that they erred in filling out the 2010-11 state forms and were actually providing English language services to many of the students reported as not receiving any.
Compton Unified, for instance, testified that a "glitch" in inputting data erroneously reported that 1,697 students were receiving no services.
But a former Compton teacher testified that some students spent weeks and even years without the instructional services required by law and one of the plaintiffs in the lawsuit, a Compton student identified as S.M., testified that he was one of them.
Under the settlement, the state agreed to conduct an on-site review of Compton Unified's program to assist those learning English.
Research has found that students who are denied English instructional services suffer from inferior learning, poor grades, lower graduation rates, reduced access to college and feelings of isolation, frustration and disengagement.
Twitter: @TeresaWatanabe
ALSO:
The best — and worst — thing about being a student of color
Achievement gaps widen for California's black and Latino students
These are LAUSD's top perfomers on California's new, harder tests
---
The stories shaping California
Get up to speed with our Essential California newsletter, sent six days a week.
You may occasionally receive promotional content from the Los Angeles Times.