Newsletter: A $72-million development and questionable donations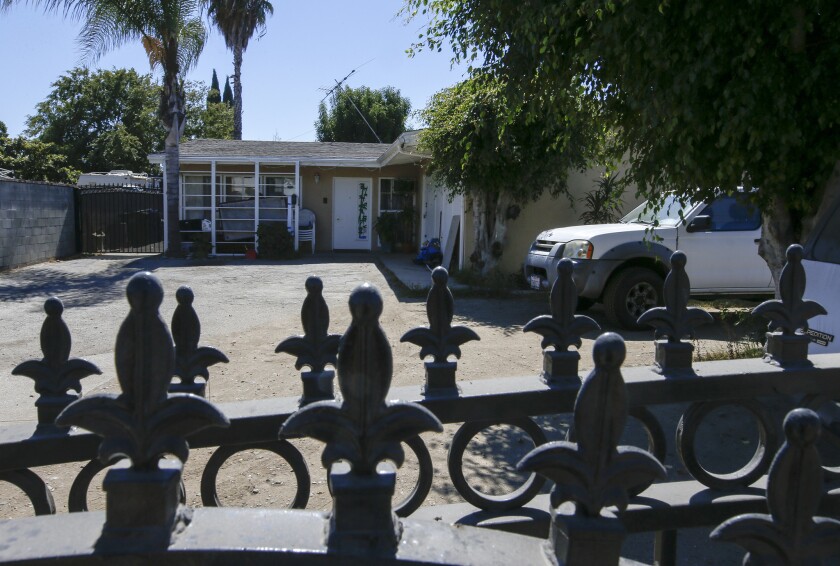 Good morning. It is Monday, Oct. 31. Happy Halloween. Here's a timely question: Can too much Halloween candy kill you? This is how much it would take. Here's what else is happening in the Golden State:
TOP STORIES
Curious donations
A Times investigation found years of questionable donations made to politicians as they considered whether to approve a $72-million development in L.A.'s Harbor Gateway neighborhood. Many of the donors had a direct or indirect connection to the developer. Los Angeles Times
Rethinking transit
When it comes to mass transit, the common narrative holds that the Bay Area has built a sleek, efficient commuter rail network while car-loving Los Angeles remains something of a primitive backwater. But that perception is increasingly not the reality. And some envious Bay Area transit officials are now praising L.A. for its aggressive rail expansion. Los Angeles Times
Conservation goals
A Times analysis shows which water districts are backsliding the most on conservation as the state eased its restrictions. Los Angeles Times
L.A. AT LARGE
Quiet investigation: The Los Angeles County Board of Supervisors secretly launched a public corruption investigation of its former Chief Executive William T. Fujioka shortly after his retirement two years ago, examining his role in real estate dealings, a multimillion-dollar emergency communications project and other county business. Los Angeles Times
Coming into compliance: The vendors and food stands that dotted Ramona Gardens Park on Saturday mornings formed a necessary but illegal market for residents who lived too far from large grocery stores. Tired of the endless citations, the vendors agreed to temporarily close shop in January and worked alongside authorities to bring their weekend tradition in line with city codes. Los Angeles Times
Bubble burst: Orange County is seeing a hiring spree in the real estate sector. Is this a sign a bust is around the corner? Orange County Register
POLITICS AND GOVERNMENT
#SadFace: How do people feel about the presidential election? At the "Happiest Place on Earth," they're pretty bummed. Los Angeles Times
Trump effect: As they press to get a supermajority in the state Legislature, Democrats might have found a secret weapon: Donald Trump. CalMatters
Planning rules: In Sonoma County, a race for supervisor has turned ugly. Both candidates are liberals who vow to prevent wine country from becoming an overdeveloped theme park. But how to get there is a subject of much debate. San Francisco Chronicle
Safety regulations: San Francisco is making progress on earthquake retrofitting, but it still has a ways to go. Curbed SF
Nice work if you can get it: Companies in California got state tax breaks worth $2.67 billion in the last two years. Among the big winners? Entertainment and defense industries, according to data compiled by a nonprofit. San Gabriel Valley Tribune
CRIME AND COURTS
A mother's pain: Chandra Levy's mother is blasting former Rep. Gary Condit and Dr. Phil after an appearance Condit made on TV to promote his new book, which covers the slain intern scandal. "It's about his ego, his own gratification, to get out of the hole he put himself into." Sacramento Bee
Design elements: Is this new complex in Tijuana a fortress or a luxury apartment? Actually, it's both, and some crime-wary residents like it. San Diego Union-Tribune
Motorcycle crash: Los Angeles Police Chief Charlie Beck fractured his pelvis Saturday after he fell off his motorcycle on a rocky trail in the Tehachapi Mountains north of Los Angeles. Beck was able to ride back to his truck and drive home before he went to a hospital for emergency medical care. Los Angeles Times
DROUGHT AND CLIMATE
Drought conditions: Despite a record month of rain, experts say it's too early to tell how much this winter will ease the drought. Mercury News
CALIFORNIA CULTURE
On the sidelines: To a remarkable degree, Silicon Valley has been ignored during the presidential election. Mercury News
Rules for migration: Can a new version of the infamous Bracero Program help the U.S. better regulate migrant workers who don't have legal status? New York Times
Gift ideas: Homesick for Southern California? There's a product for that (well, 28 of them). Buzzfeed
Power up: Elon Musk is now pushing a line of high-design solar roof tiles that would replace clunky solar panels and tie into an upgraded version of the Tesla wall-mounted battery for those times when the sun doesn't shine. Los Angeles Times
CALIFORNIA ALMANAC
Los Angeles will be cool with a high of 68 degrees. San Diego will have some clouds and a high of 70 degrees. Riverside will be 68 and cloudy. Sacramento is expected to have afternoon showers and a high of 64 degrees. San Francisco will have afternoon showers and a high of 65.
AND FINALLY
This week's birthdays for notable Californians:
Rep. Darrell Issa (Nov. 1, 1953), former Dodger Fernando Valenzuela (Nov. 1, 1960), Apple Chief Executive Tim Cook (Nov. 1, 1960), former NBA player Bill Walton (Nov. 5, 1952), actress Sally Field (Nov. 6, 1946), former first lady of California Maria Shriver (Nov. 6, 1955) and Yahoo co-founder Jerry Yang (Nov. 6, 1968).
If you have a memory or story about the Golden State, share it with us. Send us an email to let us know what you love or fondly remember about our state. (Please keep your story to 100 words.)
Please let us know what we can do to make this newsletter more useful to you. Send comments, complaints and ideas to Alice Walton or Shelby Grad.
---
The stories shaping California
Get up to speed with our Essential California newsletter, sent six days a week.
You may occasionally receive promotional content from the Los Angeles Times.