New coalition urges 'Everyone In' to combat L.A.'s homelessness crisis
At an Echo Park kickoff event headlined by politicians, philanthropists, business representatives and labor leaders, the United Way of Greater Los Angeles announced the launch Friday of a new coalition fighting to end homelessness.
The "Everyone In" coalition will train and organize people to advocate for new housing and services for homeless people in their neighborhoods, track progress toward countywide goals, educate the public and give them other opportunities to get involved, officials said.
"This is an army for good. An army that is fighting the injustices of poverty and the indignities of homelessness," said Los Angeles County Supervisor Mark Ridley-Thomas, adding, "In this war, there can be no conscientious objectors."
The new effort to rally community support for homeless housing and services comes amid growing frustration with a crisis that has left tens of thousands of people on the streets.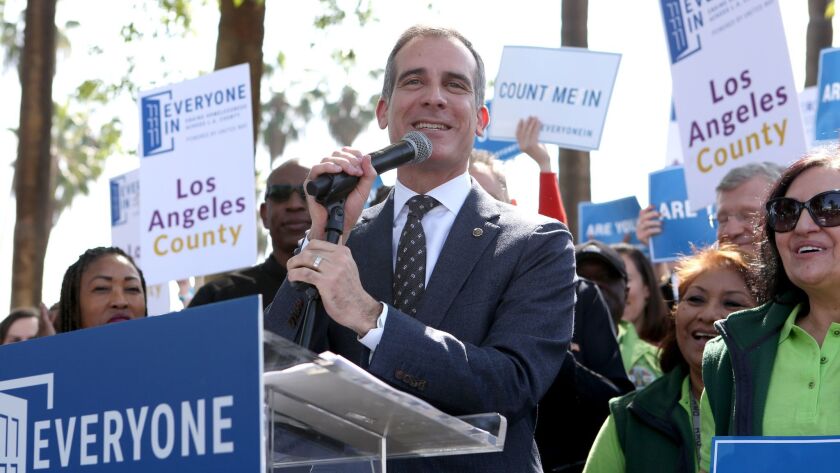 More than a year has passed since Los Angeles voters overwhelmingly passed both a $1.2-billion bond for new housing and a county tax. The bond funds are supposed to usher in 10,000 new units with supportive services for the homeless, while the tax will bankroll services, rental subsidies, outreach, and strengthening and expanding the shelter system.
"This is a pivotal moment for our community," said Elise Buik, president and CEO of the United Way of Greater Los Angeles, citing an "unprecedented amount of funding" to build housing, fund services and try to prevent people from becoming homeless.
But "the funding was probably the easy part," Buik said.
The new campaign will help Angelenos monitor progress on those programs, focusing on goals of approving 5,000 units of supportive housing, getting 45,000 people into homes, and preventing 30,000 people from sliding into homelessness by July 1, 2022.
In addition, Buik said the campaign would mobilize the "silent majority" who support homeless housing in their neighborhoods. L.A. Mayor Eric Garcetti called on the crowd to turn out for hearings to build housing in their neighborhoods, to help scout out parking lots where vehicle dwellers can spend the night, and hire people who have been homeless.
Each time, the crowd chanted in response, "Count me in!" Hundreds of people attended the Friday event near Echo Park Lake, many holding up signs that said "Are you in?"
Besides government and philanthropic leaders, the event drew celebrities such as former professional football player Eric Dickerson and "This is Us" actor Jon Huertas, who spurred a flurry of smartphone photos from the crowd as they stepped up to the microphones.
Not far from the stage, a small group of activists from the local chapter of the Democratic Socialists of America held up a spray painted banner reading "House keys not handcuffs."
Jed Parriott, an organizer with the group, said they wanted to draw attention to the rising numbers of arrests of homeless people and urge the city to stop handing out citations for "quality of life" offenses such as sleeping on the sidewalk.
"While we wait for housing to be built, we can't be punishing them while they're forced to live on the streets," Parriott said, adding, "Until they actually build housing, this is all show."
Twitter: @AlpertReyes
---
The stories shaping California
Get up to speed with our Essential California newsletter, sent six days a week.
You may occasionally receive promotional content from the Los Angeles Times.