No charges against LAPD officers who shot and killed Ezell Ford, D.A. says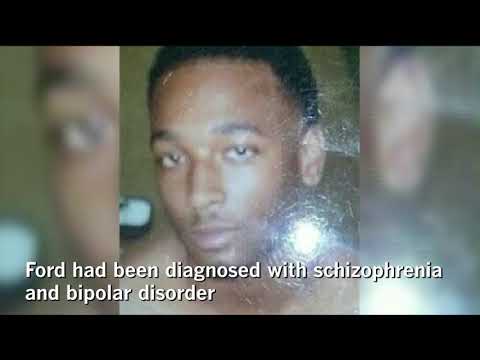 Los Angeles police officers shot and killed Ezell Ford during a clash near his South L.A. home in 2014.
Los Angeles County prosecutors said Tuesday they will not criminally charge two Los Angeles police officers who shot and killed Ezell Ford during a clash near his South L.A. home in 2014, drawing the ire of activists who say LAPD officers are rarely held accountable when they use deadly force.
The death of Ford, a 25-year-old black man, generated controversy almost immediately, becoming a local touchstone in the ongoing criticism over how officers interact with residents in African American and Latino communities. More than two years later, local activists still describe Ford's death as an unjust killing, continuing to chant his name along with others killed by police.
The investigation that followed Ford's death has been closely watched by those activists, LAPD observers and many within the department. L.A. County Dist. Atty. Jackie Lacey has faced criticism over her handling of the case, particularly the amount of time it took for her office to reach its decision.
That decision comes more than a year and a half after a police oversight panel faulted one of the officers, saying that his handling of the encounter was so flawed that it led to the fatal shooting.
On Tuesday, Lacey's office detailed the decision not to prosecute the officers in a 28-page report, saying the physical evidence corroborated the officers' accounts that Ford knocked one officer to the ground and tried to grab his gun. Ford posed "an immediate threat" to the officers, prosecutors wrote, and they acted lawfully when they responded with deadly force.
Standing near a portrait of her son, Tritobia Ford spoke to reporters at the First African Methodist Episcopal Church of Los Angeles on Tuesday afternoon and sobbed as she expressed her dismay with that conclusion.
"The last bit of hope that we had is crushed," she told reporters."These officers are going scot-free. They're getting away with murder. There's no justice for Ezell."
Ford, who had been diagnosed with schizophrenia and bipolar disorder, was walking near his South L.A. home when he was shot by Officers Sharlton Wampler and Antonio Villegas.
Wampler and Villegas were assigned to an anti-gang unit when they tried to stop Ford as he walked away from a larger group in what prosecutors described as a "known gang area" on West 65th Street. After Ford ignored officers' commands to stop, authorities said, Wampler grabbed Ford because he believed the 25-year-old was trying to discard drugs. Authorities said Ford then knocked Wampler to the ground and tried to grab his gun during a scuffle, prompting police to shoot.
Ford's DNA was found on Wampler's holster, according to prosecutors, who said a witness also heard one of the officers shout, "Let go of the gun!" during the struggle.
Prosecutors said blood stains found on Wampler's uniform and scuff marks on his utility belt supported the fact that Ford was on top of Wampler during the struggle.
In 2015, the Police Commission concluded that Wampler violated department policy when he fired at Ford. The board said it looked at the "totality of the circumstances" — not just the moment he fired — and faulted the officer's decision to approach and physically contact Ford. Villegas was cleared in his use of deadly force, but the panel criticized him for drawing his weapon early in the confrontation. The commission's decision overruled LAPD Chief Charlie Beck, who said he believed the officers acted within policy.
Josh Rubenstein, an LAPD spokesman, declined to comment on Tuesday's decision and referred questions to the district attorney's office. He also declined to say whether the officers had been disciplined. Under state law, police discipline matters are confidential.
An attorney representing the officers, Greg Smith, said disciplinary action had not been taken as of Tuesday, though the LAPD could still choose to initiate a disciplinary proceeding.
Ford was killed just days after a police officer fatally shot Michael Brown in Ferguson, Mo., sparking not only widespread national protests over police killings but scrutiny of prosecutors who decide whether to charge officers criminally.
The Los Angeles County district attorney's office has not charged a law enforcement officer in an on-duty shooting since 2000, records show. Lacey took office in 2012.
Melina Abdullah, a local organizer with Black Lives Matter in Los Angeles, accused Lacey of ignoring what some members of the community consider a pattern of excessive force within the LAPD.
"She has refused to prosecute officers who kill our people," Abdullah said. "This case is particularly troublesome given that she did have a Police Commission ruling that said the officers were out of policy. She could have prosecuted them, one would think, more easily than other cases."
Paula Madison, a former police commissioner who reviewed Ford's shooting in 2015, said she believes his death resonated with many Angelenos because of the long-standing complaints within some neighborhoods about stops made by police.
"I'm sorry that this young man lost his life because he happened to be in an economic and social status that did not allow him to live in what's called a 'safe neighborhood.' It's not his fault," she said. "It's not his fault and yet he was stopped, and that stop led to him losing his life."
In an interview, Lacey urged critics to examine the facts of the case, particularly the physical evidence that showed scratches on Wampler's handcuff holster and Ford's DNA on the gun holster.
"You have an officer who honestly believes that he's about to be killed," Lacey said. "He has the right to defend himself."
Although the civilian police commissioners faulted Wampler's initial contact with Ford, Lacey said the officers' actions prior to the shooting did not factor into her decision.
"Even if you had a poor stop, that doesn't mean that Wampler and Villegas are entitled to be shot," Lacey said. "That's really what our focus was on."
Asked about the lengthy review process, Lacey said her office did not receive the case from the LAPD until May 2015. A federal lawsuit filed by Ford's family also slowed the process, she said, as prosecutors had to wait months to access witness depositions taken in that case.
Lacey's decision was met with praise from the Los Angeles Police Protective League, the union that represents rank-and-file officers in the city.
"No officer ever wants to be put in a dangerous situation where they must struggle to maintain control of their weapon, but officers must be allowed to protect themselves, their partners and the public," the union said in a statement.
Police Commission President Matt Johnson said he believed Ford's death was investigated thoroughly and fairly by the LAPD, though he said the delayed announcement from the D.A.'s office was "unfortunate."
"Our hearts," he said, "continue to go out to Ms. Ford and the Ford family.
"Any loss of life is a tragedy, irrespective of legal analysis or debate, and we must rededicate ourselves every day to finding solutions to prevent such tragedies from occurring. Losing a child is painful beyond compare, under any circumstances."
Wampler and Villegas sued the city this summer, alleging they were being kept on desk duty and unfairly denied advancement and other employment opportunities because of their race and Ford's. Wampler was described in the lawsuit as Caucasian, though department records list him as Asian American. Villegas is Latino.
Mayor Eric Garcetti said in a statement that he accepted the D.A.'s decision but was dedicated to finding "better ways to protect the safety of all Angelenos."
Even as the Ford case comes to a close, Lacey must now turn to another controversial shooting: the May 2015 killing of Brendon Glenn in Venice.
Glenn, 29, was unarmed when he was shot and killed by Los Angeles Police Officer Clifford Proctor. Proctor has said Glenn was reaching for his partner's service sidearm when he opened fire, but Beck said evidence disputes that statement and he has called for Lacey to file criminal charges.
Lacey said her office will render a decision in that case "as soon, but as carefully, as possible."
Follow @katemather and @JamesQueallyLAT for crime and police news in California.
ALSO
Hairdresser found dead with stab wounds at his Woodland Hills home
Wife of Ghost Ship manager apologizes to Oakland officials and activists following deadly fire
Ski patroller killed during avalanche control activities at Squaw Valley resort
---
UPDATES:
8:10 p.m.: This article was further edited and reorganized.
4:50 p.m.: This article was updated with additional comments from Los Angeles Dist. Atty. Jackie Lacey and Ford's mother.
12:55 p.m.: This article was updated with additional comments from city officials, local activists, and the union that represents Los Angeles police officers.
12:05 p.m.: This article was updated with additional details
11:30 a.m.: This story was updated with additional information from prosecutors.
This story first published at 11:00 a.m.
Sign up for Essential California for news, features and recommendations from the L.A. Times and beyond in your inbox six days a week.
You may occasionally receive promotional content from the Los Angeles Times.