Ezell Ford's parents file wrongful death lawsuit against LAPD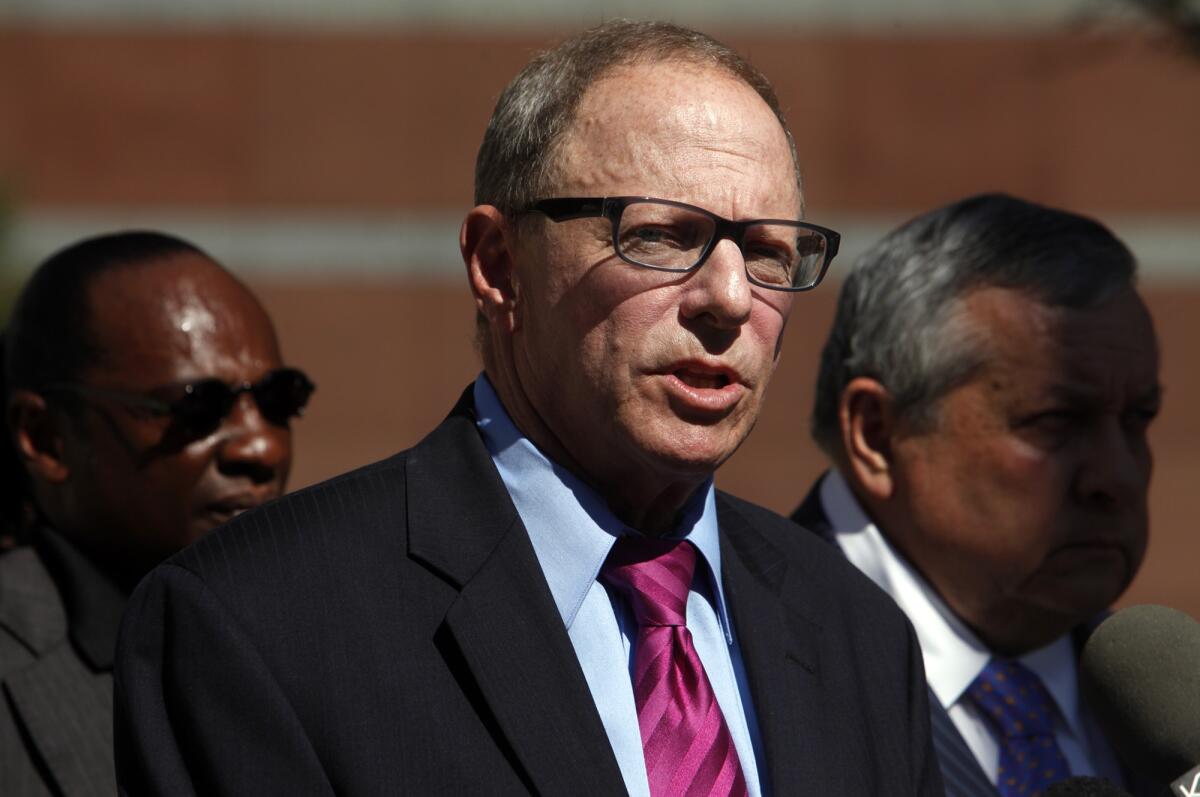 The parents of a mentally ill man fatally shot by two LAPD officers in South L.A. last month filed a wrongful death lawsuit Wednesday accusing police of racial profiling and using excessive force against their son.
Edsell and Tritobia Ford claim officers approached their son as he walked home on Aug. 11 even though he was not committing a crime. The lawsuit alleges that Ezell Ford was shot moments after he complied with police orders to lie on the ground.
The suit alleges that the officers knew Ezell Ford was mentally ill.
"Today brings us to a ... start for a search for justice," said the family's attorney, Steven A. Lerman, while announcing he had filed the federal civil rights lawsuit.
He said scores of witnesses would support the family's contentions.
"No millions of dollars or any type of award could bring that young man back to his family, and that is the ultimate tragedy," he said.
LAPD Officer Liliana Preciado, a department spokeswoman, said the agency does not comment on the filing of lawsuits.
Conflicting accounts have emerged about the killing of Ezell Ford, a 25-year-old African American. Police say the officers -- one of whom is Asian American and the other is Latino -- got out of their car and tried to talk to Ezell Ford as he was walking along West 65th Street near Broadway.
Within days of the shooting, the LAPD said preliminary information indicated that Ezell Ford tackled one of the officers and reached for the officer's gun, prompting both officers to open fire.
A friend of Ezell Ford's family who saw part of the incident told The Times that she saw no struggle.
In their lawsuit, Ezell Ford's parents accused the Police Department of failing to adequately supervise and train the two officers. The officers were "reckless and acted with callous indifference" to Ezell Ford's rights, the lawsuit alleged.
The shooting is being investigated by the LAPD, the Police Commission's inspector general and the district attorney's office.
Ezell Ford's death occurred two days after the police shooting of 18-year-old Michael Brown in Ferguson, Mo. Brown's death sparked days of violence in Missouri and nationwide scrutiny of police behavior.
By contrast, the protests that followed Ezell Ford's death in Los Angeles have been peaceful.
Lerman said the parents of Ezell Ford are seeking punitive damages for severe emotional distress, mental suffering and loss of enjoyment of life. They are also seeking compensatory damages for funeral costs and legal fees and expenses.
In addition to filing the federal lawsuit, Lerman filed a $75-million claim against the city on behalf of Ezell Ford's family.
For more Southern California news, follow @LATVives.
Sign up for Essential California for news, features and recommendations from the L.A. Times and beyond in your inbox six days a week.
You may occasionally receive promotional content from the Los Angeles Times.