Federal authorities raid Bicycle Hotel and Casino in Bell Gardens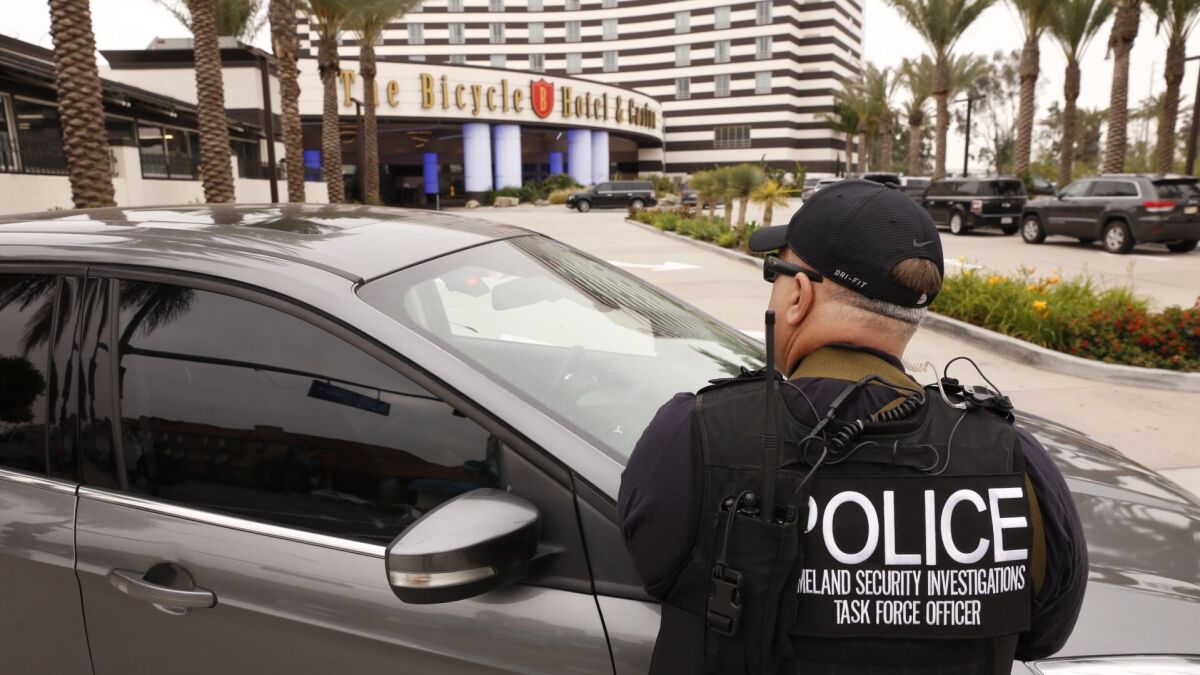 Federal agents raided the Bicycle Hotel & Casino in Bell Gardens Tuesday, paralyzing bets at one of Southern California's largest gambling rooms as investigators seized thousands of financial records and launched a money-laundering investigation, law enforcement officials told The Times.
The probe, which began when agents entered the casino's main floor around 7 a.m., will focus on whether individuals used the club to launder funds by placing bets with dirty money before exchanging their chips for clean cash, according to several law enforcement sources familiar with the investigation. The sources requested anonymity because they were not authorized to discuss the case.
The raid was led by members of the Los Angeles High Intensity Financial Crime Area Task Force — a group that includes investigators from U.S. Immigration and Customs Enforcement, the Internal Revenue Service, the California Department of Justice's bureau of gambling control and the U.S. attorney's office.
Agents blocked the entrances to the casino's two parking lots Tuesday morning, occasionally talking to frustrated gamblers and employees standing beyond the crime scene tape. Shortly before 9:30 a.m., agents waved an armored truck toward the front door.
Virginia Kice, an ICE spokeswoman, declined to comment on "the scope or nature of the investigation." But, she said, a "search warrant issued by a United States magistrate judge was filed under seal in relation to an ongoing investigation."
As of 5:30 p.m., Kice said, investigators still were working inside the casino.
Becky Warren, a spokeswoman for the casino, said management was "cooperating with authorities" but declined to comment further. She said the casino would reopen at 3 a.m. Wednesday.
The sight of federal agents, some wearing bulky black vests, drew dozens of people to the edge of the casino's property.
Kenneth Taylor, 53, of Los Angeles, said his sister had been on the casino floor when federal agents entered and instructed players to exit the area.
A Pai Gow player who joked that he comes to the Bicycle and loses "every day," Taylor said he was not surprised by the flood of police that descended on the building. "Let's put it like this. Gambling is a game of luck. I consider myself a lucky person," he said. "But you can never win at the Bicycle."
Several others watching from the street also had complaints about the casino — decrying rude pit bosses and raising suspicions that even though "the house always wins," it won a little too often inside the Bicycle. Rigged gaming, however, did not appear to be the focus of the federal probe.
Near the casino entrance, a man who would identify himself only as an employee nervously approached an ICE agent and asked when he would be able to get inside. He said he was carrying $7,000 in chips, and was afraid they no longer had any value.
The agent reassured him that ICE was not "taking over the casino" and that chips could be cashed out at a later date.
Nathan Davalle of the state gambling control bureau also said players with outstanding chips would be able to recoup their money when the casino reopened.
Agents typically do not close casinos while conducting money-laundering investigations, according to I. Nelson Rose, a Whittier law school professor and expert on gambling law.
"From a public relations point of view, this was horrible. The agents closed the active casino. Some players talked about cheating. But this is far from cheating. This is about someone passing money through an establishment," said Rose, who worked for the club under previous management.
Tuesday was not the first time that law enforcement efforts had focused on the casino.
In 1990, the Drug Enforcement Administration and the IRS seized control after authorities discovered laundered drug money had been used to finance the casino's construction. A jury found that $12 million of the $22 million total had come from Florida drug smugglers. In 1991, the federal government took over part ownership of the casino, eventually selling its share to a British gaming company.
Known for its 185 tables of poker and other card games, the casino now is privately owned by Bicycle Hotel & Casino LLC.
Across the street from the hotel Tuesday, 49-year-old Tracy Peoples said she was happy to see the raid take place. Like several gamblers lining the block, she claimed she had always suspected there was something fishy about the way table games operated inside the casino, specifically Pai Gow.
Asked why she kept playing at the Bicycle if she thought she was being cheated, Peoples hung her head.
"Because we're gamblers. It's an addiction. You always think you're gonna get your money back," said Peoples, who has been playing at the Bicycle for 24 years. "We know we're being cheated, but the addiction is in you.
"I've lost so much in here, I probably built half the hotel."
Los Angeles Times Staff photographer Al Seib contributed to this report.
Twitter: @lacrimes
Twitter: @JamesQueallyLAT
Twitter: VeronicaRochaLA
ALSO
Motorcyclist who became Internet sensation with freeway jump critically injured in another stunt
Hit-and-runs fell after California gave driver's licenses to those here illegally, study finds
'Wrong place. Wrong time.': Beaten San Pedro teen may have been caught in gang initiation, cops say
---
UPDATES:
8:30 p.m.: This article was updated with the expected reopening of the casino.
6:35 p.m.: This article was updated with additional comments from an expert on gambling laws and additional background about the casino.
11:25 p.m.: This article was updated with comments from Davalle, Warren and Peoples.
10:15 a.m.: This article was updated with comments from law enforcement sources and bystanders near the casino.
9:05 a.m.: This article was updated with additional comments from Virginia Kice, an ICE spokeswoman.
This article was originally published at 8:05 a.m.
---
The stories shaping California
Get up to speed with our Essential California newsletter, sent six days a week.
You may occasionally receive promotional content from the Los Angeles Times.