'Breathtaking violation of rights': L.A. city attorney barred from seeing detainees at LAX
Los Angeles City Atty. Mike Feuer said he spent several hours at Los Angeles International Airport on Saturday night into Sunday morning, but was repeatedly denied access to federal detainees or an attorney who could discuss the situation with him.
"My goals in going were to get information as to whether customs officials were complying with the federal order ... and to try and secure the release of the detainees," he said on Sunday morning.
Feuer said he was concerned that federal officials were not complying with an emergency stay granted by a federal judge on Saturday night that was meant to block detainees from being deported under President Trump's executive order.
While he was at the airport, Feuer said he was approached by a woman who claimed her father, suffering from Parkinson's disease, was among the detainees.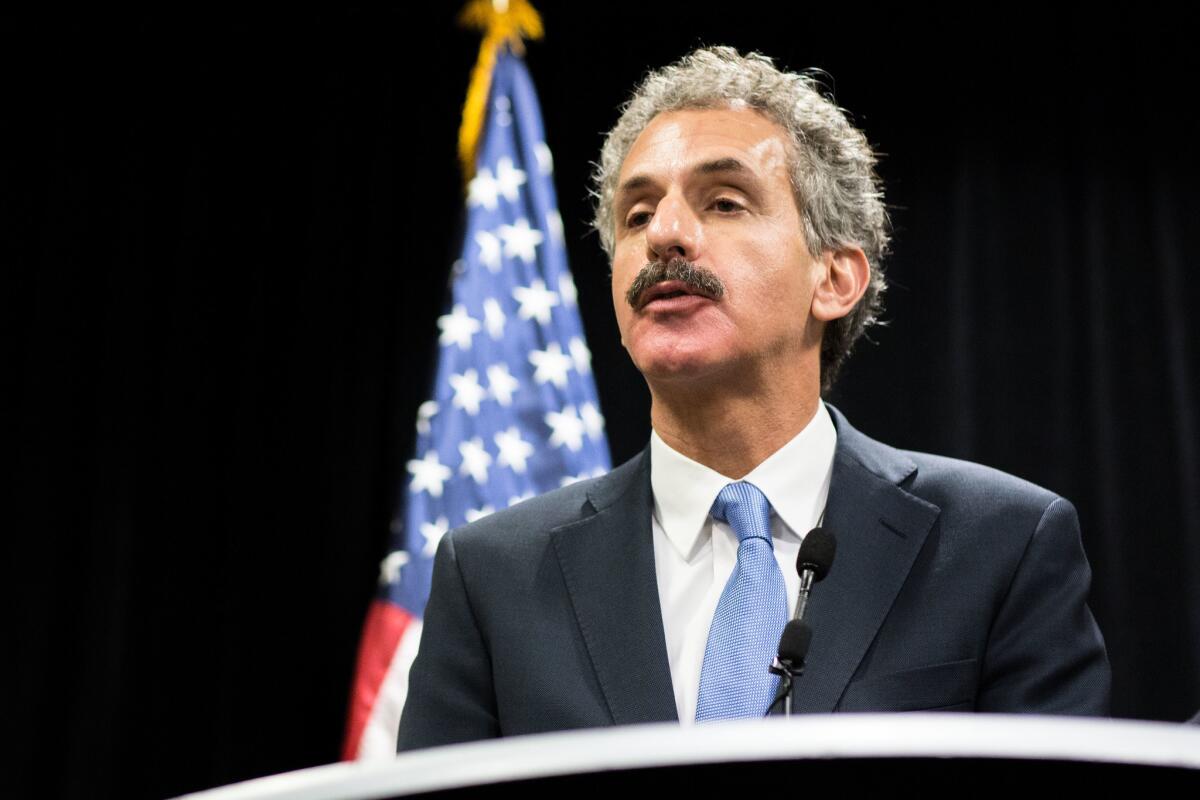 "It is those kind of real stories that are at stake because of this outrageous action by the feds," he said. "It is time not only for officials in my position, but all Americans, should find this a breathtaking violation of rights."
Feuer was unable to get information on the number of people being detained at LAX. Federal officials have repeatedly ignored requests for a tally of the number of people being held at LAX.
A law enforcement source told The Times that 13 people had been detained at Terminal 2 on Saturday night, but each of them held a green card and was eventually let in. It was not clear how long they were detained, according to the source, who could not provide detention figures for the Tom Bradley International Terminal, which has been the center of protest activity.
The source requested anonymity because they were not authorized to discuss the situation at the airport.
Federal officials have declined to discuss the LAX detentions or respond to Feuer's criticisms.
An Iranian woman whose citizenship swearing-in ceremony will take place in two weeks was among those detained at LAX on Saturday, according to Jordan Cummings, an immigration attorney. The woman has held a green card for five years, Cummings said.
Hundreds of people rallied at Tom Bradley International Terminal to protest the detentions, their chants echoing through the building as they waved candles and held signs denouncing Trump's decision.
"No hate, no fear, refugees are welcome here," they chanted.
Beverly Weise, 66, said she felt a moral obligation to protest on Saturday after she spent two weeks volunteering at Souda refugee camp in Greece, where 3,000 people from Syria, Afghanistan, Sudan and Somalia were sheltered.
"They're running away from war, persecution — they can't understand why we are so hostile," she said. "All they want is a peaceful life."
The protesters at LAX erupted in cheers when news broke of a federal court decision staying portions of Trump's order.
"I think it's wonderful," Mohi Khairandish, a 52-year-old who immigrated to the U.S. from Iran in 1976 and still has relatives there, said of the stay. "I'm hoping that the ban is proven unconstitutional in general, if necessary, at the Supreme Court because I think it's a very un-American ban."
Although the New York court decision may have marked a partial victory for opponents of the ban, the emergency stay came too late for some. Kristen Jackson, an attorney with Public Counsel, said attorneys tried to intervene after a 70-year-old Iranian man was held by federal authorities at LAX. His son is an American resident and the father was moving to the U.S., she said.
Jackson and other attorneys filed court papers to try to stop the man's removal, but he was put on an airplane back to Iran, she said.
Jennie Pasquarella, director of immigrant rights for the ACLU in California, said on Saturday that the advocacy group had filed habeas petitions on behalf of the seven people being detained. Four of those are Iranian, and all hold green cards or U.S. visas, she said.
Pasquarella said Trump's rush to enact the executive order has exposed countless people to potentially illegal detentions.
"I would say it has been done without regard to the legality of it. Green-card holders are not only being detained, but they're being turned around and deported to the country that they came from. It is unlawful," she said. "Certainly the discriminatory nature of the executive order, we think, is unlawful."
ALSO
Protesters march on LAX, calling Trump action 'un-American'
Confusion reigns at U.S. airports as protests of Trump executive order enter second day
Erwin Chemerinsky: Trump's cruel, illegal refugee executive order
---
UPDATES:
12:15 p.m.: This post was updated with the federal government declining to discuss the detentions or comment on criticism leveled by City Atty. Mike Feuer.
This post originally published at 11:20 a.m.
Sign up for Essential California for news, features and recommendations from the L.A. Times and beyond in your inbox six days a week.
You may occasionally receive promotional content from the Los Angeles Times.