Fiery pileup on 405 Freeway kills one; witness recalls barreling truck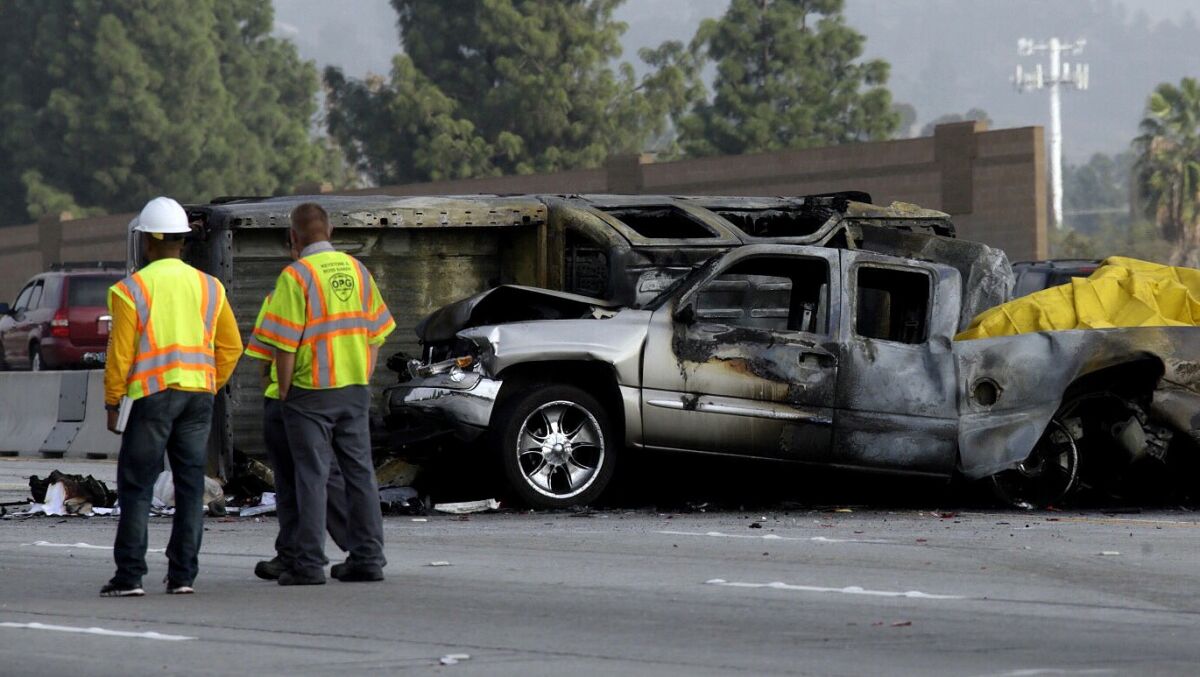 A deadly pileup on the southbound 405 Freeway in North Hills erupted in flames Friday morning, engulfing three vehicles and closing multiple lanes for hours as crews worked to clear the charred wreckage.
The crash, which occurred shortly before 7:30 a.m. near Nordhoff Street, sent flames shooting 20 feet high, according to a California Highway Patrol dispatch log.
At least one person was pronounced dead at the scene, another person was transported to a local hospital with unknown injuries and a third was evaluated and released, officials said. Two others left the scene on their own, Los Angeles Fire Department spokesman Eric French said.
Jorge Nuno, 28, said he was driving to his restaurant job in Van Nuys in his Toyota Sierra when traffic slowed to a stop. He said he then he saw a large white pickup truck bearing down on his vehicle and a car behind him.
"I had time to see it, but I didn't have time to do anything," he said. "He was coming really fast."
He said he got out of his vehicle after the crash and that soon after, all three vehicles were in flames. Nuno said he thinks the person in the car behind him was the person who died.
"The person in the white truck, he's still alive," he said.
Nuno said some people tried to rescue the person who died but that they were unsuccessful.
Officials said the crash involved a total of five vehicles but that the fire only engulfed three vehicles in the far-left lanes, forcing traffic to pass single-file to the far right. A SigAlert was issued at 7:42 a.m., with traffic jammed from the 5 Freeway.
CHP officials said they believe the crash occurred because one of the drivers probably hit their brakes hard in a panic and caused a chain reaction of collisions.
The crash was cleared shortly before 1:30 p.m. and officials reopened all lanes, although traffic remained backed up from the 5 Freeway.
Follow the reporters on Twitter: @JasonBretWells and @VeronicaRochaLA
The stories shaping California
Get up to speed with our Essential California newsletter, sent six days a week.
You may occasionally receive promotional content from the Los Angeles Times.