Lawsuit accuses Santa Rosa senior home of abandoning residents as wildfire approached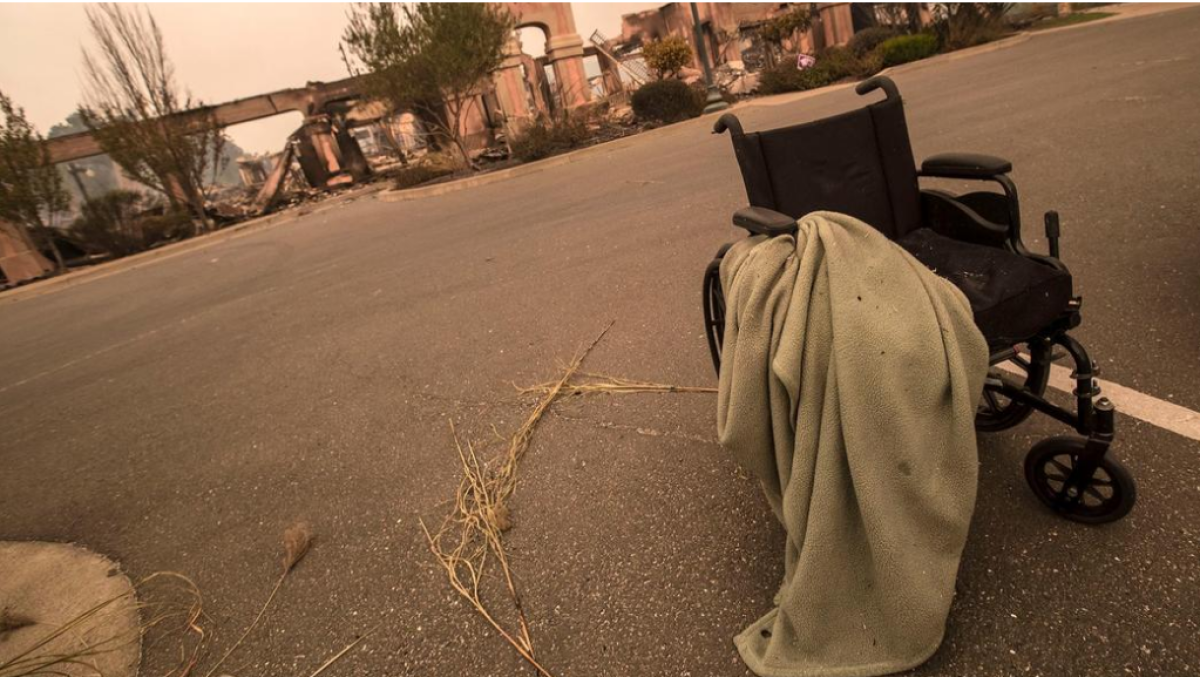 Residents in a senior living center in Santa Rosa have filed suit against the facility's owners, claiming that staffers abandoned them in the face of last month's devastating wildfire.
In a lawsuit filed Monday in Sonoma County Superior Court, four residents of the now-destroyed Villa Capri assisted living center said they were abandoned by the staff, along with "other residents in wheelchairs, and other residents with dementia who were physically and cognitively incapable of escaping a burning building without assistance."
The suit names Oakmont Senior Living and Oakmont Management Group as the defendants.
"There was absolutely no communication at all," plaintiff's attorney Kathryn Stebner told the Los Angeles Times on Tuesday. "These people were left stranded. They had no keys, no cell service, no walkie-talkies. The three caregivers on hand did not know about any evacuation plan ... and in fact, were waiting for an executive director, who did not show up. How could they have gotten out?"
Stebner said the ages of the roughly two dozen residents who lived there ranged from 82 to 92. The four plaintiffs — Elizabeth Budow, Alice Eurotas, Virginia Gunn and Helen Allen — praised the "herculean efforts" of two visitors to the home, who rushed to the building after midnight Oct. 9 and helped everyone evacuate. The two female visitors were relatives of some of the residents, Stebner said.
As the Tubbs fire raged, the visitors ran outside to see how close it was. They were shocked to learn that the front door had locked behind them.
"There they were, the two women outside, with all the folks inside staring at them motionless through the glass," Stebner said. "One of them ran to her car, got a tow hitch from her Jeep and threw it into the glass, broke the glass, then used it to keep the door pried open. They refused to leave anyone behind. We still can't believe there was no emergency plan."
All residents were successfully evacuated before flames swept over the facility and destroyed it.
A representative of Oakmont could not be reached for comment Tuesday.
The lawsuit details how Oakmont gave false statements to the media and other residents that seniors from Villa Capri had been safely evacuated. The plaintiffs are alleging elder abuse and demanding unspecified damages for false imprisonment, negligence and emotional distress.
They sued "to send a strong message to Oakmont and to care facilities that they must create evacuation plans and train staff to carry them out — so that this doesn't happen again," Stebner said. "This is basically a lesson in what not to do. The two women who came to help are both in their 60s — one just had back surgery, and the other just had hip surgery. When they arrived, all the patients were still in bed. What would have happened if they didn't show up?"
Twitter: @newsterrier
ALSO
California lawmakers upset that wildfire money is left out of White House's disaster aid request
Losses from Northern California wildfires top $3 billion; 14,000 homes destroyed or damaged
L.A. County to pay $15 million to man wrongfully convicted of murder
Northern California shooter exploited 'honor system' in telling court he had no guns
The stories shaping California
Get up to speed with our Essential California newsletter, sent six days a week.
You may occasionally receive promotional content from the Los Angeles Times.