Summer is rolling in with high temperatures and gusty winds as California braces for fire season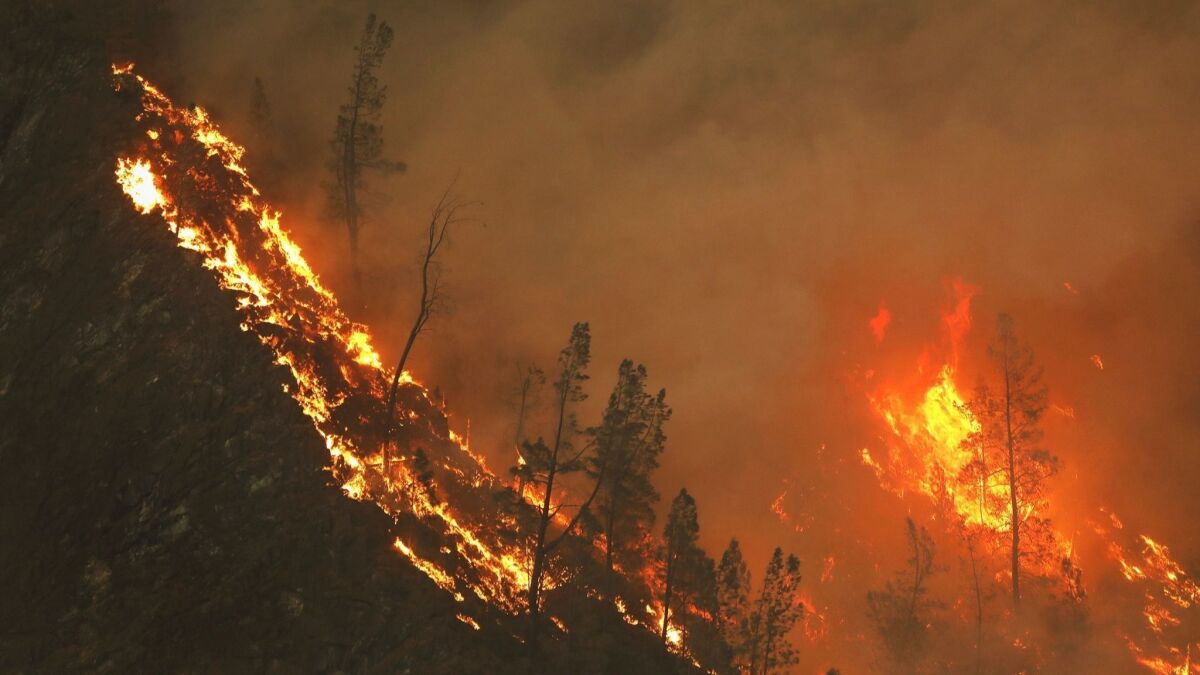 Fire weather officially arrived in Northern California this week, signaling the beginning of what officials expect will be an exhausting year for firefighters across the state.
The National Weather Service issued a red flag warning beginning Thursday night for the Sacramento Valley and adjacent foothills warning of high fire danger from gusty winds and low humidity levels that are expected to linger though Saturday evening. Friday marks the first day of summer.
The warning, which extends from Sacramento north to Redding, is for elevations below 2,000 feet where wildland fuels are generally near or below the seasonal average and susceptible to rapid spread of fire, said Jim Matthews, lead forecaster for the National Weather Service in Sacramento.
Winds ranging from 10 to 20 mph with gusts reaching 40 mph are expected to blow through the region. At the same time, the minimum daytime humidity is expected to linger between 10% and 15%. Overnight humidity is expected to remain low — between 30% and 40% — according to the weather service.
In addition, the rest of the week is going to be a scorcher. The mercury is expected to rise into the high 80s to mid-90s in many areas affected by the red flag warning through the weekend.
"Temperature is an ingredient, but the driving forces are the fuels, winds and humidity," Matthews said of the fire danger.
The combination of those factors can create a deadly cocktail of weather conditions that can quickly transform a spark into a raging inferno. Those same conditions helped grow last fall's Camp fire from a tiny blaze into the state's deadliest wildfire.
This week's red flag warning comes on the heels of the deadliest and most destructive wildfire season in state history and as officials across California are growing increasingly concerned about what many fear will be another one.
In a meeting with emergency managers recently, Gov. Gavin Newsom urged officials to "prepare for the worst."
"We just can't take this anymore," Newsom told the gathering. "The state can't take 2018 again. Can't do 2017. … We can't take it anymore."
Fire experts and climatologists warn that winter's heavy rains produced an excess of vegetation, which over the hot summer will become dry fuel.
Jeff Rupert, director of the Office of Wildland Fire for the Interior Department, reiterated in a Senate hearing last week that recent fires have been consistently more destructive than in years past.
The death toll from the Woolsey fire, which charred more than 96,000 acres in Ventura and Los Angeles counties, and the Camp fire has also highlighted the vulnerability of communities throughout the state.
"When I spoke to you last year at this time, I said the year ahead would be a challenging one. 2018, in fact, proved to be much more than that," Rupert said. "It's hard to imagine a repeat of this experience, but this is the potential reality we face again this year."
The red flag warning, which is the second for the region this year, will be in effect for Butte, Shasta, Tehama, Glenn, Colusa, Lake, Sutter, Yolo, Solano and Sacramento counties, as well as western sections of Sierra, El Dorado, Placer and Nevada counties and eastern portions of Mendocino and Trinity counties, according to the weather service.
Southern California has managed to avoid severe fire conditions so far this year. Los Angeles is expected to see patchy drizzle and fog in the mornings and temperatures hovering in the 70s in the afternoons through the weekend, forecasters said.
Decades ago, fire watches used to be alerts the weather service shared only as a heads-up for fire officials, Matthews said.
But in more recent years, the demand for such information has grown as massive wildfires become more common with increasingly devastating results.
"Firefighters have a dangerous job. They do they best they can, and we try to help them out the best we can," Matthews said.
---
The stories shaping California
Get up to speed with our Essential California newsletter, sent six days a week.
You may occasionally receive promotional content from the Los Angeles Times.