For International Women's Day, meet L.A.'s first female head librarian – a teenager who settled bar bets and worked to get women the right to vote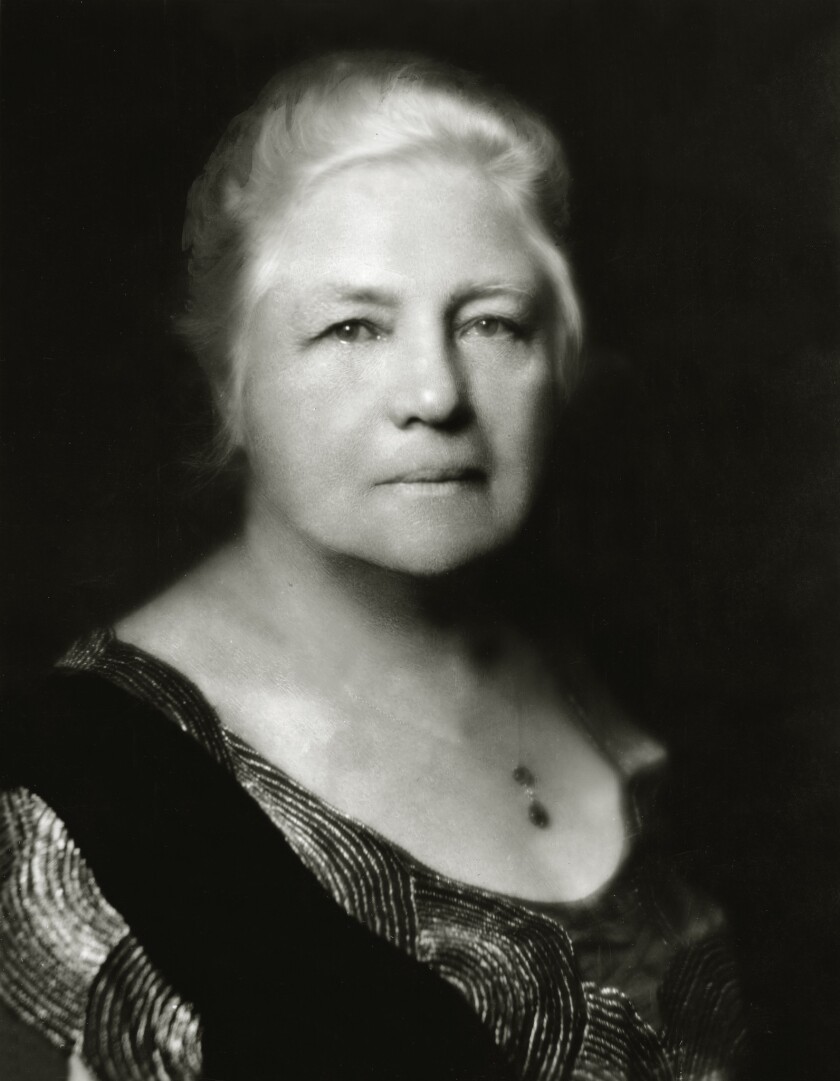 In a project we call We Are L.A., we have been exploring and revisiting interesting elements of Los Angeles' present and past. During Women's History Month, we're taking a look at some notable and interesting Los Angeles women.
In 1880, Los Angeles was a young city in need of a head librarian.
After formally establishing a city library in 1872, the first two picks for the top job had been duds: Newspaper editor John C. Littlefield offended patrons with the pungent odor of Jimson weed, which he smoked for his asthma; Patrick Connolly was deemed more fond of the contents of the saloon on the first floor of the building at Spring and Temple than the library rooms on the second. The City Council vowed to "elect a lady librarian" to fill the position.
Mary Emily Foy was 18 years old and had been part of the fifth graduating class from Los Angeles High School a year earlier. She applied for the job and individually lobbied each of the 15 male City Council members to get it.
Once she was unanimously appointed, Foy developed a reputation for her wide-ranging knowledge: She was often called upon to settle bets among bar patrons for questions like "Who wrote Webster's Dictionary: Noah or Daniel?" (Noah, for the record.) Foy also established a Dewey Decimal catalog system, hosted the Ladies Reading Room, and refereed chess games in the Newspaper Room.
William Mulholland, who was designing the city's aqueduct system, came to the library asking if he could take home a reference book for his research. Foy bent the rules for him and allowed him to check it out.
The City Council didn't reappoint Foy when her term was up in 1884, but she made the best of it: She attended the California State Normal School in Los Angeles (a precursor to UCLA) and Woodbury Business College. Foy returned to Los Angeles High School as a teacher, and later became a Democratic Party leader and prominent suffragist.
It is absurd to anticipate that women will be less womanly, or men less gallant, because the women may devote five minutes out of every year or every two years at the polls.
In 1911, California became the sixth state to allow women to vote.
In 1921, she campaigned for a bond issue so Los Angeles could build its own library building. (The three rooms above the saloon where she'd worked were rented.)
The Central Library building opened in 1926 on the same plot of land where Foy had attended the Normal School years earlier.
Foy unsuccessfully ran for Congress in 1934 – though she did come in fourth out of 11 candidates, and was the only woman in the running – and in 1939, she established the group First Century Families, which still exists today and is dedicated to Los Angeles preservation.
She died in February 1962. In July of that year, on what would have been her 100th birthday, the Central Library officially christened the Mary E. Foy California Room, which was later renamed the Children's Reading Room.
You can find out more about and contribute to our growing selection of people and places that make Los Angeles interesting at #WeAreLA.
---
The perils of parenting through a pandemic
What's going on with school? What do kids need? Get 8 to 3, a newsletter dedicated to the questions that keep California families up at night.
You may occasionally receive promotional content from the Los Angeles Times.