Unions had bad night in mayor's race, did better in council races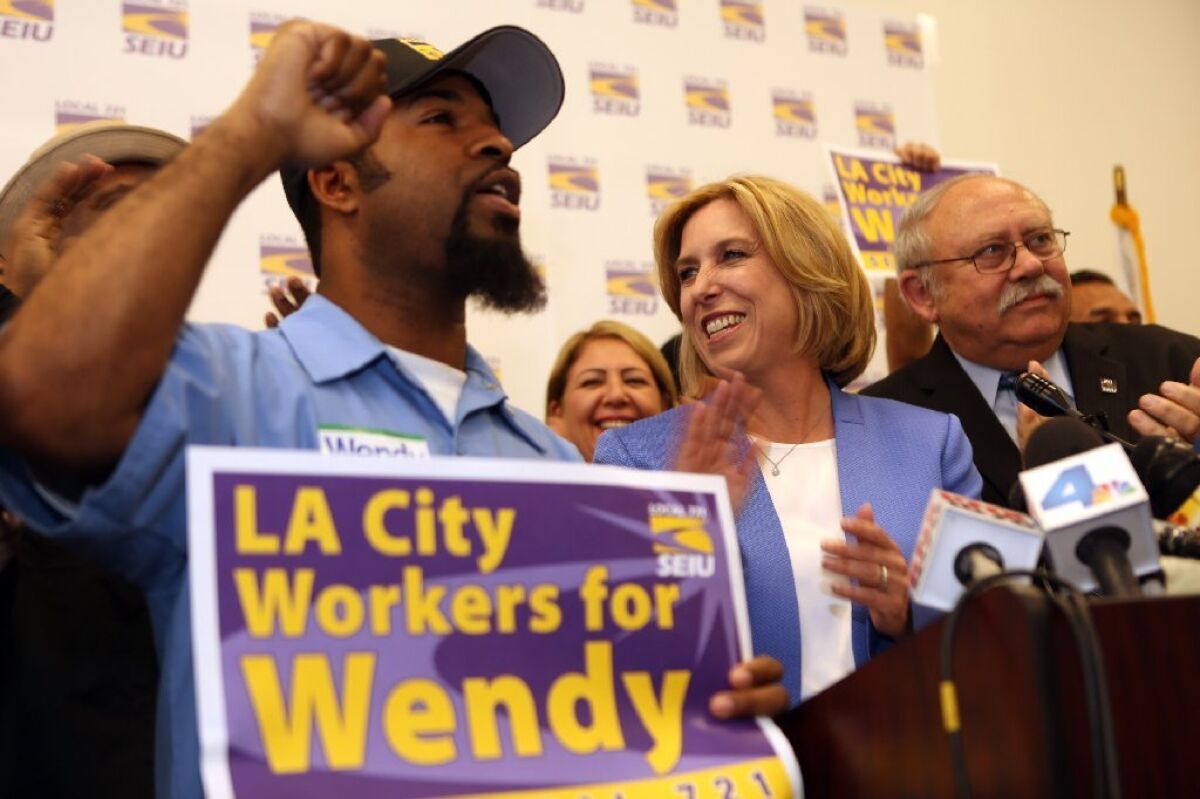 This post has been updated and corrected, as noted below.
Organized labor may have lost its highest profile and most costly race in backing defeated Los Angeles mayoral candidate Wendy Greuel in Tuesday's election, but unions overall -- both public and private -- also scored some wins.
Working Californians, a "super PAC" that could raise unlimited funds, amassed more than $4 million on behalf of Greuel, who lost to Eric Garcetti.
Much of the sum came from the International Brotherhood of Electrical Workers, the union that represents workers at the Department of Water and Power.
Live video analysis: Wednesday, noon to 2 p.m.
In unofficial results, they also lost their bid to elect John Choi, a city commissioner and former union organizer who was defeated by Garcetti's chief of staff, Mitch O'Farrrell, in the race to represent the Hollywood-based 13th District on the L.A. City Council.
But Working Californians also supported state Sen. Curren Price and former Assemblyman Gil Cedillo, who won their council races in the 9th District in South Los Angeles and the Eastside's 1st District, respectively.
At the same time, a handful of private-sector unions that backed Garcetti are rejoicing in his eight-percentage-point thumping of Greuel.
Jacob Hay, spokesman for the Service Employees International Union's United Service Workers West, called the results "a big win" for low-wage workers affiliated with private-sector unions.
"It shows that labor's real strength in politics is not just the money that we spent but the grass-roots enthusiasm," he said. "Our local, our workers are lower-wage workers ... we simply don't have the funding of some of the other unions out there.
"But what we do have is active, engaged, enthusiastic members who get out on the streets and go door to door," Hay added.
The County Federation of Labor released a statement late Tuesday, before the outcome of the election was known.
"Regardless of the outcome tonight, working families made living wages, job creation, and protecting public services the core of the discussion around who will lead our city and schools," it said.
[Updated at 1:06 p.m. May 22, 2013: Bob Schoonover, president of SEIU Local 721, representing 10,000 city workers, acknowledged in a statement that its members worked "really hard" to get Greuel elected and were disappointed by the results.
"We congratulate the new mayor, Eric Garcetti. He ran a great campaign and put his heart into it," Schoonover said. "Our members have worked with Eric in the past to get things done. We believe we can partner with him again to make L.A. even better and to provide quality services to Angelenos."]
Jack Humphreville, a community activist and frequent City Hall critic, said Tuesday's voting shows union support can cut both ways.
Before Greuel accepted union endorsements and money in early March, she was largely seen as a no-nonsense fiscal hawk attractive to the conservative voters in her San Fernando Valley base.
But that perception changed as voters learned of the large spending on her behalf by public worker unions and groups such as Working Californians, he said.
"The good news is they gave her a pot of money," Humphreville said. "The bad news is it trashed her reputation."
[For the record, 2:45 p.m. May 22: An earlier version of this post incorrectly attributed a statement from Bob Schoonover, president of SEIU Local 721, to union spokesman Ian Thompson.]
ALSO:
UC healthcare workers enter second, final day of strike
Antonio Villaraigosa congratulates Mayor-elect Eric Garcetti
Sun Valley bear tranquilized, captured after roaming neighborhood
catherine.saillant@latimes.com
Twitter: @csaillant2
The stories shaping California
Get up to speed with our Essential California newsletter, sent six days a week.
You may occasionally receive promotional content from the Los Angeles Times.