Former 'Apprentice' contestant accuses Donald Trump of unwanted sexual advances, files defamation suit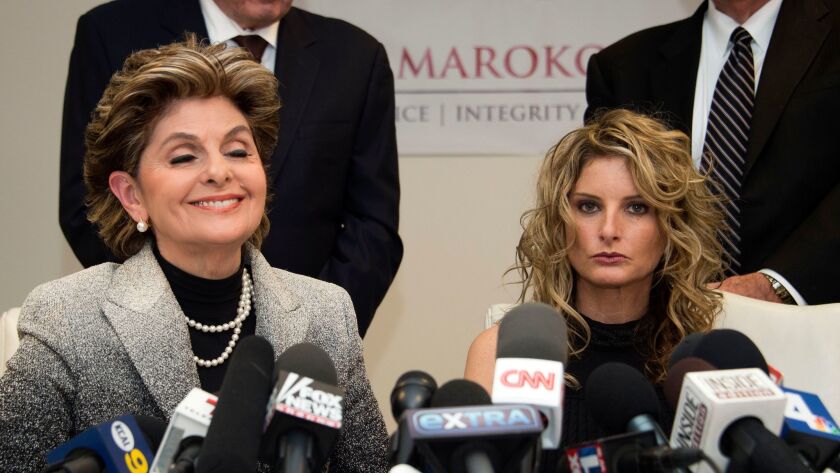 A former contestant on TV's "The Apprentice" on Tuesday filed a defamation lawsuit against President-elect Donald Trump, whom she has accused of making unwanted sexual advances toward her.
Summer Zervos announced the lawsuit at a downtown Los Angeles news conference with her attorney, Gloria Allred, three days before Trump's inauguration.
Zervos, who appeared on the fifth season of the reality show, said Trump had tried to seduce her at the Beverly Hills Hotel in 2007, kissing her on the mouth without her consent and pressing himself against her. In October, she tearfully described darting around a hotel room to avoid physical contact with Trump, even as she sought employment from him.
Zervos said she felt compelled to go public with the accusations after seeing recordings on the set of "Access Hollywood" that had been released days earlier, in which Trump made crude comments about grabbing women by the genitals.
"For the first time, Summer Zervos saw Mr. Trump's behavior towards her for what it was: a sexual predator who had preyed on her and other women," the suit says.
On Tuesday, Allred said her client had voluntarily taken a lie detector test regarding the allegations and had passed.
The suit was filed in New York.
"More of the same from Gloria Allred," Hope Hicks, a spokeswoman for Trump, said of the lawsuit in an email to The Times. "There is no truth to this absurd story."
In October, Trump denied Zervos' allegations and said he "vaguely" recalled her from the reality-television show he hosted for more than a decade.
"To be clear, I never met her at a hotel or greeted her inappropriately a decade ago. That is not who I am as a person, and it is not how I've conducted my life," Trump said in a statement.
Days later, Trump threatened to sue women who had accused him of sexual assault.
"Every woman lied when they came forward to hurt my campaign," Trump said during a speech. "Total fabrication. The events never happened. Never. All of these liars will be sued after the election is over."
Zervos' lawsuit says Trump "used his national and international bully pulpit" to disparage Zervos and other accusers and that he "knew that his false, disparaging statements would be heard and read by people around the world, and that these women … would be subjected to threats of violence, economic harm, and reputational damage."
In a November news conference after Trump won the election, Zervos called on Trump to retract his statements about her. She said Tuesday that she would drop the lawsuit if Trump did so.
"I would still be willing to dismiss my case against him immediately for no monetary compensation if he will simply retract his false and defamatory statements about me and acknowledge that I told the truth about him," Zervos said.
Allred said the suit opens the possibility that Trump will be forced to testify under oath and that recordings and video from "The Apprentice" could be subpoenaed.
Zervos gave Trump two months to retract his statements about her, Allred said, and the timing of the suit the week of the inauguration came simply because his "time is up."
"This was in Mr. Trump's hands," Allred said. "This lawsuit did not need to be filed."
The suit says Zervos suffered emotionally and financially from Trump's statements about her after she made her accusations public.
"Being branded a liar who came forward only for fame or at the manipulation of the [Hillary] Clinton campaign has been painful and demoralizing," the lawsuit states.
Allred said she and Zervos, and possibly other Trump accusers, will be in Washington, D.C., for the Women's March on Washington.
Twitter: @haileybranson
ALSO
Skinned zebra found dead on beach near Hearst Castle
Gas station clerk shot and killed during robbery in Los Feliz
Regulators conclude Aliso Canyon can reopen even though cause of massive gas leak still undetermined
---
UPDATES:
4:15 p.m.: This article was updated with a response from Trump spokeswoman Hope Hicks and with more information about the lawsuit.
This article was originally published at 2:05 p.m.
---
The stories shaping California
Get up to speed with our Essential California newsletter, sent six days a week.
You may occasionally receive promotional content from the Los Angeles Times.