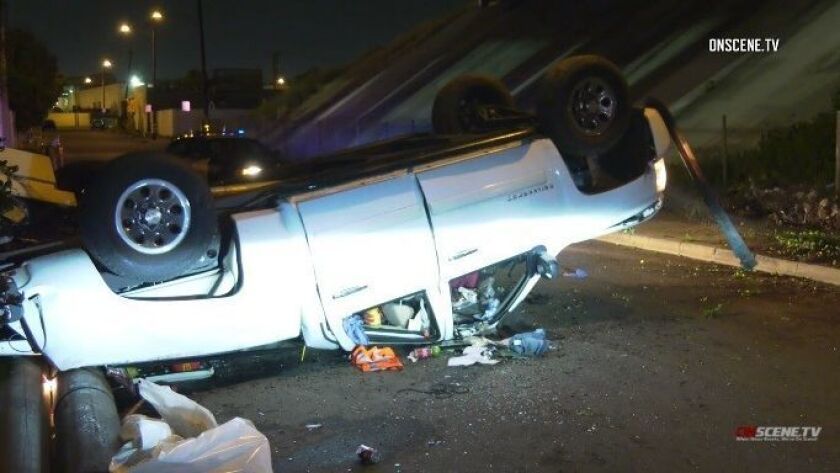 A motorist was arrested on suspicion of driving under the influence of alcohol late Sunday after his truck crashed off the 710 Freeway and landed on its roof on a side street in Commerce, police said.
The California Highway Patrol received several calls shortly after 11 p.m. from motorists reporting that a white Chevy Silverado was traveling south in the northbound lanes of the 710 Freeway. Eventually, the truck ran off the road, down a grassy embankment and landed on its roof on Noakes Street near Duncan Avenue, said Sgt. Luis Mendoza.
"Most likely he saw oncoming traffic, swerved to the left and then went off the freeway," he said.
When officers arrived, they couldn't immediately locate the driver, so a helicopter helped survey the area. Shortly after, the Los Angeles County Sheriff's Department called the CHP about a possible prowler in a nearby neighborhood.
Officers checked the area and found a man in his 30s with injuries "consistent with having been in a collision," Mendoza said. The man was also the registered owner of the car, he said.
The man was taken to a hospital for treatment and was arrested on suspicion of DUI. The man's name was not immediately available.
Twitter: @Hannahnfry
---