L.A. leaders challenge legality of Trump's order to punish 'sanctuary cities'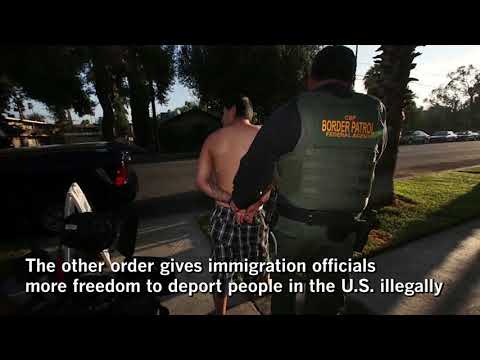 Trump's plan, which was issued Wednesday as part of a pair of executive orders, seeks to broaden the reach of federal immigration authorities into county jails.
Hours after President Trump signed an executive order seeking to withhold federal money from cities that don't cooperate with immigration authorities, Los Angeles leaders suggested they would mount a legal challenge if funding is taken away.
Mayor Eric Garcetti told reporters Wednesday that he doesn't believe the federal government can stop funding Los Angeles and cited the 10th Amendment, which addresses the powers of state and federal governments.
"We feel very strong the legal case is clear," Garcetti said.
Fulfilling a campaign promise to crack down on so-called sanctuary cities, Trump signed two executive orders Wednesday to begin building a southern border wall, add lockups for detaining immigrants who cross the border illegally, enhance enforcement power for border agents and to strip federal funding from cities that refuse to cooperate with immigration enforcement.
The particulars of Trump's orders are still being dissected by Los Angeles leaders. But City Council President Herb Wesson told reporters that "the city is going to continue to operate the way it operates."
Los Angeles will receive about $500 million this fiscal year from the federal government to pay for an array of services including port security, anti-gang programs and senior citizen services.
That doesn't include federal funding that flows to entities such as the Los Angeles Unified School District or Los Angeles Homeless Services Authority.
Federal funds often come with strings attached. Housing money received by Los Angeles, for instance, requires that the city follow green building standards.
Garcetti on Wednesday said the city could lose federal funds if it doesn't adhere to regulations tied to a particular program.
But he questioned Trump's executive order, saying L.A. doesn't receive federal funding for any broad program focused on cooperation between local and federal authorities.
"It would be folly for any administration to take away funds to protect America's port," Garcetti said. "Or take away vouchers that help get veterans who have fought for our country off the street."
Los Angeles Police Department Chief Charlie Beck has previously said he will not change the LAPD's stance on immigration enforcement.
Reiterating that stance Wednesday, Beck told reporters: "We have built relationships by effective law enforcement that doesn't focus on where a person was born or the color of their skin.
"And we don't intend to change that."
Sign up for Essential California for news, features and recommendations from the L.A. Times and beyond in your inbox six days a week.
You may occasionally receive promotional content from the Los Angeles Times.